As soon as your car starts showing some real troubles with cooling or heating systems it appears to be impossible to drive it at all. You have to cope with bad smell of antifreeze in car interior, you have to clean the motor section and look at smoke coming out from under the hood. You need to pour litters of antifreeze again and again.
So, it's nearly impossible to drive the car with such problem. Head gasket can be the major trouble in this range of visible results. Of course, you have to diagnose it in professional way and only then take some actions to prevent the vehicle of being completely destroyed. I propose you real review and test results of Blue Devil Head Gasket Sealer which promises to cope with such troubles.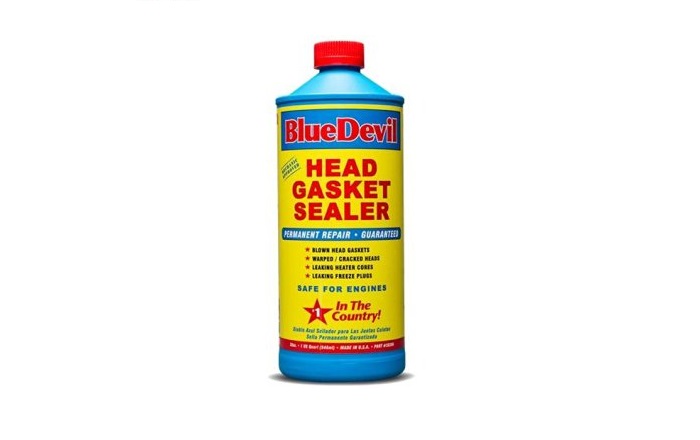 Does the Blue Devil work - you might ask. And I'll answer - Yes! It really works and provides optimal results for its price range and task range. But you shouldn't wait for some magic out of a simple sealer. Be sure, you won't take your engine out of dead ones if it's fully destroyed with bad using conditions.
What does the Blue Devil Head Gasket Sealer promise to do?
Warped and cracked heads, blown head gaskets, heater cores and freeze plugs give leaks with some time of using. You can treat them as the signal for serious repair but first think of cheap variants of curing the trouble. And nearly first of these variants will be the Blue Devil liquid called Head Gasket Sealer. It proves to be effective in minor problems with all of the above mentioned problems and it will help to achieve such wonderful results:
it can't harm your vehicle's engine in any way, the liquid doesn't contain any hard particles in its content;
in 70% of situations you will get rid of the necessity to provide very costly and long repair (at least it will delay that);
it's quite easy to use - you may find the instruction below and see that there are no major troubles with optimal using;
all systems of heating, engine cooling can be cured from leaks, but the main target of the thing is head gasket and top engine parts;
the liquid provides permanent repair, there aren't any chances to find it helpless in specific situations.
Of course, you can't reanimate the engine and raise it from dead but you can completely solve the troubles of leaking. If you won't do anything with that and continue driving the car with leaks, soon you'll have to buy new engine parts connected to the cooling system and head part of the motor. Decide now if you want to save now a couple of dollars and spend hundreds just in a few weeks.
By the way, do you want to make your car more cozy and comfortable? Look at my review of Tiddy Bear products.
How should I use the Head Gasket Sealer?
This is a small instruction which will suit any case and any trouble with your car cooling system and also heating system. Buy one bottle of Blue Devil special liquid which we talk about today. Then read the instruction in documents or in the pack. You'll understand if you need to pour the whole bottle or use just the half of it to achieve needed results.
You have to remove the thermostat and flush the cooling system in order to understand if there are some troubles. Then fill the whole system with water and leave enough space to pour the needed amount of Head Gasket Sealer. Then start the engine, turn off the radiator cap and start pouring the liquid very slowly. It needs to take about 1 minute to pour the whole bottle into the cooling system.
Then the car needs to work for about 40-50 minutes. By this radiator cap should be returned to its place. Leave the car until the engine is fully cooled and flush the water from the system. After that put thermostat back, take compatible antifreeze and fill it in the cooling system. That's it.
Why the Blue Devil may not work?
Well, there are some reviews in which buyers claim that the liquid doesn't work. Personally I have used it once and I got my vehicle's head gasket fixed. Before using the liquid my car had large amount of water running out of exhaust pipe. And after using that I have never noticed such thing again.
It can happen that the liquid won't work properly. Actually, there are three main reasons for that. The first one is bad instructions reading. The second is connected to quite big problems with car which can't be fixed with just an effective liquid. And the last one - maybe you bought some fake variant of the liquid.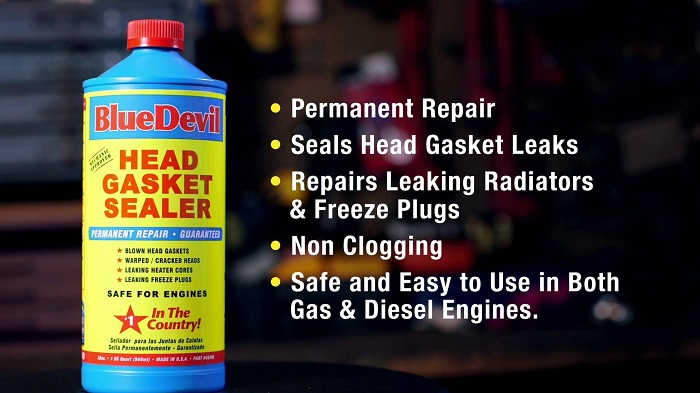 Are there any other options on the market to look at?
If you want to know about some more variants of liquids and 'magical' things to repair any troubles in your car, make sure you really understand what you need. There are some car owners who believe that every trouble can be fixed with the help of some extraordinary nano-technologies and other spacecraft products which are secretly sold in some strange half-legal shops. This is the only gasket sealer that really works and you can easily see that with comparing it to other similar products:
Blue Devil Pour-N-Go Sealer is also available on the market but it costs a little bit more and has got fewer optimal customer reviews, though, it's easier to use and pour without thermostat changing and fluid flush.
Bar's Leak Head Seal - not bad option but it has only one concern - head gasket, so it won't help you with other parts which are possible to cure with Blue Devil products, and it's quite difficult to use.
Steel Seal Head Gasket Sealer - another option which proves to be expensive but not as effective as it's thought to be, sometimes you won't get anything better by paying more money for what you buy.
CRC Permanent Head Gasket Repair - the cheapest out of the big range of strange products which doesn't prove to be effective and isn't worth the money you pay.
It's not really needed to pay more for the things you can't make work better. And even if you get some money saving prices, usually you won't get anything effective with those bargains. I'm convinced that the Blue Devil is nearly only thing to buy on the market which really has wonderful options. It proposes you a lot but it really does a lot to your vehicle. Be sure, there aren't any troubles with original product.
Where to buy the Blue Devil Head Gasket Sealer?
The question is quite right. Make sure you purchase the real original product with all warranties and other optimal things. You won't get troubles if you go to some shop which thinks about its image in the customers' eyes. It might be some large car parts specialized shop or just enormous internet market like Amazon. In here you usually get only original products delivered from manufacturers and with great prices.
And the last thing to say in here is really important. If you decided to buy the product, make sure you read all the instructions and keep to them when using the liquid. If you make some mistakes in the process of implying, the thing won't give you any pros. If having some troubles better go to some service station and pay professionals to have the task done well. In this case you'll get the best results. Also I propose you to watch the video with Blue Devil Head Gasket Sealer pros explanation: