Wheel design and condition seems to be really wonderful idea to work about. Every car owner would want to make the wheels look nicer. But usually we don't know how to achieve these results. Actually, there are lots of products to help you with this simple idea. And also I could give you some advice because I've tried out plenty of them.
The only self-sufficient thing which won my attention was Dupli-Color Wheel Paint in special 11- and 12-ounce spray containers. These products seem to be protective, design friendly and also quite easy to apply. Today we'll look at how different these options are according to other ideas on the market.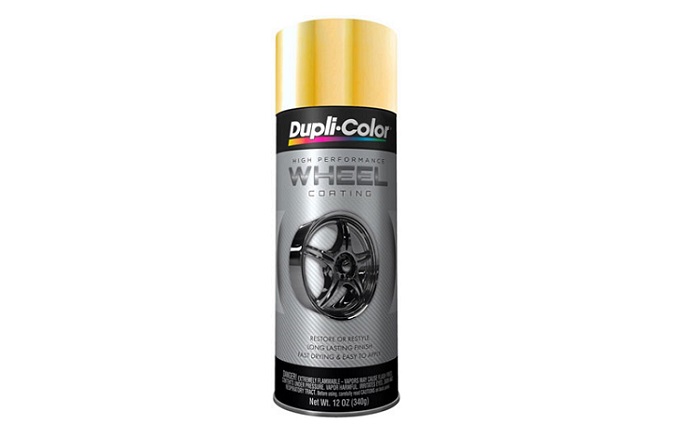 I could name another dozen of products which aim at improving the way your car wheels look like. But all of them seem to be rubbish in comparison with Dupli-Color. Though, there are still some propositions I'd like to test and try, so I won't say with all my confidence that today I'm viewing the best option ever. Let's start with pluses and minuses.
Ultimate pros of Dupli-Color Wheel Coating - what's good?
Lot's of things seem to be good when we talk about the product with 90% of good customer reviews. You can get more information on buyers' opinions visiting some huge internet store like Amazon. There are all needed facts about the thing. But the coating is still sometimes called bad choice and I suppose there are reasons of that - we'll look at them further. Now lets' concentrate on some good features we can find in the wheel coating produced by Dupli-Color Company:
Wonderful finish. You'll see highly reflective surface after applying the paint and keeping up with all the instructions. The polished look adds a lot of amazing features to the all look of your vehicle.
Special formula helps you to create needed protective effects. The coating is aimed at preventing all kinds of dangers for the metal. It also provides long life of the wheel itself and ensures its wonderful look.
It's really fast to dry. You don't need to wait for a long time - just one hour after putting the last layer of the coating and you can go wherever you want. Full dry is achieved after 6-8 hours depending on the temperature.
Brake pads dust isn't a problem. You won't see the brake dust coming onto the surface of the wheel. It will never spoil the appearance of your vehicle and won't cause troubles while driving.
There aren't any toxic and dangerous materials which could destroy the disk and cause some troubles for the nature. You can easily use it in the garage with no previous preparation and no special safety rules.
So, these are the most common pluses of the wheel paint which is sold for quite a low amount of money. You can also find it really easy to apply and you won't need any special instructions. The only thing to remember here is the small manual for wheel preparation. You'll need to prepare the wheel for painting and in any other case the coating won't stick to the metal surface and won't serve you for as much time as you want.
By the way, do you want to add some features to your car safety? Read my review of effective guarding system Viper 5706V in this article.
What minuses do I see in the Dupli-Color Wheel Coating?
Speaking about bad sides I could tell you that it's completely up to you to decide if there are some. I've never seen any problems with the paint. Before applying it with my car wheels, I used it on a rusty piece of metal found behind the house. And the results were astonishing. Even without preparation the coating took to the surface with no troubles.
In some reviews I've read that the durability of the coating is too small. Well, the rusty metal piece has been lying on the backyard for a year since I painted it. And it still looks like it was painted just yesterday. My test shows that if you apply the sprayed paint with all instructions, there won't be any troubles and minuses after that.
Also some people say that it's too expensive to paint the wheels with this coating. I agree with that. And I also can say that it's much cheaper to drive the car with simple basic wheels and not to buy any forged or other designer wheels. If you want to spare your money, better avoid such troubles as spending money on any kinds of paint or coating for your car wheels.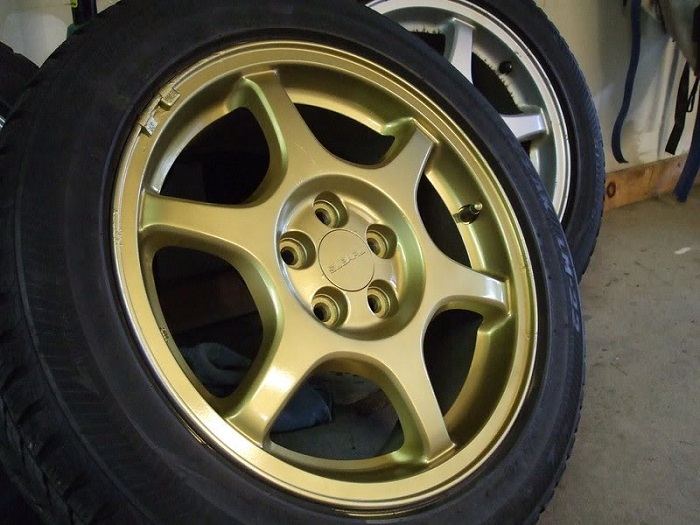 What kind of Wheel Paint better to buy in the market?
Dupli-Color brand doesn't give you many variants. You can choose among different options of color, texture and finish type. Sometimes you won't need metallic finish and you will want to have matte surface after painting. It's possible to choose such variants of coating. But be sure you buy not just automotive paint in spray form. This will be too weak for wheel using. It also can bring you much more troubles than you can imagine.
Only special coating will serve for quite a long time and won't cause problems. It holds really well and can resist maximum amount of destroying factors. Also look at the producer and its warranty. Dupli-Color provides warranty for every kind of material. It looks wonderful if you apply it correctly and it will serve for years. Some cheaper variants seem to be bad and they won't be as good as this one. But of course, there are still lots of other options in the market.
How to apply Dupli-Color Paint and prepare the disk?
You'll need to prepare your wheel for making it all correctly. Before you put some layers of wheel paint, make sure you take off all coatings that were made previously. It's necessary to clean the disks of your car to provide optimal surface and achieve needed results in the end. Of course, you can paint the wheel over all old coatings but it plays against you after all. What you need to do for preparing the wheel for painting is the next list of simple steps:
Take abrasive paper and relieve the wheel of old paint layers. With this you achieve optimal surface of the metal and also can find all destroyed parts of the wheel to completely fix them before painting.
Then you'll need to water the disk and to treat it with as soft abrasive paper as you can find. While watering you can get rid of some rust and also other pollutions which are still there on the metal.
After that just dry the metal part and you'll be ready to paint it but at first use some prime coating which you can find in every car shop. It's also sold in aerosol form, so you won't need any special instruments.
After priming you can work the disk with water and soft abrasive paper again if there are some rough places. If the surface is completely even, then just wait for an hour or two while the priming is fully dry.
The last step is to spray the Dupli-Color Paint on the wheel. First look at the video in the end of an article and then do it yourself. Before coating the wheel, I trained my skills on other metal parts which are worn out.
You'll probably need three to five layers of the coating to provide optimal design and all other features you need. There aren't any troubles with that unless you don't know how to use the spray paint. It's really easy and you can get to know everything in the video tutorial. Of course, we also open some secrets there in order you could get wonderful results with just a couple of spray bottles to use.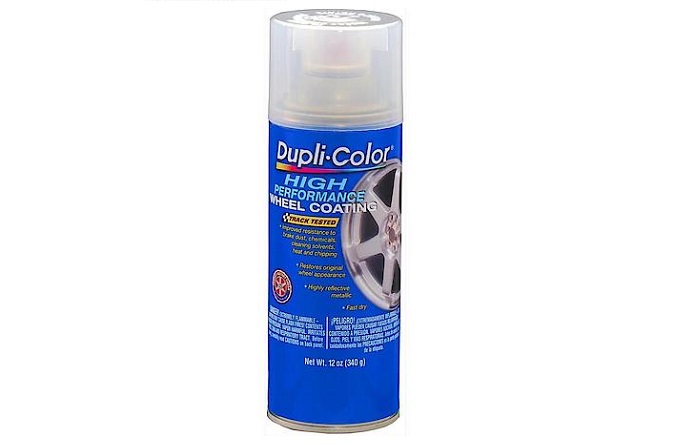 So, should I really buy Dupli-Color Paint for car wheels?
There are lots of reasons to buy and try such affordable and wonderful in all ways product. But there are some bad responds of customers, too. In my opinion, it's not bad at all to buy wonderful wheel paint and apply it as it should be used. But if you are going to do some quick refurbishing with no preparation and proper work, then you'd better go to the service and order some work of specialists.
Special painting of wheels will cost you much more than a couple of spray bottles with Dupli-Color Wheel Paint. Anyway, I can't recommend or insist on buying exactly this kind of paint. It's really affordable, so you can purchase some different materials and try them out on some metal piece. Buy the paint type you really like in all ways. But I recommend you to make every step in painting the car wheels by yourself - it'll cost you way less.
Also I want to offer you the video with some manual for optimal painting: