If you've never had any nerf bars on your car, you might ask - what do I need them for? But once you install them, you can't imagine your driving life without this thing. There are loads of wonderful things to tell about such option in your car. Anyway, let's start from the very beginning and try to reveal all secrets of such equipment.
Some trucks, pick-up cars and SUVs starting from the factory get these options on their lower sides. You can easily step on the bars to make it easier while getting into the car. You also can leave them just as a design feature to make your vehicle more masculine and SUV like. Usually these options are installed on quite big and high cars only, but there are some exceptions.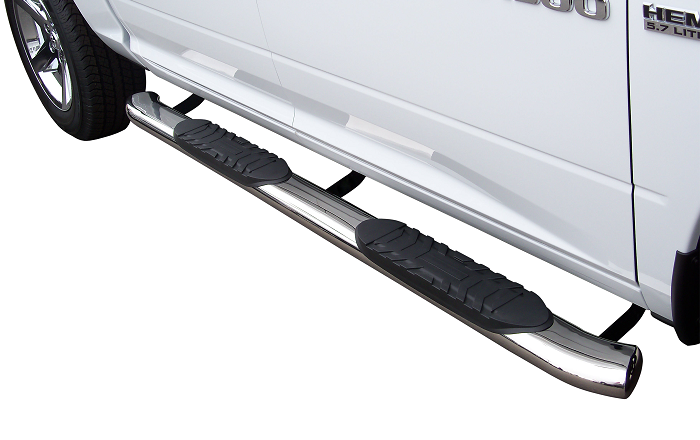 If you want to sort out everything in your knowledge, read nerf bars review and find optimal quality and price things for you on the market. Today we'll give some description and also provide comparison of the most popular and well-bought bar on the market. As always, I'll look at the price and compare it with the options I really adore.
What do I need Nerf Bars for in my truck or SUV?
If the producer didn't install to your car such wonderful option, consider of buying it by yourself. Yes, it's some expenses for the purchase and professional installation, so you are going to lose some money. But what you get as the result? Complete change in car's design, more functional use and optimal start of a great tuning. Let's find out which features are really needed when you choose a nerf bar for your vehicle:
Price and quality correspondence - you may find original variants which go up to a couple of thousands, but there are also more affordable options which are worth looking at.
Design and size - you have to consider how they'll look like on your vehicle, it's really important factor because half of purpose is your vehicle's appearance.
Materials - the main material is always reliable metal which is quite durable and holds the form, also there might be plastic and strong rubber details.
Weight and type of installing - you surely need to find quite light variants not to overload your car, but too light ones seem to be bad in quality, and the installing type defines how much work you need to do to adjust the things.
Producer and warranty - very important feature to look at while choosing the nerf bar - you have to find the thing which is affordable, has got wonderful warranty and is durable enough.
Original shape - it's not the needed factor, but if your car in some variants had some original decision, better choose factory shape and install the things with no troubles.
Some car owners think that the nerf bars appear to be not very practical. But it's false - there are lots of practical sides and also quite a lot of wonderful appearance factors to think of. So, you are sure to have a lot of pros with installing such optional equipment. The only con to think about is the clearance of the SUV or truck. With large and non original variants of bars it starts being much smaller than without such things.
By the way, if you install such equipment, look also at my review of roof back cross bars and find out the best additional tuning things.
TOP 5 optimal Nerf Bars to look at on the market today
And now I propose you to look at the most prominent TOP 5 things in this category to compare and buy. They are all universal and can suit whatever model you want. Next products proved their wonderful possibilities of durable work in any conditions. Having installed these products onto their cars, lots of car owners write their honest reviews and recommend them.
In next part I'll give my own opinion about all TOP 5 variants of bars and tell you the general idea of owners' reviews. You can also compare the price ranges, materials types and also appearance of every single model I propose you to look at.
1. Steelcraft - for Dodge RAM and other trucks of such type
This is quite special thing to look at. It's produced with wonderful quality and very great design. Especially, if you need the thing for quite a big truck. The tube is designed quite simply; it's just a stainless steel tube with two bends and two step platforms. But it looks very nice and originally on your car.
You can also notice that it doesn't need any drilling to be installed on your vehicle. Step pads and mounting brackets are made to last. And this is with all affordability of the thing in the market. So, I would call this wonderful decision nearly the best in my view. Of course, you need also to look at other versions if there are some other purposes.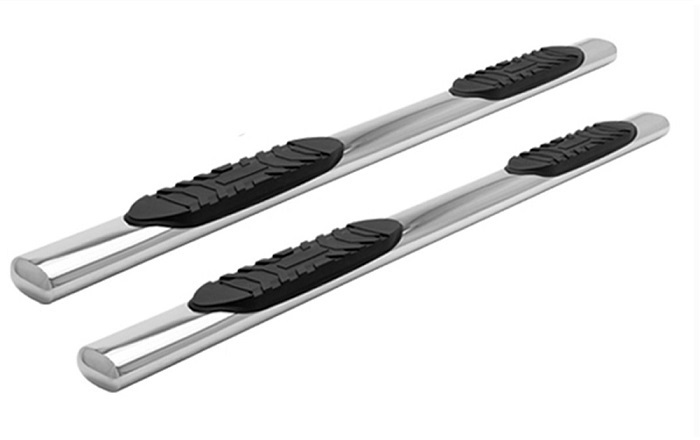 2. N-FAB Black Nerf Bar - to spend more
You'll need twice more money for this option. But it really seems to be more interesting in all sides for SUV car. It's not made especially for some models and has got universal mounting system. Also there are quite interesting red-and-grey signs on sides of platforms to reveal the producer. N-FAB seems to be quite well-known brand in this sphere although you can't find it among the most popular ones. I suppose, it's because of quite high prices and low advert level. Nevertheless, the bars are great decision to install.
3. Tiger RISER - for Chevy Silverado and GMC Sierra specially
Well, yeah, these options are great for Silverado, but personally I've seen them hundreds of times on other giants like Dodge and even Ford. You can't say they are specially made for the named in subtitle models only. These universal and marvelous options are produced to meet all buyers' needs. They prove to have such wonderful pluses:
fit all vehicles with 4-door full size cabin and also nearly all SUVs (but with some troubles in mounting);
these are heavy duty steel bars which can serve you for years with no troubles of rusting or form losing;
the bars are also coated with powder material in matte black color to serve you even more - repair is quite simple;
quite wide comfortable step pads are important positive factor for the bars, they don't slip and let you use them in any weather conditions;
easy installation with a couple of bolts, no drilling also needed, so you are sure to install it even in your own garage.
Also notice that the company gives you 5 years warranty which is amazing for such bars. You have to look at both sides, though. These black and simply designed nerf bars seem to be even too simple. So, if you want some design change and tuning facilities, you better go and buy some other versions. These are optimal for those drivers who want to use them for practical reasons.
4. Lund 5 inch Powder Coated Nerf Bar- good competition
There are loads of things to look at while checking the best nerf bars on the market. And one of them is usually the Lund producer. The company makes a lot of wonderful materials to meet clients' needs and provides also interesting in all sides nerf bars for trucks and SUV vehicles. There are important pluses like powder coating of a great quality, anti-rusting protection and quite simple design, too. But again we'll meet the con - there aren't so much tuning possibilities as the color of the bars is matte black.
5. Spec-D Tuning - Stainless Steel Polished Nerf Bars
And the last option in my TOP 5 for today is Spec-D Tuning version of bars to meet your needs of changing the car's appearance. It wonderfully combines all positive features of design and also optimal practical side of using. You can install the bars in your garage and there isn't any need to drill the truck's body. The option looks nice in any case and provides wonderful pluses to keep it long on your vehicle.
Polished tubes with stainless steel look appear to be long lasting and resist rusting, scratching and other types of destroying. You have to look at design because it fits quite big vehicles only. Stepping pads are originally made for RAM versions of Dodge truck but they will suit many other models with no troubles at all.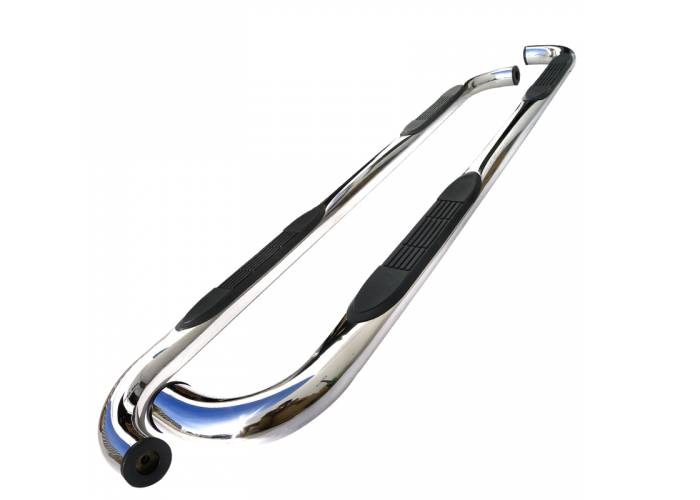 What should I choose to install Nerf Bars on my truck?
First thing is to consider what the purpose of the bars is. If you just need them to change your car look, then buy polished stainless steel models and use them as tuning option. If you really need to purchase these for practical reasons, go for heavy duty and hugely loaded bars which provide you optimal use.
Also look at prices and think of how much you are ready to pay. And my personal advice - go for original Nerf Bars in those reasons only when you can't find any other options to install on your SUV or truck. In other way you'll spend a lot of money and aren't likely to get some distinguished feature in design.
I would buy Steelcraft Nerf Bars to put on my truck for sure. I see these options as best ones according to many factors. They are of high quality and great design, they seem to be wonderful in all ways of comparing. The price is also quite affordable. So, my personal choice is really Steelcraft production. Propose you to watch the video with this product and its installation: