When choosing a new car, we need to consider the fact that the car will need to change over time and make it to best advantage. Of course, the price in the secondary market will depend on the condition of the car. But all the same there are some machines that are especially in demand. And so consider the ten cars with the best value on the secondary market.
1. Toyota Corolla
Japanese sedan is included in the world book of records as the holder at the best marketability in the world. 4 cylinder gasoline engine with 122 hp and a top speed of 180 km/h and with acceleration to 100 km/h in just 12.6 seconds. Economical fuel consumption - 7.2 liters per 100 kilometers. A comfortable lounge, a plurality of auxiliary systems - climate control, heated seats.
Exterior: Sports spoiler, fog lights, corner protection front bumper and stylish grille. Excellent build quality of the car, the availability of car parts stores - the reasons for which are extremely popular sedan.
The approximate price of the car in good condition in the secondary market - $16,500. Therefore a difference of $1500 as the price of a new car $18,000. 91.6% of new car money back after resale.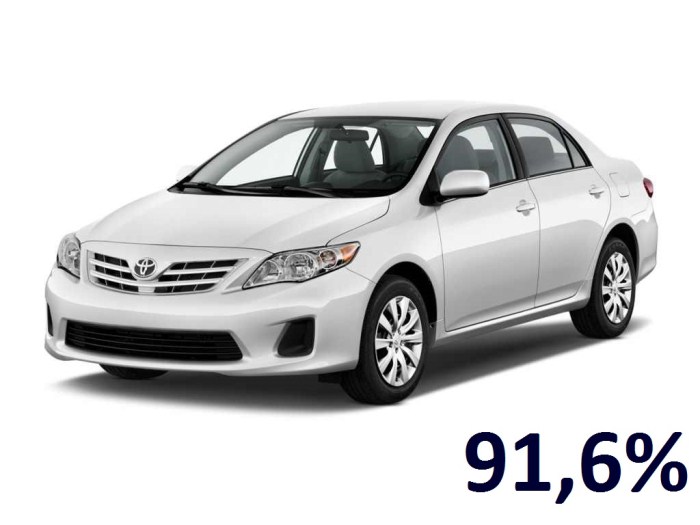 2. Volkswagen Polo Sedan
It is German car with low cost. Has 1.6 liter petrol engine. Output of 105 hp and maximum speed is 190 km/h 5 speed manual gearbox and front-wheel drive. Consumption in the city is 8.7 liters per 100 kilometers. Comfortable lounge with all the basic functions - heated seats, air conditioning, air bags, as well as excellent audio.
The car is reliable, high-quality that will also allow you to sell it for the best price and in a short time. Externally - Simple and elegant body, halogen headlamps, mounted with turn signals, as well as the grille. Model is harmonious and elegant with all the necessary data.
Price on the secondary market in the U.S. - $23,500 and the price for a new car - $26,000. 90.3% of new car cost back after resale.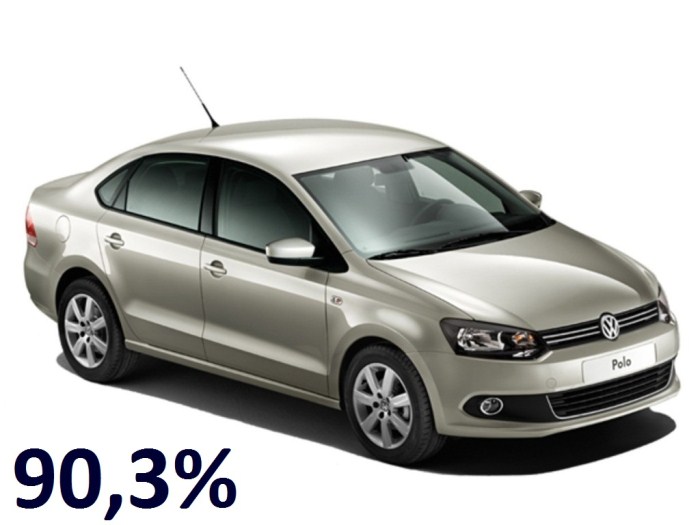 3. Chevrolet Camaro Coupe
Stylish and powerful four-seat car. Model Camaro over the years awarded for best build quality, impressive driving skills, as well as unusual and stylish design.
Specifications: 3.6 -liter V6 engine with a capacity of 323 hp and 6-speed manual transmission.
Interior: Leather interior, improved steering wheel, Audio management buttons located on the steering wheel and seat with lateral support and adjustable in 6 directions.
Exterior: Stylish and spectacular curves of the body, wide wheelbase, LED lights. This car is always very popular and in high demand.
Price supported Camaro Coupe in the United States is - $ 21,000 and the new - $ 24,000. 87.5% of new car money back after resale.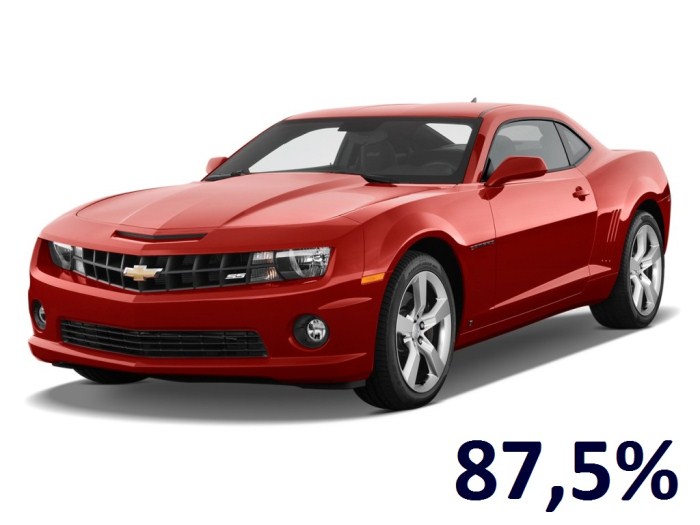 4. Skoda Octavia
Compared with the previous model Octavia received an extended wheelbase and the car began to look dynamic and stylish.
Specifications: 1.6-liter gasoline engine with 140 hp and a maximum speed of 215 km/h 6 speed manual or automatic transmission choices. Set of intellectual, auxiliary systems such as - Adaptive cruise control, brake system ABS, automatic parking, and a rearview camera.
Interior: Leather interior, ergonomic front panel and comfortable seats, and a panoramic roof. Externally, the car is attractive: Stylish LED lights, elegant and unique body lines, dramatic grille. The price of this hatchback Czech slowly declining since its sale is not delayed and is bought at the highest price.
The price of such a vehicle in the secondary market in the U.S. - $27,000, and the new - $32,000. 84.4% of new car money back after resale.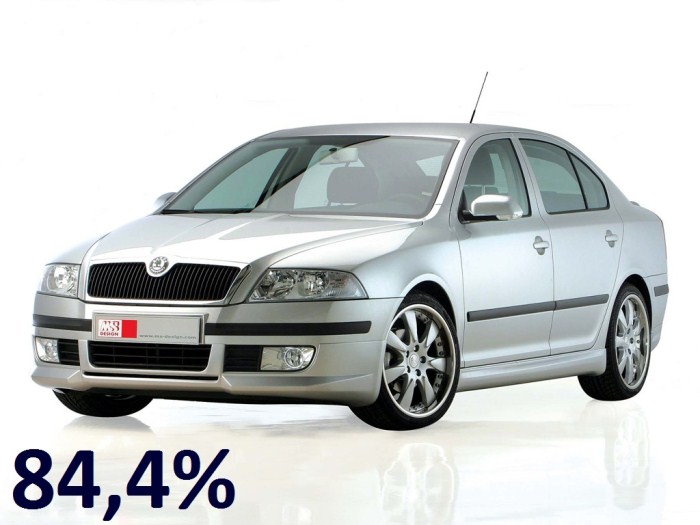 5. Toyota RAV4
Very reliable and long positively crossover, which will travel in all conditions thanks to its all-wheel drive and a large enough capacity. 2 liter petrol engine with a capacity of 158 hp and a maximum speed of 185 km/h Automatic and 5 speed manual depending on the car model. Comfortable and roomy enough, leather interior. Cruise control system, anti-lock braking system ABS, climate control, rain sensor and light. In the U.S., this car is a special demand because of low prices, reliability, long costiveness, as well as top-end specifications. Safety in the car is also provided - several airbags and braking system ABS.
Exterior: Awesome curves on the body and on the sides of the machine, a special form of LED headlamps and elegant body.
Price of the new RAV4 in the U.S. - $26,000, and in the secondary market, the price ranges from $21,000. 80.7% of new car money back after resale.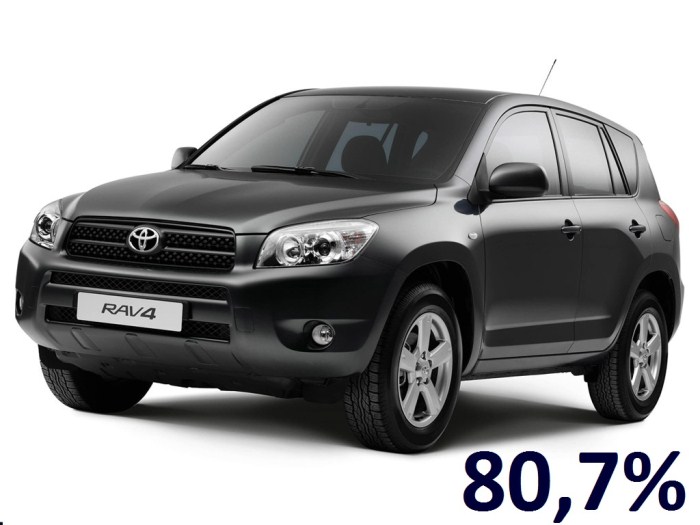 So let's summarize.
Leader with best cost at secondary market becomes Japanese automaker Toyota. Of course, if you want to sell your car as much as possible more, then you need to consider a couple of points. In the first - the smallest number of accidents in the second - appearance should match the new car and all the details in the cabin must also be in order. Only in this case there is a chance to sell the car on the above prices. Pay attention to the demand for cars in its purchase if it branded automaker it will be easier to sell it and it does not take much time.