In 2014 the world-known producer of popular cars, Toyota, has uncovered its brand new car with reasonable price Corolla. This vehicle has survived 11 generations in absolutely different appearances for more than 30 years. Toyota Corolla with new design started its sales in the middle 2014. Sedan car appeared to be really successful and nearly broke its records in sales. Today we'll view a specially designed for the USA Japanese vehicle.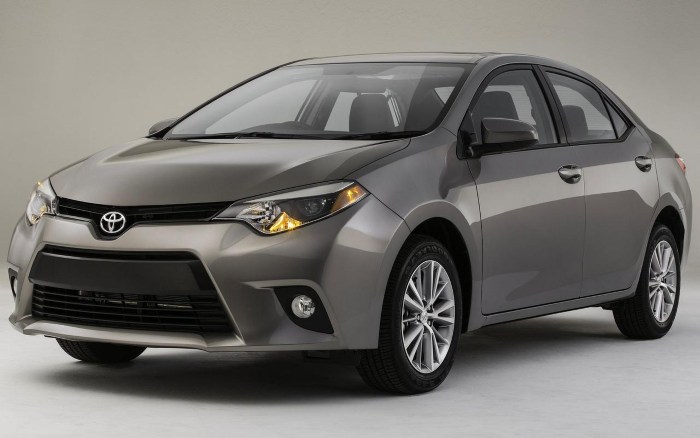 Toyota didn't change the actual nature of the car. Designers aimed at making Corolla more up-to-date and they really succeeded in this task. Sedan left in low price market but started to propose premium drive for the clients. With the first glance, new Corolla has nothing to do with the old one.
Toyota Corolla 2015 - appearance and design
Everything changed in design of the new sedan. Ultimately different forms and lines could make a buyer think that it's not actually Corolla but some new car in Toyota's range. Soft lines and a lot of specific changes for the US version make Toyota Corolla one of the best offers in its class. All the modern tendencies are kept in appearance of a new car.
Front optics became absolutely different and changed the form. It made all the front side design different, deleted softness and added some sport. Corolla turned into some transport of new age applying all these changes:
Japanese designers made a lot of links to other models of Toyota Corporation and integrated Corolla in the model range;
there are still a lot of former special features of Corolla model, but they are hidden in new way of appearance;
interior became one of the best in this class - it has some common features with Camry's premium decisions;
driver's place was absolutely changed and now it gives more comfort for every person.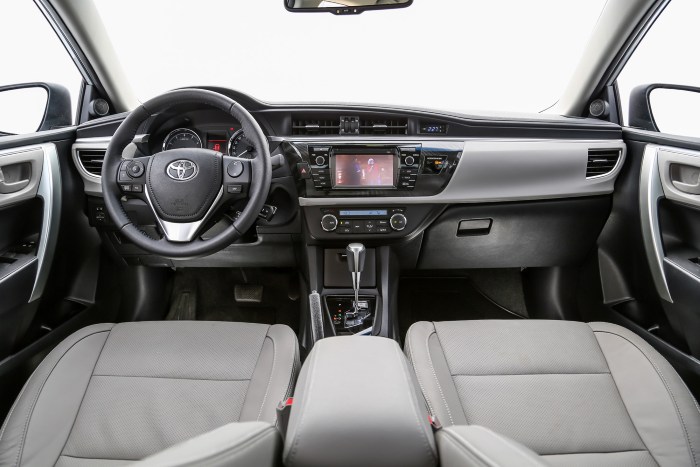 Such unusual decisions in car design are often taken as something very brave. But usually they get common and quickly go out of modern tendencies. This is not about Toyota Corolla in its new appearance. The modern style and a lot of great decisions make the car one of the most interesting propositions and open a great way for development.
Specially designed version of Corolla for the United States became a pleasant gift for all American drivers. This appearance really matches up with all American car market.
Technical equipment and dynamics of the new Toyota Corolla
The compact sedan became special for the US not only in appearance. It got a lot of specific features in technical side. Design became sporty and active and so did the engine. The previous Corolla had lots of problems with dynamics - small engines made drivers go slowly and forget about takeovers. This time Toyota decided to get rid of old technical equipment and started selling Corolla with the single engine which allows sport driving. Technical side of a new car looks like this:
1.8 liter engine which can give 132 hp, with modern VVT-I structure;
some version have the same engine but with 140 hp;
different driving modes - normal, sport and ECO;
three variants of transmissions - 6-speed manual, 4-speed automatic and CVT with no shifts;
great independent suspension and absolutely sufficient brakes.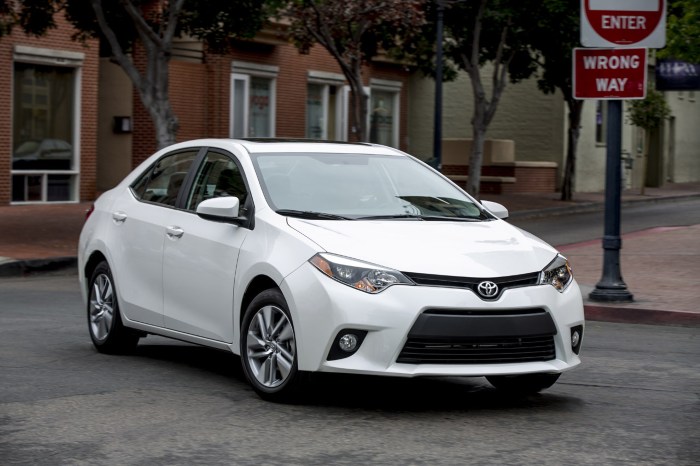 All these functions don't surprise Toyota fans. Some time ago we watched their integration in new Camry. But let's remember that Corolla is a budget class car and Camry belongs to business class.
The technical equipment of Toyota Corolla has special settings for petrol economy and long exploitation. Its powerful, durable and reliable. The engine of new Corolla is not completely new. It has been already used in Lexus and Toyota models. We can judge from responds and tests that some of thee engines can go up to 300 000 miles. This is one of the most durable equipment in the modern world.
What are the perspectives of the new Toyota Corolla?
Most American people buy cars looking at their price. And in this factor we can admit that recent Toyota propositions became more expensive. This reflects that the company uses great technical decisions and develops the transport in all ways. Also the builds of new Toyota Corolla 2015 became more efficient and rich. Buyer can get great engine, a lot of comfort features and also supreme safety technologies. What else should we expect from the car with relatively reasonable price?
The new Toyota Corolla offers a lot of great moments:
paying 17 000 dollars one can get technologically modern and beautiful car;
Corolla proposes great price not only in salon but also in service and gas-stations;
Toyota warranty gives you confidence in great safety and reliability of the car;
even the cheapest build gives a lot of comfort and technological preferences.
Nevertheless, there are some strange points about this car. People who bought Toyota Corolla 2015 started complaining to the steering. The system of driving control was changed and these changes weren't as good as others. Driving at 110 miles per hour you may feel some strange vibration in a steering wheel. The professional journalists also admitted that the car wasn't stable enough in sharp turns on the middle speed.
Here is a little video review of the new Corolla and some other specifications:
Finish line
Of course, it's not clever to expect that the car for 17 000 dollars will be the greatest transport ever. Looking at the competition of Toyota Corolla 2015 we may firmly admit that there is no better car in this class for now. Modern technologies and great build, reasonable price and wonderful appearance - that makes the main points of success for the Japanese sedan.
If you'd like to buy a transport with no technical problems, you better think of having Toyota Corolla 2015 as the greatest Japanese proposition in budget class.