If you possess a truck like Ford F-150 or Chevy Silverado, you would probably want to install something on the top of the cargo section. It keeps feeling up with water and snow, freezes in winter and causes troubles when open. When you close it with inappropriate piece of fabric, it won't help even a bit, so you have to go for some special variants.
One of these might be BAKFlip F1 Hard Folding Cover which is produced exactly for such situations. This wonderful option appears to be optimal with all possibilities. But I shouldn't start with only pros. Let's have a small review of all sides and then decide if you have to buy such option for your truck. Though, it always stays private thing to choose.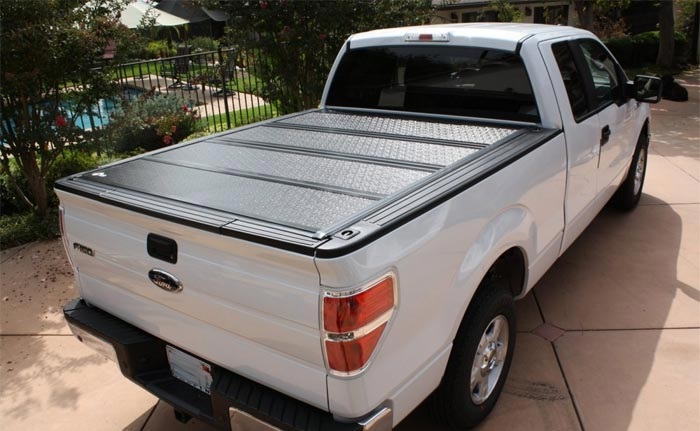 Personally I'm fully glad with what I get by having the BAKFlip F1 on my truck. Nowadays I don't use it because I actually sold the car. But as my Chevy had the BAKFlip on, there were no troubles in practical and visual sides. Today I'm going to give you general facts, customer reviews, pros and cons and also my own opinion about the product.
What's promised in the BAKFlip F1 for truck drivers?
To start with, I want to say that the original material of the tonneau cover isn't just some plastic. It's quite rich and unique fiberglass reinforced polymer (FRP). Aluminum panels from the under side create additional possibilities for heavy duty usage. The product seems to prevent all scratches and deformations. It always stays as the new one and isn't spoilt even in very hard conditions. The producer which is BAK Industries offers you quite a lot with the purchase:
Heavy duty construction with a lot of practical pros.
Impact resistance technologies to protect it from all damages.
Easy installation and wonderful serving for a long time.
Quite lightweight construction with no heavy materials.
Wonderful term of usage, no major problems noticed by users.
Maximum possible water resistance in places of opening.
Low-profile system which is invisible on your vehicle.
Extended warranty for 3 years after you buy the thing.
These are only basic points to look at before buying the BAKFlip production. Of course, the hard cover also proposes you convenient usage, light folding, easy removal, universal fitting. But these are the features which can be seen as standard in any truck cargo cover. Though, in BAK Industries production you might notice even more pluses with some time of using. There are wonderful hidden pluses which may be revealed after some time.
By the way, you might also be interested in my review of Goodyear Fortera HL Tires which will suit your truck or SUV.
Are there any minuses according to customers?
For any model BAK provides its own form and type of a cover. So, you won't find it difficult to install the thing. But if you don't read the instructions on company's website or in documents you get with the purchase, you might have problems with installation. First thing to go wrong is water resistance. Provided you installed everything correctly, the cover will never have leaks and other troubles.
Also customers write in responds that it sometimes can be damaged while installing. Well, it can happen with every product you need to adjust by yourself. What I did was to go to the service station and to have it installed by professionals. You pay quite a lot of money and another fifty dollars for installation won't hurt your budget much.
Finally, I have to say about one more minus of BAKFlip F1 Cover. It's the price. It's quite expensive, but you actually get the innovative product with wonderful practical pluses. So, it depends on whether you are ready to pay such amount of money or not. For me it was really expensive but after comparing it to other variants, I decided to buy exactly BAK thing.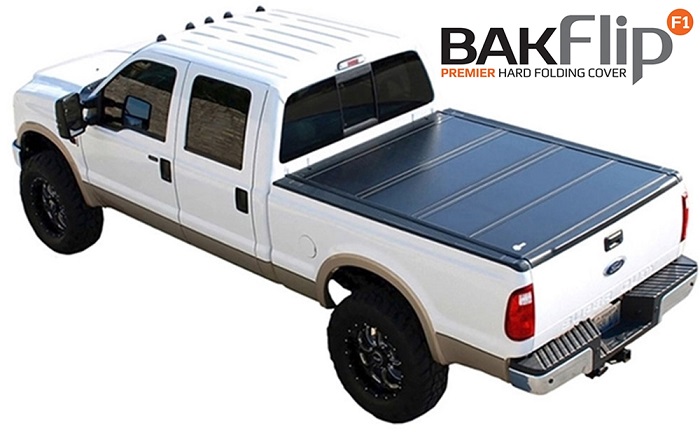 How to install the BAKFlip cover onto your truck?
This is the most important thing to say in the review. Exactly because of poor installation customers usually have troubles with the product. It's very easy just to go to service depot and ask those guys to make it for you. I'm sure, they know exactly how to achieve needed results. If you don't want to pay money for that, feel free to make it by yourself. Though, you'll have to obey some instructions provided by the company:
download the manual of how to install the tonneau cover from the official website of BAK Industies, check if it's up to your car;
next thing to do is to unpack everything you got from the shop and check if all parts and joining components are there in the set;
then you have to check if there aren't any changes in your vehicle (sometimes after crashes and poor repair there aren't needed wholes);
the next step is to follow the instructions and put the cover onto its future place, measure all possible variants of fastening;
use the fastening objects which are in the set, ensure optimal fixation and provide needed quality of cover holding, make some tests;
after that try to open and close the thing, use it in different forms and try to drive the truck in some bad road to ensure it doesn't sound somehow.
But the first thing you have to make is still to read the instruction. There are plenty of individual recommendations connected to some exact models of trucks. For example, the company provides absolutely different recommendations for Chevy trucks, and I actually had troubles with installing. That's why I just went to service and decided to install the cover by the hands of professionals. What can I say? I haven't got any regrets about it.
How to choose original BAK production on the market?
Personally I haven't heard about fakes of BAKFlip F1 or any other production types of the producer. But in responds and reviews of buyers there are some notes about such events. So, I want to warn you that the best place to buy such things is a huge internet supermarket like Amazon. Another variant is to buy it from original website. The interesting thing is that the last variant seems to be more expensive.
For buying original thing ensure you get every single document saying you about warranty, company instructions and certification options. If you can't find any of these documents, you may refund the product with no explanations and odd words. By the way, big and mighty shops don't just give you price advantages. They are afraid to lose their image among society, so they won't sell you any fakes.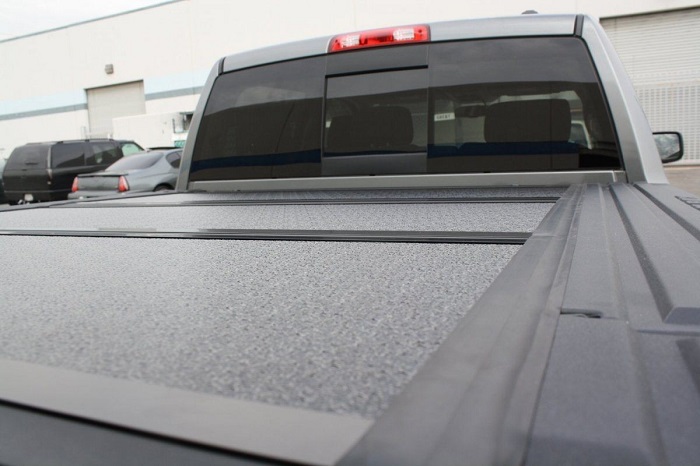 So, should I buy the BAKFlip F1 for my truck?
Customer opinions are quite positive, my own opinion is positive, too. Whatever you find as pluses or minuses, the common ratings seem to be wonderful. One more thing to remember is that the BAC Industries provide optimal materials, the product is fully individual, there are no troubles in getting it work for years. Special type of plastic can serve even in severe conditions with a lot of different potential dangers.
I can't give you direct recommendation about buying something or not. But I can say for sure that you won't regret the purchase if you choose exactly BAKFlip F1. The product is made to serve for a long time and it doesn't show major problems. All facts tell us that the product is really worth the money and it can be the best purchase for your truck ever. With all these pluses the price doesn't seem to be too high.
Also I propose you to watch the video with installation of the cover to the truck. It's for the case if you want to install it with your own hands: