Any product for the car should be tested before using. Personally I know one vehicle owner who used some unknown liquid for waxing and then he had to repaint the whole car body. To prevent such bad results better read responds and reviews of other customers. And also get acquainted with the product tests in the internet.
Today I propose you a little review of NeverWet products. These are simple and quite affordable sprays and liquids for glass protection, fabric covering and other surfaces coating. It's made by Rust-Oleum and is said to have wonderful technical possibilities. It keeps on the surface for quite a long time, it gives you protection of moisture and water.
There are some interesting forms of the product to talk about among car owners. If you really want to protect the body, windshield or inner surfaces of water and different kinds of pollutions and contaminations, then it's high time to go and choose some needed variants of the liquid and understand how you should use it. Let's view the product's possibilities.
What does the producer promise you with the NeverWet spray?
At first I want to explain you in just a couple of words how it works. The product creates invisible small and thin layer of protective film which covers the entire surface with no gaps. When the water comes to the surface, the layer protects it from contamination. It's great for clothes and boots which is the first purpose of major products. But the chemical contents of the liquid allows to use it in different purposes among which are also cars. What does it give you? Let's see:
The liquid is absolutely neutral, doesn't have any smells and doesn't cause any troubles with interior usage; it won't poison you in any case.
It's very easy to apply, there aren't any instruction and steps - just spray it over the surface and make sure it's not too much.
It protects any materials from damages caused by water, stains and any liquids including polluting elements of any kinds.
The material doesn't change the way the objects look like and doesn't add any colors or visible reformations, it's fully invisible.
When any liquid gets on the surface, it's all gathered in one spot and then is quite easy to remove with no effects.
You won't need to use it very often - one layer may work up until the next cleaning of the car interior or exterior.
So, these are the most prominent general features to remember out of the whole range of the products. All chemical sprays and liquids of NeverWet work simply the same. Some of them are made fully for cars, others have universal variants of usage. Frankly speaking, I don't see any big difference among multipurpose kits and specialized materials for car owners. But anyway let's check some variants of NeverWet products to understand which of them you'd better buy.
Do you want some more sustainable changes to your car? Read my review of QTP Cutout and find out if it really works.
Rust-Oleum NeverWet Glass Cleaner - simple universal spray
Well, the first option to look at is glass cleaner which will probably be the most important for vehicle owners. You may guess that there are hundreds of such products on the market. But actually all of them are simply the same. There are also millions of promises which don't work, so be sure you buy some working product. NeverWet Glass Cleaner is a spray which is used only for glass surfaces.
This liquid doesn't contain any chemically active components, so you may use it inside the car. The effects are easy and understandable. Firstly, you get rid of fogging at rainy days. Also you may use your car longer before you have to clean the interior. One more thing to remember is glass protection of any kinds of condensate. Make sure you don't wipe your vehicle's glasses after you spray on them the product.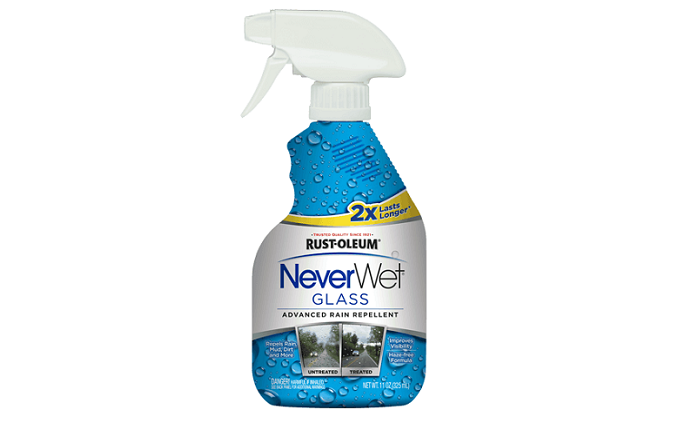 NeverWet Auto Interior Spray - specially produced for cars
This product is made to meet the vehicle owners' needs and provide optimal work in car interior. You may see dozens of promises on the pack and on special website page. Anyway, there are some things to talk about after real testing. Of course, the positive thing is that pros are more visible than cons. So, you get really optimal and not expensive product for car interior materials. There are such pluses of the thing:
you may use it with plastic, glass, fabric surfaces, it works well in all interior parts of your vehicle;
it repels any water and protects all interior parts from damages caused by water and also keeps them clear;
the liquid is easy to use - no need to use any clothes, special instruments - just spray the product over the surface;
it's made in United States and gives you lots of pluses in quality, contents is absolutely free of any harmful ingredients;
it truly shows you efficiency with long time of usage - you just use the thing once a week or even a month;
the price is really low which also gives some pluses to the buyer, you won't find it difficult to buy a bottle.
Car interior spray made by Rust-Oleum Company shows wonderful characteristics with low price. But you have to find original product. There aren't many fakes in the market but it sometimes happens to buy a fake liquid anyway. Whatever purpose you use the car interior spray for, you'll get whole protection against water which works for quite long comparing to some other models of such products.
Multi-Purpose Liquid of NeverWet with repelling options
Another product to remember here is the Never Wet multi-purpose liquid which shows wonderful possibilities and provides all pluses of general products made by the company. You anyway may think it's a little bit weird to have one spray for every purpose. But I can tell you that this multi-purpose product works as good as any other specialized option of the producer in the market.
Also you might wonder why it costs less than other brand's propositions. The secret is easy - you get industrially sized package and use it for a year or even more. What more can I tell you? This industrial package is used by lots of companies which provide car cleaning service. And it also tells you that the product really works and fulfills its tasks with no troubles at all.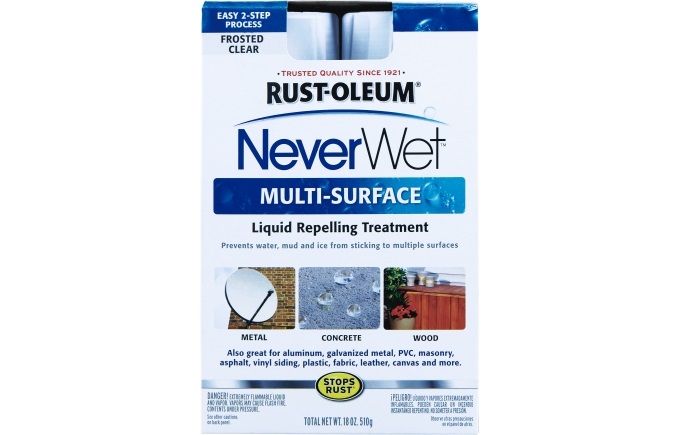 So, should I buy NeverWet sprays? Which one to choose?
I'm sometimes skeptical about all this water repellant liquids and sprays. I've used tons of them in my life with all those antifogs which didn't work even once. And now I propose you to leave all the hesitations back. This spray isn't only cheap and affordable but it also works quite well. There aren't any side effects for any materials and you can achieve all results which are written there in ads and on the packages with NeverWet production.
Speaking about kinds of the product I can't understand why the company made so many different products in different packages and with some purposes but making it equal in quality and contents. Personally I wouldn't spend too much money on small sprays. The industrial size of the liquid bottle is quite ok and suits my needs. Counting with price per ounce it's the best proposition in the market.
I also propose you to watch the video with the visual demonstration of how it really works: