A new Silverado is offered with five types of engines. Each of them is interesting and is worth your attention. But we'll be talking about one of the most popular choices - the 6.2-liter V8 engine that is not new in terms of technology. We know a lot about this engine, but we have to admit that it has been changed a little to suit modern requirements.
Today, we'll be talking about the 2021 Silverado 1500 engines, mainly about the 6.2L V8 gasoline unit - its problems, longevity, construction, gas mileage, etc. We also want to understand if it is the best Silverado engine for a new truck or not. The Chevy trucks are very popular and we want to make sure they are still good competitors for other trucks on the market.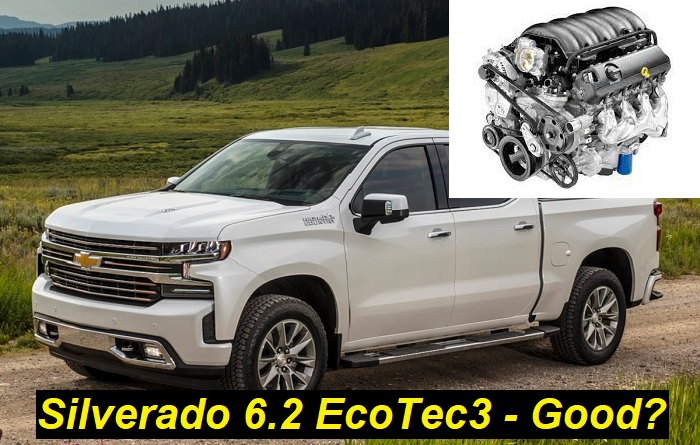 Here's what we'll be talking about:
The construction and technical specs of the Silverado 6.2L V8 engine.
Longevity of the 6.2-liter engine in a Silverado 1500.
What are the problems with this engine according to reviews?
Gas mileage and maintenance requirements for the big V8 engine.
Let's get started!
What do we know about the Silverado 1500 6.2L V8 engine?
This is one of the five available engines. There is a 4.3L V6 which is a base engine, a 5.3-liter V8, and also a 6.2-liter V8 for top trims. The last gasoline option is the turbocharged 2.7-liter L4. Also, you are able to choose a 3-liter turbocharged diesel engine. So, the choice is great, but what should you choose?
We would still go with the 6.2 V8 because for a truck this is one of the best engines in Chevy's lineup. First of all, the company has been manufacturing this engine for a long time. It's a relatively new EcoTec3 series, but the technologies that are used in this series are not new at all. So, we know some weak and strong points of the engine.
Here are some of the most important specs:
the engine is a 6.2L V8 EcoTec3, not Vortec, it's important;
this is the LS-series or small-black engine that is coded L87 in the Chevy lineup;
the engine comes equipped with a wonderful 10-speed automatic transmission;
the engine has 8 cylinders, 420 horsepower, and 460 lb-ft of torque;
the 6.2-liter V8 engine is modified for use in light-duty and heavy-duty trucks;
the engine has been in production since 2014 and it has been used in Silverado, Tahoe, Escalade, Suburban, and also in GMC Sierra, and Yukon.
This is a great engine that has already proved its longevity and high quality. But it still has some problems. Thanks to its popularity, we know a lot about its good and bad sides. And in this article, we'll try to reveal both of them.
But in short, this is a great engine that is even better than many similar engines from different companies. And we would certainly buy a Silverado 1500 exactly with this engine under the hood. It's durable, easy to repair, and relatively inexpensive to maintain.
What's the gas mileage of a 6.2 Silverado?
Our investigation says that Chevy Silverado 1500 equipped with the 6.2 EcoTec3 engine offers 20 mpg on the highway and about 16 mpg in the city. It's not a little at all, but the engine is V8 and it has over 6 liters of displacement. It's also quite powerful, so you can't expect a lot of miles per gallon of gasoline.
You can compare this with a 5-liter Ford F-150 that offers 22 mpg on the highway and 17 mpg in the city with less power and torque.
So, the fuel consumption of the Silverado with the 6.2 V8 is not that bad. Yes, it will make you go to a pump often. But we don't know a powerful gasoline truck that wouldn't do that. The better option if you want to spend less money is the 2.7 turbo. It will offer 23 mpg on the highway and about 20 mpg in the city. But is it worth it?
The longevity of the Chevy Silverado 6.2 V8 engine
These engines are extremely durable. They are made for light-duty trucks mainly and the manufacturer knew very well that not all drivers will service these engines as they should. And that's why the engines have wonderful durability and they basically have no major problems up until the 250,000-mile mark. After that, they can show some trouble, but they are still economically OK to use.
We've seen a Tahoe 2014 with this engine and over 400,000 miles on the clock. But we would predict that the average longevity of the 6.2 Silverado V8 engine is about 300,000 miles. After that, you have to be very careful with this engine because it starts dying.
The longevity will still depend on many things:
the quality of maintenance;
conditions of use;
yearly mileage;
driving in dusty areas;
the quality of fuel;
understanding of minor problems;
on-time repairs.
You shouldn't drive your truck if you know that there is a minor problem with the 6.2 V8 engine. Also, you shouldn't buy bad fuel and bad oil. You can use the truck for a lot of years without any problems and it will be much more economical than sparing a couple of dollars for an air filter or something like that.
What are the common problems with the 6.2 EcoTec3 engine?
We haven't seen many serious issues happening with these engines. Yes, some people still write in their reviews that injectors are bad. But we predict it's not about the manufacturer's mistakes. It's about the bad quality of the fuel this person buys. Remember, that currently, big-displacement engines are not the engines that can burn any fuel. They can only work well with good premium fuel.
Here are some of the issues you may have with your 6.2 V8 Silverado 1500:
Engine mounts problems. At 100,000 miles or later, you will probably have to replace one or two mounts. If the engine vibrates or shakes too much, the replacement of the mounts will help.
Fuel pump problems. The direct injection needs high pressure, and this is always bad for the fuel pump. The pump may just refuse to work one day and you'll have to do something quickly. The fuel pump is expensive, by the way.
Excessive fuel consumption. If you have this problem, you should check spark plugs and ignition coils first. Then, the engine diagnostics may help because sometimes one of the engine sensors is broken - the standard Chevrolet problem.
Excessive oil consumption. After 100,000 miles, this engine will start burning some oil. And it's OK. But if the consumption is excessive, you will probably need to replace piston rings or repair the engine heads. It's expensive, we should say.
Overheating problems. These engines are not made to rev them up a lot. They are big-displacement engines that give good torque at low RPMs and they don't like rotating like crazy. If you overheat your engine, you will have to repair it soon.
Overloading problem. Yes, you have a truck, so you can tow a trailer with it or something. But you should always remember the restrictions that the manufacturer gives in the instruction. Get to know the towing capacity and max payload of your vehicle.
These are some main issues you can encounter when driving a truck with a 6.2-liter V8 engine. We would say that none of these issues says about the problem with the engine. Most of them say about the problem with driving conditions and servicing.
If you maintain it well and don't kill it when driving, you will be able to drive your Silverado 1500 6.2 V8 for many years without any problems at all. 300,000 miles is not the top mileage you can get with this engine.
Catalytic converter problem
The biggest V8 Silverado 1500 engine has the biggest cat converters. And at 100,000 miles they may start malfunctioning. Anyway, no cat converter will be there for you for 300K miles, it's impossible. So, you will need to replace a cat to pass the fog test sooner or later. And this can be a problem.
First of all, the system has two or three cats depending on the year. Secondly, each cat converter will cost you over $1,200 if you want an OEM option. The positive thing is that you can sell your scrap cat converter to a recycling company and compensate for some expenses.
Final words
The 6.2-liter Silverado engine is really good. It's one of the best V8 engines in the Chevy lineup, and it's very durable, reliable, and fun to drive. This engine is not extremely bad in terms of fuel mileage if you drive the vehicle carefully. It has only some small common problems that are not so hard to deal with.
Though, we have to admit that maintaining and repairing this engine is not cheap at all. If you see that your 6.2 V8 EcoTec3 engine malfunctions more often, you should think of buying another vehicle.