Without proper accessories, we aren't likely to look nice. People are glad to give away thousands to buy all those modern watches, jewelry, fashionable clothes, and other outfit items aimed at improving their style. But it's not only about people. Cars also look better with proper accessories. Just compare two identical vehicles – one with nice rims, and the other with those cheap stock wheels that should be covered with some plastic decorations. Those cars will look much different, although they only differ in one thing – the rims.
If you have a black car, it isn't that easy to decide which color of rims you should consider. Today we are going to provide you with some ideas of what rim color suits best in your case. The main idea is to show your individual preferences with those wonderful rims. And be careful – if you make a mistake, your car won't appeal to you anymore.
Here are some questions we are going to discuss today:
the rim color for a black car – which to choose;
why rim color is so important;
size and type of rims to buy for your vehicle;
rim specs and restrictions for vehicles.
Let's dive in!
Rim colors for a black car with pics and tips
First, we want to introduce our vision of which colors suit the black car best. Our vision may be individual, so we decided to investigate the automotive forums and to talk to some owners of modern black cars who have customized the looks of their vehicles. By doing this, we managed to create a kind of a rating of what the owners of black cars like the most. And here are the results.
Black rims for a black car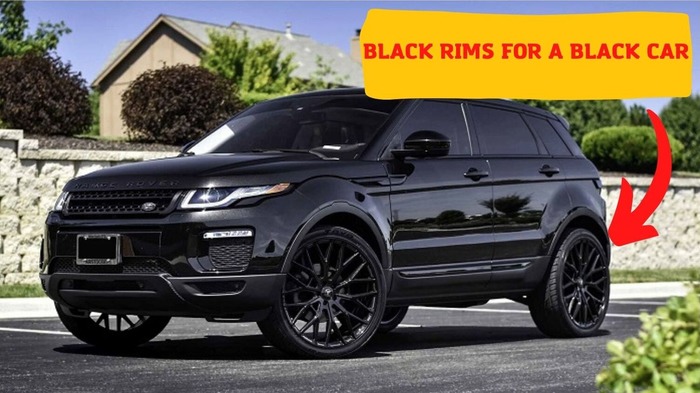 Pure black color is one of the most popular for those people who choose black cars when they buy their vehicles. The reason is simple – your car looks nice, it resembles the Dark Knight legend vision.
But not all black cars look like sporty vehicles that a superhero can drive. Many of them will look like a classic family vehicle with an average appearance and nothing interesting in their design. Black rims may still seem the best option in this case. Not many colors match nicely with black, and if you choose any other bright color for the rims of your car, you may make it look like a parrot.
Black rims are all-purpose for a car in dark colors, so they will also be demanded on the market once you want to sell them. So this is the best purchase for the owners of black cars if they want to experiment with the looks of their vehicles.
Grey or silver – so simple and classic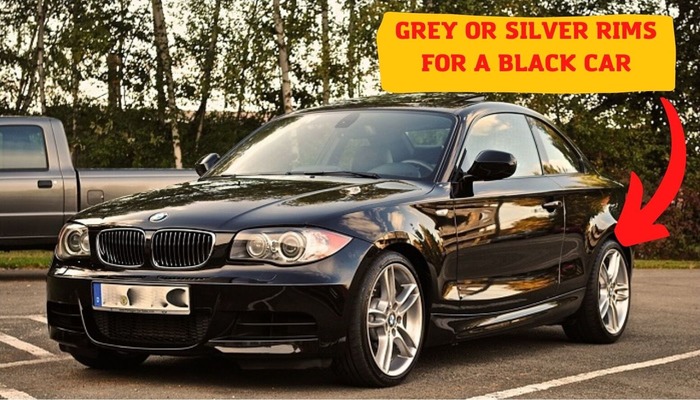 Many car manufacturers will agree that grey rims for a car look just perfect. They can suit all body colors and they will look good even when a little dirty. This is a practical and nice color that is going to be the best choice if you have no idea of what you really want from a wheel rim on your car.
Grey rims are extremely popular among all car owners. If you don't like the result and want to sell your grey rims online, it will take you a couple of hours to find the buyer. You may see thousands of vehicles of all colors that have grey or silver wheels and look perfect. Of course, the shape and design of the rim decide everything. Usual stock wheels don't look nice – they are very simple and conventional. While some custom rim manufacturers offer cool designs and features that can make your vehicle look perfect. Also, light-grey options will look as good as dark-grey ones.
White rims for your black car – nonsense?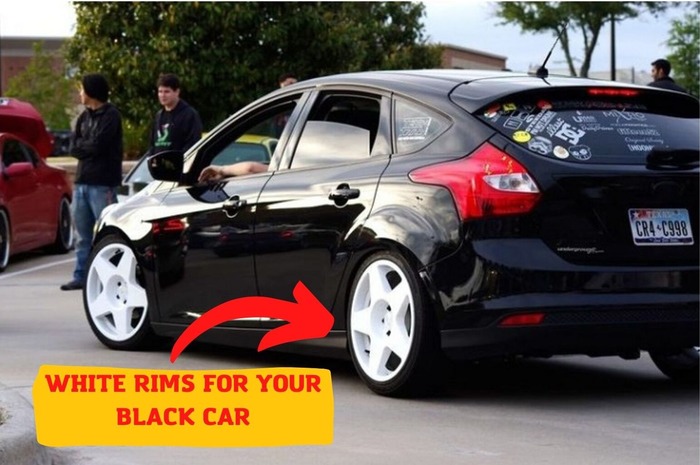 If you see this as nonsense, then the whole etiquette is nonsense. Men usually wear a black suit and a white shirt when they want to be seen as rich and confident people. Black and white colors match together and form a wonderful combination that looks rich. The contrast is not always bad. But still, white rims won't look good on all black cars – you should consider some important things.
At first, you have to think about the design of a car. If it's a minivan or an average family sedan with nothing cool in its design, then using white contrast rims is insane. But if you have a sporty vehicle that is powerful and modern in terms of design, white rims will be a good option. Also, you should include some accessories of white color such as stickers, door handle decorations, or other things.
Gold – very specific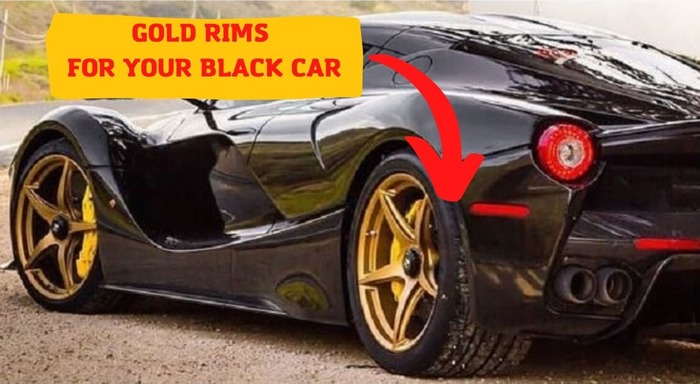 When it comes to luxury cars, gold is the color you should choose. Golden rims look so cool on black cars that you will not want to read the article further. But bear in mind that the rim should be painted in a combination of gold and black. Pure gold would look excessively bright forming the bad combination of light and dark colors. But if one part of a rim is black and the other one is gold, this looks just perfect on a black vehicle.
Black with a bright line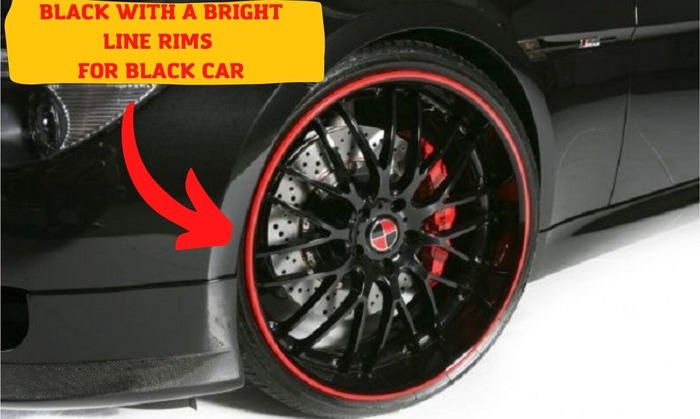 Another type of rim you can consider using with a black car is a black rim with a colorful line on it. Usually, the line is a circle right at the edge of a rim where the tire begins. For a sporty car, the red line will be a great decision.
Though, the lines may be of different colors. It all depends on what kinds of other accessories you use for your car. For example, if you like bright-yellow accessories, then choose a black rim with a bright yellow line. The only bad thing about such rims is that everyone will easily see that they are dirty. So the car wash will become your second home.
Brighter-colored rims – nice?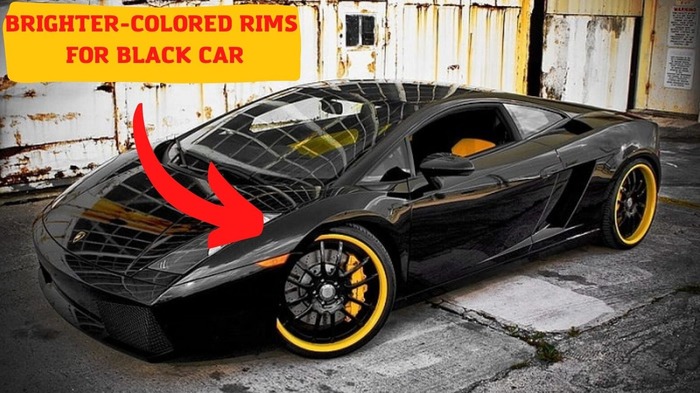 You can see some cars outside that use red, yellow, green, or even pink rims. But those vehicles look rather weird than cool. It's a real art to choose the correct combination of bright colors with a black car. Sometimes, dark red will be OK, but again, you will have to consider the body type of a car.
Bright colors are sometimes OK for sporty cars like Porsche or Ferrari. But even in these cases you better choose a black rim with a bright circle as we've shown above.
Size and design of rims to buy
It's extremely important to choose the appropriate design of the rims. Once you install wonderful sporty rims to a family minivan, you are guaranteed to have thousands of puzzled people looking at your car at every corner and even laughing at your choice. For a family car, you should choose something more classic, even the stock rims will look better.
If you install some classic rims to a sporty car, people will even start taking pictures of your vehicle and uploading those pictures to their Instagram accounts. Make sure you match the rim design to the purpose and type of your car.
Then, some other things should be considered:
many people would say that the bigger the rim, the better the car looks, but it doesn't work like that;
you should choose the rim size by considering the stock sizes that have been used by your car manufacturer;
rim width and ET parameter are super important to consider, and don't forget about bolt number and size;
the rims should be of high quality, otherwise, you can break them after some bad move on the road.
Good rim manufacturers usually show a lot of specs for their products. Make sure you read those specs and find out the maximum weight of a car and also other specifications that will show if those rims are good for your vehicle.
Also, make sure that the tire for your new rims won't cost you an arm and a leg. Installing designer rims isn't a cheap decision, so you have to be ready to spend some dollars on this. And sometimes the expenses will be very significant for your budget.
Verdict – changing the rim color on a black car
If you want to make your car look nicer, the first thing you should do is change the rim color and design. You may opt to just paint the old rims, but this isn't the best idea you can come up with. Replacing the old rims with new ones will be best, but you will have to consider many things like rim specs, color, design, size, and also many other issues.
In our today's article, we tried to show you what kinds of rims will be good or bad for a black car. And we are quite sure that if you ever choose to replace your rims, you will buy one of those options we've discussed above. Though if you feel like an artist, make sure that your decision suits your needs and your vision of a beautiful car.