BMW R1200RT is a travel tourer motorcycle manufactured by the BMW Motorrad subdivision. This type of bike has been produced by the famous German company since the 1970s. The R1200RT model was introduced in 2005 and immediately became popular with a lot of potential buyers in many countries, including the US.
This bike model was produced up to 2019 with just minor changes and modifications. The main goal of the bike is actually long-distance touring, not just city riding. But buyers have bought this model for different purposes. Yes, it has never been cheap, even if you look for some used motorcycles, but it's a BMW bike which makes it even more wanted on the market.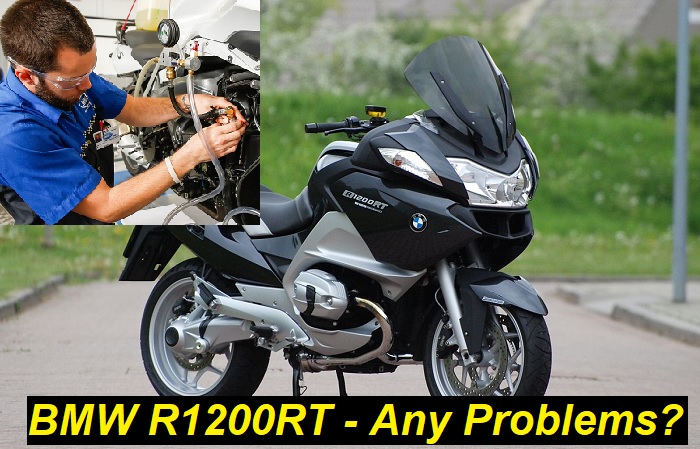 Today, we are going to talk about the following:
Main specs and features of the BMW R1200RT you may want to know.
The longevity of the bike - why is it not eternal?
What are the main problems of the R1200RT motorbike?
What years of the BMW motorbike are good and bad to buy?
Let's get started!
What should you know about the BMW R1200RT?
So, this is quite a powerful bike that is designed to be extremely comfortable for long rides. It comes with a comfortable seat for two people and also with a place to put a cargo box. The bike doesn't look like something you would expect from a BMW - it's not a sports motorcycle and it's not charged to let you accelerate like a rocket. No, it's just a simple traveler that is made to last and to bring joy on long journeys.
This is a not bad option for those who love traveling on a bike and have this feeling of freedom on the road. The motorcycle allows you to travel across the country and it offers cool options.
Here are some facts to consider:
the bike has a 1170cc engine offering 109 horsepower (113 hp in versions after 2014);
the 8-valve flat-twin engine is unique and it's hard to say it's a bad choice for the bike;
86 lb-ft of torque seems to be a good amount for a lightweight motorcycle;
the transmission is a 6-speed sequential unit - not a very conventional option;
the seat height may be adjusted - 820 to 840 mm;
there is a version with a low seat - 780-800 mm;
the wet weight is 571 lb or 259 kilos;
the bike can take 6.6 gallons or 25 liters of fuel;
the gas mileage is estimated at 50 mpg which is not bad.
Well, the bike is hard to compare with any other motorcycle. You should be careful when comparing because it's not so easy to find a decent competitor for this model. Of course, the niche is full of cool options, but who can compete with the BMW R1200RT? We don't know.
The motorbike is filled with smart technologies. For example, its transmission is equipped with a technology that helps reduce any shakes and vibration when you shift the gears. This helps you ride your bike better and get wonderful emotions even if you aren't a very experienced biker. But let's discuss the problems because you might have thought that this is an optimal motorcycle for trips.
How long will your BMW R1200RT survive?
The longevity of a bike is an important factor that is often considered the main feature for comparison. And here we could only find a lot of misinformation online. Some websites claim that the bike can last over 200K miles and this is insane - not all cars last that long nowadays.
We are pretty sure that the R1200RT can last about 80,000 miles with no problems and then another 40,000 miles with some minor problems. So, you will be able to ride your BMW bike for about 120,000 miles before it is more expensive to run than you can afford it to be.
It's not bad, by the way. If you ride 10,000 miles a year which is more than average, you will be able to ride your BMW R1200RT for more than 10 years if you buy it new. Unfortunately, the new R1200RT is now impossible to buy because they were discontinued in 2019. So, just pay attention to the mileage of a used bike to understand if it has a lot of miles left for you.
What are the main problems of the BMW R1200RT?
We've investigated forums and we've also asked some owners of the BMW bikes who we know personally. And now we are ready to tell you about all the problems owners have with this bike. Unfortunately, the motorcycle is worse in terms of quality and reliability than you could think about it considering the wonderful brand.
Problems start at about 80,000 miles but many owners claimed that minor issues may start much sooner and you have to keep an eye on them. Because when they get out of control, it's very hard and expensive to get rid of them.
Here are some of the main problems you should know about:
Corrosion. Well, these bikes rust just as some other bikes do. But they do it faster than many other BMW bikes. The frame is poorly protected from rust and this leads to problems with metal after 3-4 years.
Final drive problems. This is kind of a problem that is not easy to locate and not cheap to deal with. A lot of people say that this problem is the only important issue you have to worry about in your BMW R1200RT. But we don't agree it's the only one.
Some bad issues seem to be like gambling. We mean they can happen with your bike at any mileage. You can't predict when your R1200RT wants to go to a dealer and spend $1-2K from your pocket. And this is the worst thing, we suppose.
Bad oil and irregular maintenance will kill the engine very fast. We've seen engines after 18,000 miles with bad issues just because the owners of the bikes didn't pay attention to service. Maintaining your BMW bike is extremely important.
Part problems. Well, you are going to find some parts and also specialists in NY, but what about remote states like Alaska? BMW dealers are not seen often in these areas, so you should think of how you are going to maintain or repair a bike if something happens.
Prices. Well, if you buy a BMW (a car or a motorbike), you shouldn't be very optimistic about the cost of running your vehicle. You may spend thousands each year just for essential parts, oils, filters, and also for labor. Even if nothing bad happens with your bike - just normal maintenance.
Problems are here, and you shouldn't think that you will be protected from them if you buy a low-mileage R1200RT. This is not a practical model at all. This bike will take some money out of your pockets and it will be an expensive experience in your biking life.
But anyway, this motorbike gives you wonderful emotions when you ride it. Also, it's a cool and reputable bike that you will not be ashamed to ride in any situation. So, we still see some guys who want to buy this motorcycle because it's cool. But now you know that it's not only cool but also expensive and risky to buy. So, be careful with your choice.
How to avoid problems with your BMW R1200RT?
It's really hard to avoid problems if you have a BMW vehicle. These vehicles tend to create expensive problems but you will still love them anyway and will buy your next BMW once you are totally exhausted from going to a repair shop with your old one. We don't know why it always happens - some kind of BMW hypnosis.
Here's what you should do to prolong the life of your R1200RT:
always think of maintaining your motorbike using only original oil, filters, and parts;
never let inexperienced mechanics have their hands on your motorcycle;
never neglect some minor problems because they may grow into bigger issues soon;
be careful with popular problems - keep an eye on those units described above;
speak to other R1200RT owners and use their experience for your bike;
never rev up the engine much - this is not a sports motorcycle and it's made for cruising.
This is a traveler, not a crotch rocket. So, be careful when you drive this motorcycle. Yes, it's powerful and it can let you speed up like a rocket on the road. But it will result in problems with the transmission, engine, and other parts of your bike. When you know the prices for these parts, you'll be using that acceleration handle as carefully as you can.
Final words
You shouldn't think that the BMW R1200RT is a bad bike - no, it's a very good and solid motorcycle. But you should use it in the way it should be used and never use it for sports riding or for showing off. This is a cruiser, a traveler that is comfortable on highways. Be careful and avoid popular problems to keep riding your BMW with no expensive issues and bad repairs.