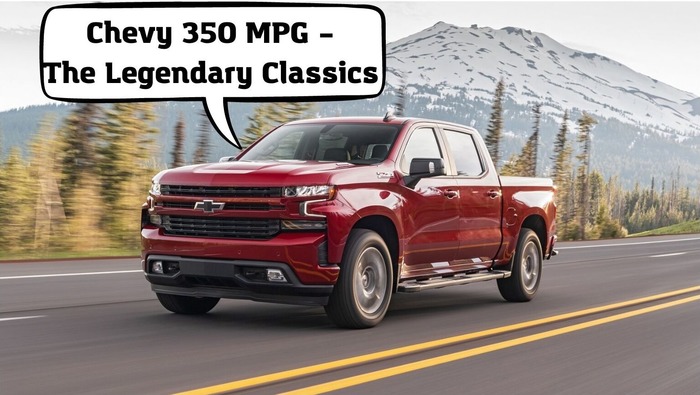 Chevrolet has always been quite good at building engines. The company has created the world's best engines for their cars all over the world. Some of them were in production for decades with just minor changes. Even now, Chevrolet produces great engines that are both reliable and efficient. The technologies have developed much with new hybrid powertrains and all those turbochargers that allow engineers to take 150 horsepower from 1000 cc of engine capacity. But classics remain unbeatable, we believe.
Today we'll talk about Chevy 350 engines, and will look thoroughly at the mpg of these powerful units. The gas mileage of the old classic Chevrolet engine is something that will frustrate a rational driver today. But those who love classics in cars will be glad to pay extra money for fuel to have the opportunity to drive a car with all those cool engines under its hood. And a 350 Chevy engine is apparently one of those great options.
Today we'll be talking about the following:
Chevy 350 engine – background, specs, implications;
Gas mileage of the classic engine;
Chevy technologies used in small-block engines;
Latest small-block engines and their use.
So, let's get started!
Chevy 350 – what kind of an engine is it?
Chevrolet 350 engine was first introduced in 1967 with the new generation of Camaro. A year later it was also offered for the Chevrolet Nova. In one more year, buyers could offer nearly any Chevy model equipped with this engine. This was the next generation of so-called "small-block" engines. They started in 1954 and were produced up until 2003 with numerous modifications. Even after that Chevy produced some small block engines and sold them as conversion kits or swap parts.
The Chevy 350 engine apparently had 350 inches of displacement which roughly equals 5.7 liters. It was a carbureted engine with quite simple technologies and very good reliability. The unit became very popular and, in the future, it would get a lot of versions. In 1969 the company offered a new version called L46 for the Corvette. Then the L48 version for the SS Camaro appeared on the market. Then there were L65, LM1, ZQ3, LT-1, L82, L81, LS9, LT-9, L83, L98, L05, and L31. So, when we talk about the 350 engine, it's quite hard to distinguish between all those versions.
For reference, we'll take the specs of the L05 engine:
210 horsepower accessible at 4000 RPM;
300 pound-feet torque at 2800 RPM;
9.4 compressions ratio;
8 cylinders in V shape;
Throttle-Body Injector instead of a carburetor.
The power could vary. The earlier engines came with 180 hp of power while later Chevy offered more powerful versions thanks to some changes of the intake part of the unit. Of course, those engines had a little more trouble because of the injection system that asked for maintenance every now and then. The L05 engines were very popular for trucks and RVs by Chevy, Pontiac, and also by some other brands.
The 350 engines weren't discontinued totally in 2003 when Chevies turned to all-new engines with much more efficient injection systems. They were still produced and sold as tuning engines for different cars. Also, they were widely used as swap engines for RVs and trucks. Even some carbureted versions of the 350 engine were still available on the market a couple of years ago. Of course, those ones were bought by some enthusiasts who wanted to rebuild one of the classic models of Chevrolet.
What about gas mileage with the 350 Chevy engine?
You can expect that a 5.7-liter engine won't be as economical as a modern 2-liter turbocharged unit with basically the same power and torque. 5.7 liters of displacement and 8 cylinders will drink up your fuel like crazy no matter what. But in return, you will get great performance and wonderful reliability.
So, the average mpg for a 350 engine with TBI (Throttle-Body Injector) will be around 14 mpg. For the carbureted versions of the 350 engine, the mpg will be even worse – around 12 mpg on average. But if you think that today's V6 and V8 engines offer much better mpg, you are wrong. They are actually as bad as the 350 engine in real conditions.
The gas mileage is a relative thing – you may push your gas pedal to the metal every time you sit behind the steering wheel. In this case, you are likely to get 5 to 8 mpg with all those V8 engines. But if you are a careful driver and want to just safely commute from one point to another, you may get 18 mpg on average with your Chevy 350 engine. Doesn't look that bad now, right?
What kinds of technologies will you find in Chevy 350?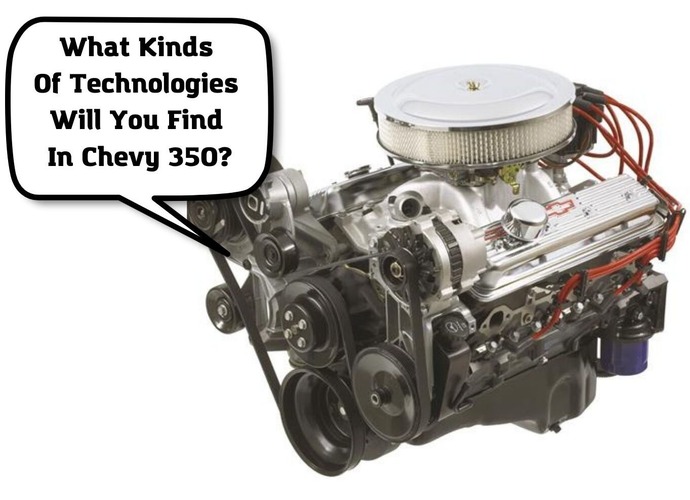 Well, in the 1980s Chevrolet started implying some "new" technologies to their 350-series units and it didn't get the series to anything good. Old carbureted engines from the 70s and 80s appeared to be really better in terms of reliability. The TBI system only allowed to get another 2 mpg of gas mileage but it wasn't that cheap to maintain anyway.
The L31 series which was the last 350 model by Chevy offered an injection system and it was mainly used for commercial transport. Volvo Penta still produced this type of engine for marine vehicles. The unit was really good, but it actually was used for G-series vans and for some Isuzu vans only.
L98 engines offered TPI technology (tuned-port injection). It wasn't that bad, many Corvettes were sold with this feature and buyers have never regretted their purchase. But the L98 units were outdated really fast. Some fresher engines were made by competitors of Chevy and the motor appeared to be old to be continued in just 6 or 7 years.
Other engines weren't offering any new technologies. They just followed the reliable construction of a "small-block" family and were made to last. That's why buyers in America loved these units so much.
What are the latest "small-block" engines?
Actually, the 4-inch bore family that includes the 350 motors is the latest "small-block" family made by Chevrolet. But they also continued making some of the "small-block" engines to sell them separately for swapping, tuning, and also for other purposes. The average price for such units was around $4000, and you actually got the new engine with a 50,000-mile warranty. Also, GM sold these engines with optimal transmissions.
The main reason for buying a new 350 engine is when you rebuild an old car or want to build your own off-road vehicle. Otherwise, swapping any other engine to a 350 doesn't make much sense. These units are quite old in terms of technology and they aren't likely to deliver decent gas mileage in any case.
What are the main problems of the 350 engines?
To tell you the truth, the 350 is thought to be one of the best engines of the 20th century. It's quite reliable, long-lasting and shows only a few problems. The units aren't very expensive to maintain and service, parts can still be found in shops. But we can't say that this engine has no problems at all.
Here are some common issues you will probably experience with such a unit:
Really poor injection in all of the engines. Carbs, TBI, TPI, and any other injection type are much worse than even the simple injector in your car. This affects gas mileage, but it also causes bad idling, poor power, vibration, bad starting, poor cold start, etc.
Noisy work. Sometimes drivers will ask in forums why their engine knocks all the time. The answer is simple – these units work like that! They are extremely noisy and it may seem that they are going to be broken in a minute, but that's OK.
Timing issues. Some types of engines had chains, others had belts, but both weren't very good. You will need to replace the timing mechanism more often than the manual says if you don't want to repair the cylinder head after the belt brakes or the chain moves.
Some parts are hard to get. Chevy discontinued these engines and many companies stopped producing and remanufacturing the crate engines based on the 350 series. So finding some parts like pistons, valves, rings, gaskets won't be so easy.
Verdict – is the 350 series successful?
We believe that 350 engines are one of the best V8 motors ever made. Yes, they now seem quite old in terms of their technologies but when they were new, these units could compete with any other V8 offered on the market. And yes, the engine is still popular today among people who rebuild the classics or among car enthusiasts who want to tune the engines, build their own off-road vehicles.
The 350 units are quite old, that's why they are losing their market today. They aren't as eco-friendly as new engines, and because of this, they are slowly diving into history. But we are pretty sure that American car enthusiasts will remember these engines as a huge page in automotive history.