Dodge is an American car brand mainly popular in the US. It belongs to Chrysler corporation and uses Chrysler technologies for building vehicles. The most popular Dodge cars are RAM trucks, but you can also find some other great vehicles like the Dart, the Durango, and also some other options in different classes.
But today, we won't be talking about the Dodge range that you can buy from a dealer. We'll be discussing the scrap price of Dodge catalytic converters. We won't focus on a certain model but will discuss the whole range of the brand. Are you interested in selling the catalytic converter at a good price? Then keep reading!
Trending: 10 Car Shop Tricks – Here's How They Cheat Us out of Money!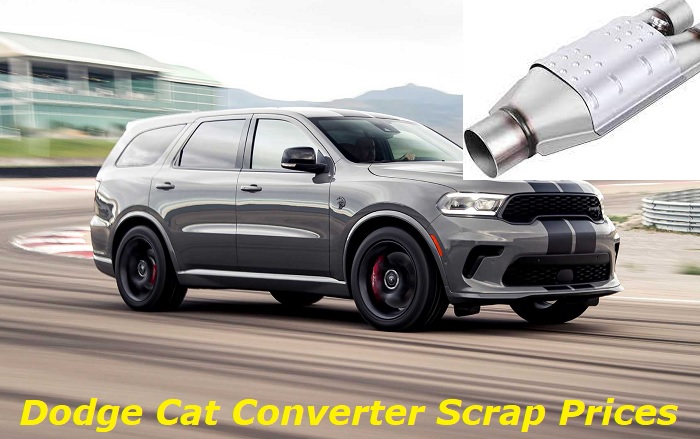 Here's what we'll be talking about:
Dodge catalytic converters - what types have been used?
What's the scrap price of a Dodge catalytic converter, on average?
How can you sell the cat converter from your Dodge vehicle?
What else should you know about catalytic converters in Dodge cars?
Let's get started!
What are Dodge catalytic converters like?
Dodge doesn't manufacture its own catalytic converters but uses Chrysler cats. Some of them may still have the Dodge logo on them while some others will have the Chrysler logo. It means that when researching the price of the Dodge scrap cat, you will not probably find a lot of information. But the data on Chrysler scrap cats will be also true for you.
We should warn you that finding a good price for the catalytic converter is a big challenge currently. If you have an aftermarket catalytic converter in your Dodge, this will not cost a lot of money. Everything we say about the scrap prices today will only refer to OEM Dodge (Chrysler) catalytic converters.
Here are some important things you should remember:
big Dodge cats will cost more, but most modern vehicles will have assemblies with mid-sized and small cats;
some Dodge vehicles will have one converter while others may have two or three cats depending on the engine type;
these cats are all quite durable and they can live over 10 years without much rust and with no damage to their body;
the main value is inside - there is a ceramic honeycomb that contains all of the precious metals presented in your cat converter;
find the brand logo and also the serial number of the cat to make sure you have an OEM cat converter in your hands;
usually, these cats have a little rhodium and also some grams of platinum and palladium inside.
It's clear now that recycling companies and other buyers will want to buy these converters because they will earn selling precious metals after the recycling process is finished. But you should also know that not all companies will be able to offer you the full price. And this is why it's important to know more about the cat and its actual value.
We believe Chrysler is one of the companies that take it seriously when it manufactures catalytic converters. So, all of them are usually in a good condition and aren't damaged. This helps them sell at better prices.
How much should a Dodge catalytic converter scrap cost?
The eventual price of the catalytic converter depends on so many factors that it's quite hard to tell you any average figures. But still, the normal price for a Dodge catalytic converter should be anywhere between $90 and $180.
A big range, right? We can say it more precisely only after looking at the converter and seeing its serial number. But you will not need to send us the pictures of the cat. The only thing you can actually do is to follow the tips we give further in the article and get to know what else you can do to learn more about the prices.
Let's just outline some factors that will decide the price of your Dodge catalytic converter:
the condition of the cat - this is not the key factor, but it can actually be important for an eventual price offer from a buyer;
the type and size of the cat - Dodge catalytic converters may be small, mid-sized, or large which is also important;
the origin - you should be sure that you are selling the original (OEM) catalytic converter from your Dodge vehicle;
the prices of precious metals - this is one of the key factors that may sharply change the price of a certain cat converter;
the place where you want to sell the catalytic converter - this is also an important thing that you actually can control.
Unfortunately, speaking a lot about each of the factors is not efficient because you can change nothing but the place where you want to sell your converter. Dodge catalytic converters are still valuable, so you have to be really careful when you choose this place or a person you want to sell your old cat to.
Trending: OUR 5 Golden Tips on How to Cut Your Driving Costs
All other factors just exist and you can't do anything with them. So, if you are lucky enough, you will sell your cat converter at a higher price just because rhodium got more expensive on the market and buyers can offer more money.
Who can you sell a Dodge catalytic converter to?
The question of choosing a proper buyer is vital. You can sell your Dodge catalytic converter to a company that is specialized in recycling this type of equipment. Or you can just find a private buyer who is actually a middleman and will just want to earn some money by reselling your catalytic converter.
We don't recommend these ways of selling your Dodge cat converter:
private buyers;
middlemen;
exhaust shops and mechanics;
scrapyards;
eBay.
All of these methods of selling your cat converter are bad because they offer bad prices and/or long processes.
But we know another way of selling a cat from your Dodge that will certainly be much better. Here's what you should do:
Go online and find some companies that buy out catalytic converters and can estimate the price of your cat just by getting two or three pictures of it.
Take pictures of the converter. Try to show every important detail of the car. If it has any damage, make sure you show this damage in the pictures. Also, try to show the serial number and the logo.
Quote. Use the websites of these companies and send them pictures along with the description of your vehicle.
Wait for the offers. These companies will then prepare price offers for you and you'll be able to choose the best one. This is the easiest part.
Ship the converter. You may even find companies that want to cover shipping costs for you so that you could get a certain sum of money for the Dodge cat.
It sounds easy and it actually is easy. All you need to do is just find a way to sell your catalytic converter at a better price. And the worst way to do it is to just go to the scrapyard or to a person who buys out cat converters in your area. At first, try sending pictures of your converter to recycling companies, and then you will not need any other ways.
How to protect your Dodge catalytic converter from theft?
Unfortunately, Dodge cat converters are quite often stolen. Especially, if we are talking about Dodge RAM vehicles or big SUVs like Durango. These cars have a high clearance (ride height) and a person can easily fit under the car together with some instruments.
Cat converter thieves are pretty nimble people and they will figure out when and how they should get under your car to steal the converter. Your task is to protect the cat in order to keep the OEM part up until the time when you want to sell it.
It's easy - just keep up with these tips:
always park your car in areas where people can see it or in places with security;
never leave your vehicle at night in areas with high crime rates;
use special cages and metal wires to protect the converter - they will make it harder for a person to steal the cat;
park over something that will interfere with easy cat converter theft.
Unfortunately, even using all of these tips will not guarantee that you will always find the catalytic converter in place when you start your car in the morning. But if you don't use these small tips, this time will come much sooner.
Final words
Do you want to sell your Dodge catalytic converter at a good price? In our article, we've presented practical tips on how you can get the best possible price for your catalytic converter. Unfortunately, prices vary regularly, so we can't give you any certain average figures.
Be careful with possible cat converter theft in your Dodge vehicle. This may become the worst experience you've ever had with your car, especially if the vehicle wasn't insured properly.
Trending: 3 Unconventional Services Every Car Owner Badly Needs
We hope now you know how to sell a Dodge converter and not lose your money!