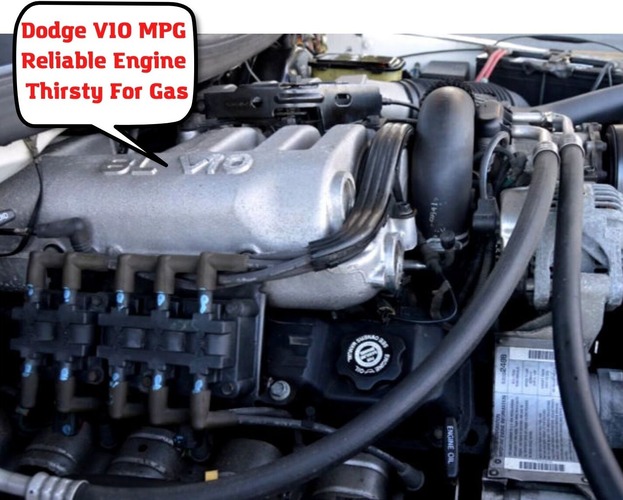 When we speak about Dodge V10 engines, we can think of basically two types of units: Viper and Magnum. Both are naturally aspired 10-cylinder engines, but one shouldn't think they are the same. These engines are completely different, and we'll mainly talk about the more practical Magnum engine today, although we'll give a quick overview of the Viper engine, too.
The V10 construction is highly interesting in terms of tuning, turbocharging, fast driving because it's very reliable, has a lot of power inside, offers great potential. But it's also extremely outdated due to really bad gas mileage and old technologies. Today we'll look at both advantages and drawbacks of Dodge V10 engines and will mainly speak about their performance and fuel consumption.
So, today we are going to talk about the following:
Dodge Viper V10 engine MPG and main features;
Dodge Magnum V10 engine MPG and main features;
Magnum engine construction and facts;
Pros and cons of the V10 engines;
Longevity and main troubles of the V10 engines.
Let's start!
Viper V10 – what kind of an engine is it?
We'll start with a quick overview of the Viper Engine which is a legend of Chrysler Corporation. This is a V10 engine that was first produced in 1992 by Chrysler to install to a Dodge Viper. This was the engine that was engineered for sport driving. During its production, engineers offered numerous modifications. The V10 engine offered 400 to 645 horsepower and 465 to 600 lb-ft of torque. Even the displacement was different. Viper Engines had three versions – 7990 cc, 8285 cc, and 8382 cc. Both block and head were made of aluminum, the head was equipped with 2 valves per cylinder.
The Viper Engine had great and reliable construction. It was produced up until 2017. The last car with Viper Engine was Dodge Viper SRT 2012. But Chrysler sold the engineering rights for this engine to numerous companies all around the world. You can find Viper V10 in Dodge RAM SRT-10, Bitter cars from Germany, Alfa Romeo Zagato TZ3 Stradale, Bristol sports cars, and some other models.
The main question is the gas mileage. The official figures for Dodge Viper with the V10 engine don't look bad. They say that the Viper can easily drive in the city showing 12 mpg and on highways with 19 mpg. But bear in mind that those figures are ridiculously far away from true fuel consumption. Dodge V10 sports engine offers around 6 to 7 mpg if you want to feel all the power and torque it has to offer. Once you push the pedal to the metal, it will start consuming petrol like a thirsty beast.
Now let's turn to a more practical V10 Magnum Engine.
Magnum V10 – main features
In 1994 Chrysler came up with the idea to make the engine that can be used in the most popular Dodge trucks and draw more attention to the models. The idea was realized through an 8-liter gasoline engine that has 300-310 horsepower of power and nearly 450 pound-feet of torque. The main thing that differs the V10 Magnum Engine from its competitors is that the Magnum offers full torque at 2400 RPM. You won't need to rotate the engine like crazy to get the full torque and to tow a huge amount of weight, for example.
That's why Chrysler limited the Magnum engines for RAM 2500 and RAM 3500 trucks only. But today these engines are also popular for RVs. So, the engine was produced between 1994 and 2003 and it was one of the best gasoline engines for trucks.
Here's why:
this was an extremely simple and easy-to-maintain engine;
the reliability was really good, some owners say they drove over 300 000 miles before selling their trucks;
engineers didn't try to get the maximum power out of 8 liters, so the engine was well balanced;
the early accessible torque was good for towing capacity;
the engine actually was even better than all diesel engines for trucks at that time.
The Magnum Engine actually was the compromise for those who wanted a capable truck but didn't want to solve all those diesel problems like expensive maintenance, bad fuel injection system, vibrations, and low power. V10 Magnum actually became one of the best propositions and made RAM trucks even more popular with American buyers.
MPG of the V10 Dodge engine
Well, some sources on the internet will tell you that the RAM 2500 with this V10 engine will get around 16 miles per gallon. It's only possible when you drive on a highway and keep the constant speed of around 60 mph. In this case, your engine will work in its best rotations and will ensure the best possible gas mileage.
In all other cases, the best mileage you can actually get is around 13 miles per gallon on the highway and something like 8 miles per gallon in the city traffic. The average gas mileage for the Magnum V10 Engine should be somewhere near 10 mpg.
You have to put up with this because 10 cylinders and 8 liters will drink the gas no matter what you do. But in return, you will get wonderful towing abilities, great torque, and the sporty nature of your big truck.
Main issues of Dodge V10 Magnum Engine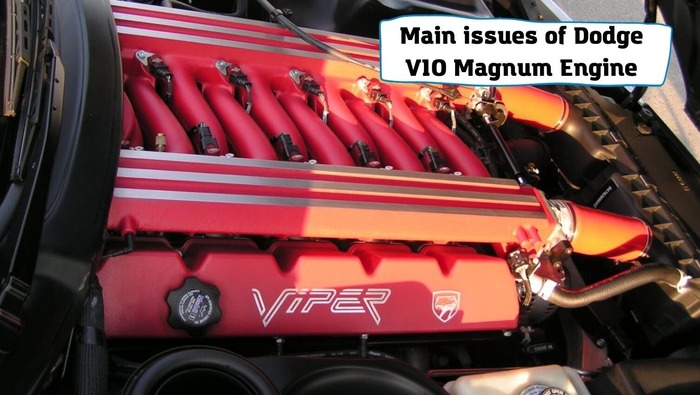 Overall, the Magnum V10 engines are very good and solid units. They haven't caused much trouble in operation but the gas mileage. The average mileage that was reported until the first problem is around 200 000 miles, some drivers claim to have driven over 300 000 miles before the first issue came out. Also, the engine is repairable. Even if you have trouble, you should consult an experienced mechanic and learn what the price will be to repair the unit.
Here are the problems that you can expect to get with your V10 Magnum Engine on Dodge RAM:
blown head gasket which is really the big problem for all Magnum engines;
head cracks – if you don't maintain your engine properly and it starts overheating, the head may just crack resulting in a very expensive repair;
plastic things under the hood are really bad – you'll need to replace all those vacuum lines, hoses, and other things to ensure optimal engine operation;
cats will survive no longer than 150 000 miles, then you'll need to replace them which is quite expensive;
injectors aren't the best you could find on the market, they will need repair and cleaning regularly;
thermostat issues have been registered often, the broken thermostat will mean that whether your car will warm up slowly, or it will overheat.
These issues weren't very often registered. On average, the owners will only say good things about the V10 Dodge engine. But you will need to keep in mind that some of these issues can happen if you want a car with this engine.
One more thing you need to remember is that these engines were produced up to 2003. It means that the youngest ones are now about 20 years old. Of course, a 20-year-old engine won't be as reliable as a new one. So you will need to check it thoroughly and ensure proper maintenance to have it work well for another year or two.
How to maintain the Dodge V10 engine?
Maintenance is really important and it determines just how long you can use your engine without any problems. Chrysler offered a 10,000-mile interval between oil changes but we believe you should make it shorter now. The thing is that the engines are very old and they all have some minor issues with wear and tear. If you change the oil more often, you will prolong the life of the engine thanks to lower risks of metal parts getting into the engine. While the engine works, some small metal parts are formed and are sent with the oil to the oil filter. But once the filter is clogged, it can send the metal parts to the oil pan and from there the pump will take them to the cylinders and valves. This will ensure that the engine will die soon.
Changing oil every 8000 miles will be a wise idea if you have a truck with the Magnum V10 engine. The oil should be changed together with the oil filter and air filter. Also, the fuel filter needs to be replaced every 15 000 miles or so.
Once you notice that the cats work poorly, replace them. The catalytic converters can send hard particles into the engine and destroy the cylinders and pistons.
Also, remember that one of the worst things you can do is to neglect the towing capacity limitation. For example, for the 2002 RAM 2500, Dodge says it can tow up to 10 000 pounds. Don't tow more because you can damage both engine and transmission.
Verdict – are the Dodge V10 engines good?
We can say that the V10 engines made by Chrysler for Dodge RAM 2500 and 3500 were really good. They basically have two main problems: the age and the gas mileage. These engines are quite old and they won't be very reliable today. Also, the average gas mileage is 10 mpg at best which is not so good today.
If you want a towing beast that is simple enough to repair and cheap to maintain, then you could find a low-mileage RAM 2500 with this engine. But be prepared for some hidden issues you may bump into when driving such a vehicle.