The Ford 4.6L V8 engine was introduced back in 1991, and ever since then, the 4.6 V8 was a staple Ford engine. However, even though this engine is considered reliable and dependable, no engine is true without fault which brings the question: Is the Ford 4.6 V8 a good engine? Read on to find out!
Common problems with the Ford 4.6 V8:
Issues with the starter solenoid
Overheating and temperature sensor issues
Issues with the fuel pump
Black smoke coming out the exhaust
Defective ignition coils
Coolant issues
Spark plug issues
EGR issues
Timing chain issues
Intake manifold issues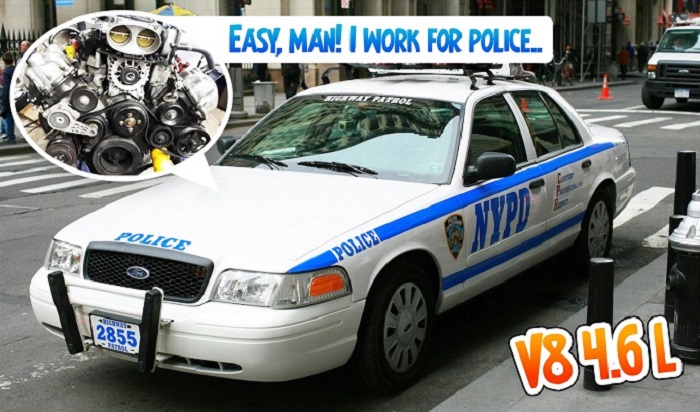 Issues with the starter solenoid
A starter solenoid issue is a reoccurring problem with the Ford 4.6L V8 engine, and whenever the solenoid fails you are not able to close the starter circuit which means that the starter is unable to perform its duty. This can be easily fixed by skipping the connection manually with a screwdriver, but only for a short while.
Overheating and temperature sensor issues
Overheating and temperature sensor issues are mostly associated with older Ford trucks that are equipped with the 4.6L V8. However, these issues should not be taken lightly as they are known to sometimes cause engine fires. In order to be safe, never drive your car before diagnosing the issue.
Issues with the fuel pump
A worn-out or corroded fuel pump is also a reoccurring issue with the 4.6L Ford V8. These issues were mostly associated with the 2006 Ford F150 which could sometimes end up in unwanted engine stalling. Several NHTSA complaints state that this is mostly down to fuel pump corrosion.
Black smoke coming out of the exhaust
If you come across your 4.6L V8 emitting increased amounts of black smoke, this is mostly due to oxygen sensor problems. Way too much fuel is being pumped into the engine, and the engine is unable to burn it all out. If the oxygen sensor starts malfunctioning, the oxygen to fuel ratio is bound to be unbalanced which in turn causes these issues.
Defective ignition coils
Ford has equipped its 4.6L V8 engine with advanced ignition coils in order to increase power while retaining fuel efficiency. However, these are sometimes known to fail, if they do, you ought to replace them. Sometimes the issue is due to the wiring harness disconnecting from the coils themselves. If this is the case, just connect them back together.
Coolant issues
These engines are also known to sometimes offer coolant issues which are mostly associated with loose-fitting hoses and sensors. It is always best to keep an eye on the temperature gauge as this can also cause the engine to overheat. This issue is fairly common with older Ford F150 models equipped with this engine
Spark plug issues
Spark plug flying out of the engine is truly a sight to behold, and back in 2003 one owner reported to the NHTSA that a spark plug was literally ejected from the engine.
EGR issues
The 4.6L V8 Ford engine has an Exhaust Gas Recirculation (EGR) valve installed which is also sometimes known to cause issues. Be sure to park the car somewhere and let it cool down, after that try to start the car up and observe the EGR valve. If the uncovering mechanism is not moving smoothly, chances are that your EGR valve needs replacing or cleaning up.
Timing chain issues
This engine is also sometimes revered for its timing chain issues. The timing chain usually endures quite a bit of force, but the weak link is not the chain itself, rather the plastic guides that cover it. The chain sometimes slaps these guides which tend to break. If this does happen, the chain will eventually move from its designated position.
Intake manifold issues
Intake manifold problems were mostly associated with the pre-2001 4.6L V8 Ford trucks, but some of them continued to cause issues even with later models. The intake manifold is made out of plastic which is not a big deal, but the problem is that the alternator brackets tend to mount into the plastic housing.
Here are the specs of the 4.6L Ford V8 engine:
Engine:

4.6L 16v SOHC, 24v SOHC, 32v DOHC

Type:

90° V-8

Engine Family:

Ford Modular, "Triton V-8"

Production Plant(s):

• Romeo Engine Plant in Romeo, Michigan
• Windsor Engine Plant in Windsor, Ontario
• Essex Engine Plant in Windsor, Ontario

Applications:

1997 - 2010 model year Ford F-150 pickups
(various Ford cars, including the Mustang)

Displacement:

281 cid, 4.6 liters

Firing Order:

1-3-7-2-6-5-4-8

Engine Block Material:

Aluminum, cast iron depending on model year

Cylinder Head Material:

Aluminum

Deck Height:

8.937"

Cylinder Bore:

3.55"

Cylinder Stroke:

3.55"

Compression Ratio:

9.0 : 1 (1997 - 2000 2 valve/cyl engine)
9.375 : 1 (2000+ 2 valve/cyl engine)
9.8 : 1 (3 valve/cyl engine)

Aspiration:

Naturally aspirated

Valvetrain:

Chain driven single overhead camshaft (SOHC), available in 16 valve (2 valves per cylinder) or 24 valve (3 valves per cylinder). Ford also built a high-performance 32 valve, DOHC 4.6L, but it was never offered in the Ford F-150.

Ignition:

Individual coil-on-plug ignition system

Fuel System:

Sequential multi-port fuel injection

Engine Oil Capacity:

6 quarts w/ filter

Peak Horsepower:

210 hp @ 4,400 rpm (F-150 2v, 1997)
292 hp @ 5,700 rpm (F-150 3v, 2010)

Peak Torque:

290 lb-ft @ 3,250 rpm (F-150 2v, 1997)
320 lb-ft @ 4,000 rpm (F-150 3v, 2010)
FAQ Section
Is the 4.6L Ford V8 a good engine?
Yes, the 4.6L Ford V8 is a great engine thanks to its above-average reliability and decent power outputs.
How long does the 4-6L Ford V8 last?
This engine should easily do upwards of 250k miles if maintained correctly. However, these numbers can sometimes either go up or down depending on the usage scenario.
How much boost can a 4.6L Ford V8 handle?
This engine is known to easily handle around 300-350rwhp, but the upper limits are closer to 450-500rhwp. Be sure to consult yourself with a professional before attempting to boost the engine.
Did US Crown Victoria taxi cabs use the 4.6L Ford V8?
Yes, many Crown Victoria taxi cabs used this very engine. This only further reiterates that this engine is built tough, just like Ford always wanted it.
Which Ford cars use this engine?
The Ford Crown Victoria, Ford E-series vans, Ford Expedition, Ford Explorer, Ford F-150, Ford Thunderbird, Lincoln Aviator, Lincoln Continental, Lincoln Mark VIII, and a few Mercury cars used this engine. The most powerful and the fastest Ford model powered by this engine is the 2003 390hp Ford SVT Mustang Cobra.