Among cruiser motorcycles, Honda CTX1300 is one of the options. At least, we know a lot of people who dream of selling their older bikes and buying a Honda. We also know a lot of CTX1300 owners who are more than happy with their choice. Now, this motorcycle is not sold new but it's going to be a good competition for all other cruisers on the used bikes market.
The CTX1300 was introduced in 2014 after the legendary Honda ST1300 was discontinued. The model was especially warmly welcomed in Australia and the US while the European market was missing the ST1300 dubbed Pan-European and didn't take the CTX1300 very well. It was discontinued pretty soon, though. And today, we'll tell you about some problems with the Honda CTX1300. We'll also show some of its main features that you should know before buying the bike.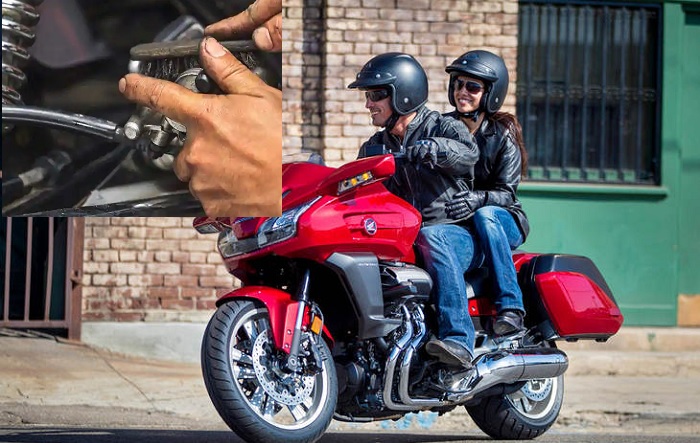 Here is what we are going to talk about:
The Honda CTX1300 specs and features - is it good?
What are the main problems if the CTX1300 motorcycle?
What's the average lifespan of the Honda bike?
Why should or shouldn't you buy a CTX1300 for good rides?
Let's get started!
The Honda CTX1300 - is it a good bike?
We can say for sure that the CTX1300 is a good motorcycle by Honda which has got a lot of positive reviews and feedback. But many riders report problems and we'll focus on them later. Now, we want to tell you what kind of a bike the CTX1300 is.
Actually, this is a modern cruiser motorcycle with a very comfortable seat for long interstate rides. It's a serious motorcycle and we think it shouldn't be the first bike you own. It looks really good combining the classic looks of a cruiser with some modern features that you don't expect to see in such a motorcycle.
Here are some interesting features of the bike:
the CTX1300 is powered by a V4 engine and it's a great decision in terms of smoothness of work and longevity;
the engine is liquid-cooled, this also adds to longevity and helps prevent any overheating issues;
the 1261cc engine offers over 80 horsepower and more than 78 lb-ft of torque;
the wheelbase is 1640 mm - this is a lot compared to many of its counterparts;
the motorcycle can hold over 19 liters or 5.1 gallons of fuel in its tank;
the average gas mileage is 42 mpg, so you can go more than 200 miles with a full tank;
the seat height is 735 mm minimum, but you can adjust it by making it a little higher.
These are important specs you may want to know about the motorcycle. Now you see that the Honda CTX1300 is not a bad bike at all according to its main features. It can easily compete with the best cruisers on the market. Yes, it's slightly old-fashioned in some ways compared to newer bikes, but it still looks great and can be a good choice.
It's not a cheap bike, though. With an MSRP of $17,500, this motorcycle is considered to be one of the most expensive cruisers on the market. Well, you can have a Deluxe version with ABS, Bluetooth functions, and some other perks. By the way, now the CTX1300 is not available at Honda dealers' shops. And the most expensive cruiser is the Honda Fury with a price tag of $11,499.
What are the problems of the Honda CTX1300?
Unfortunately, the Honda CTX1300 still has a lot of problems. Now, these motorcycles are mostly not new, they have a lot of owner reviews and a lot of opinions. This means we know everything about them and we are ready to share this information with you.
Understanding the problems of a certain engine is always helpful when you are trying to choose a motorcycle or when you are comparing two or three models to choose the best one. Also, this will help you understand when it is time to sell your bike and look for a new one. We can't even say how precious this information is when you are buying a used cruiser motorcycle.
Here are some of the most important problems:
Engine vibration. Although the V4 engine should reduce the vibration, in the CTX1300 it was actually vibrating hard. For a cruiser motorcycle, it's a big problem. Also, the engine will get harder wear and tear if it vibrates hard.
Rear suspension problems. Nearly all owners say that they had to seriously repair the rear suspension at 15,000 miles or even earlier which is ridiculous for a bike that costs like a decent budget car.
Lack of power. The engine was detuned for this motorcycle. And this is a problem for riders. You need to rev up the engine harder to get a certain speed or a certain acceleration. Again, it means faster wear.
Transmission problems. The transmission is not something extraordinary in the Honda CTX1300, but it still causes a lot of problems for owners. Especially, in high-mileage motorcycles. Some owners even report they had to replace the transmission with a new one.
Parts prices. Honda has never been considered a cheap brand. And if you want to maintain your motorbike like it should be maintained, you will need to buy original parts. This may be a real problem for you. Labor prices are huge, too.
Wiring problems. You will need to have a good specialist to repair the electric system in your Honda CTX1300. If you go to a dealer each time you have a problem with the wiring, you can go bankrupt.
We haven't heard about really big problems with the engines and frames of these motorcycles. But actually, reading so much about the problems of a bike that was one of the most expensive Honda motorcycle models in the lineup is disappointing. It should have been the best bike of the brand.
Well, yes, the majority of the problems are quite easy to solve. But still, some issues like the transmission problem or wiring issues are hard to locate and expensive to get rid of. We know that any high-mileage Honda (and sometimes even a low-mileage one) will take a lot of money out of your pocket.
What's the longevity of the Honda CTX1300?
Even though the model has a lot of problems, it's still not bad in terms of longevity. If you don't spare your money when maintaining the Honda CTX1300 bike, you will be able to ride it for 60,000 miles. That's about 12 years if you drive 5,000 miles a year like an average American motorcycle owner.
But now you know some things that will be making your experience worse every single year. For 60,000 miles and 12 years, you will have to replace the transmission in your motorcycle, you will have to cope with rear suspension problems, and you will need to visit a wiring specialist dozens of times. And then, there are some other individual problems.
We think that the best mileage to say goodbye to your Honda CTX1300 is about 40,000 miles. Also, we don't recommend buying any used CTX1300 motorcycle with over 40,000 miles on the clock. It may still be good and go another 20K miles, but it may be not good.
Buying a used Honda CTX1300 - what should you look at?
When you are buying a used Honda motorcycle, you should look at everything. It's hard to give a thorough guide because every part may need replacement and this can be a very bad experience for you and your budget. We recommend checking a motorcycle with a professional because otherwise, you can buy a dead bike.
Here are some of the most important things to look at:
the mileage should be as low as possible, not higher than 40K miles, obviously;
the accident record should be as clean as the sky on a sunny day;
the service record is also important to check, the bike should have been serviced regularly;
pay attention to the parts and liquids the previous owner has bought for the bike if it's possible;
listen to the engine - it may vibrate a little, but bad vibration says about the problems;
pay attention to suspension as you ride the bike.
You will need a test drive to assess the possible problems and the condition of the motorcycle. Be careful - check if the transmission works properly, and pay attention to the suspension and to some other parts. Just feel if the bike goes well. After that, check if the price is OK and compare it with other offers.
Final words
If you are going to buy a used Honda CTX1300, you should know that these motorcycles are not very popular among the fans of cruisers. You can bargain a little and get a better price in the end. But this bike is not going to cost you a little money because it's one of the most expensive Honda motorcycles in history. Just make sure that those problems that we've described in the article won't bother you much before you make the final decision.