Compared to an all-terrain vehicle (ATV), a utility terrain vehicle (UTV) possesses more functionality that makes it an ideal vehicle for work and fun. Although it does not produce the same enjoyment as driving an ATV during outdoor adventures, a UTV can be best used as an alternative hauler in locations where using a truck would be impractical or impossible. As a bonus, it offers plenty of storage room than its recreational counterpart.
When it comes to UTVs, among the most popular choices are the Polaris Ranger 570 and the Honda Pioneer 520. In terms of overall features, the two are at almost par with each other.
Trending: 3 Unconventional Services Every Car Owner Badly Needs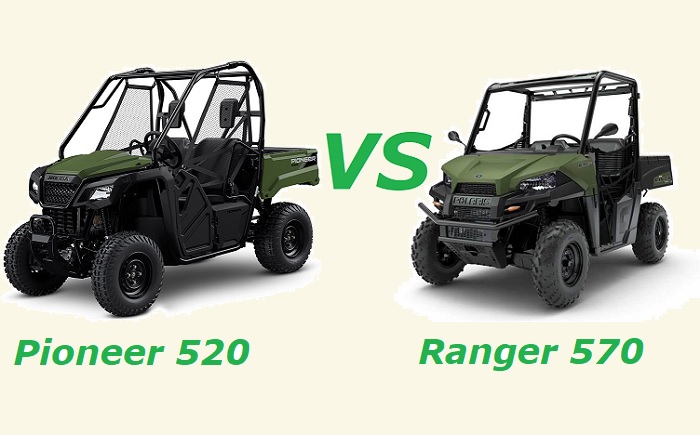 Tough choice isn't it? But don't break a sweat because we have come up with a quick guide that will hopefully let you decide which one to go for.
Each product has its distinct pros and cons, but which one is best for you? We'll compare the two vehicles to help you make a well-informed choice.
For a more thorough comparison, we will review the key features of the Ranger 570 and the Pioneer 520 in terms of the following:
Power
Design
Fuel Economy
Reliability
Price
In the end, we hope that this will help you get the best choice as much as possible.
1. Power
a. Honda Pioneer 520
The 2022 Honda Pioneer 520 is powered by a 518cc liquid-cooled, single-cylinder, four-stroke engine producing 72 horsepower. It has a bore and stroke of 96 mm x 71.5 mm, an electronic fuel injection (EFI) with a 36 mm throttle, a compression ratio of 9.5:1, and a dry-sump lubrication system.
The engine is mated to a choice of either manual or automatic five-speed transmission with reverse. This helps manage the power of the vehicle's 2WD or 4WD system. The setup of the UTV allows it to reach a top speed of 45 mph and has a towing capacity of 1,000 lbs.
The Pioneer 520 UTV has independent double-wishbone suspension in the front and rear. The front suspension has 5.8 inches of travel and the rear suspension has 5.9 inches of travel. The UTV has a wheelbase of 73 inches and a ground clearance of 8.5 inches. The front tires come in 24x8-12 while the rear tires come in 24x10-12.
The Pioneer 520 UTV has dual hydraulic disc brakes wherein the front is about 200 mm and the rear is around 170 mm.
b. Polaris Ranger 570
The 2022 Polaris Ranger 570 UTV is powered by a 4-stroke, liquid-cooled, single-cylinder, DOHC engine. This unit offers 567 cc of displacement and 45 horsepower. It comes with a bore-stroke of 99 mm x 73.6 mm, EFI, a compression ratio of 10.0:1, and a wet sump lubrication system.
The UTV is equipped with a continuously variable transmission (CVT) with high, low, and reverse gears. Other important features include 4-wheel drive, front and rear independent suspension, and electronic power steering. The configuration allows it to dash up to 60 mph and have a towing capacity of 1,500 lbs.
The electronic power steering makes driving the Ranger 570 UTV easy and comfortable, even when driving at low speeds. This is a great feature for those who want to enjoy the outdoors without having to worry about steering fatigue.
Verdict: A point to Ranger 570 for the smoother transmission, higher towing capacity, and higher top speed
The engine of both is designed for power and efficiency. The 4-stroke design offers more power and torque than a 2-stroke engine, while the single-cylinder configuration keeps the engine light and compact. The EFI design further improves power and efficiency by optimizing the air and fuel ratios as well as the ignition timing. This gives way for more complete combustion of the fuel, which results in more power, fewer emissions, and better fuel efficiency than a carburetor. Moreover, the 4-wheel drive system provides good traction in all conditions while the independent suspension ensures a smooth ride even on rough terrain.
Although Pioneer 570 claims more horsepower than its rival, the CVT transmission is a key feature that makes the Ranger 570 UTV a great choice for off-road adventures. The CVT offers infinite ratios between the highest and lowest gears, which allows the engine to always operate at its optimum speed and have smoother shifts in between gears compared to the standard automatic transmission. This results in better fuel economy and less wear and tear on the engine.
Thanks to its specifications, the Ranger 570 also boasts a higher top speed and towing capacity than the Pioneer 520.
2. Design
a. Honda Pioneer 520
Honda's Pioneer 520 UTV is a workhorse designed for those who need to get things done. It's a tough and rugged machine that can handle just about anything you throw at it.
The first thing you'll notice about the Pioneer 520 UTV is its tough and durable frame. The frame is made from high-strength steel, which makes it capable of withstanding all sorts of abuse. The frame is also powder-coated to resist corrosion, so it will look good for years to come.
Trending: OUR 5 Golden Tips on How to Cut Your Driving Costs
Another important feature of the Pioneer 520 UTV is its suspension system. The front and rear suspension systems are independent, so they can each be adjusted to match the terrain. This lets you get a smooth ride even on the roughest terrain.
Overall, the Pioneer 520 weighs 1,058 pounds.
b. Polaris Ranger 570
This UTV has been designed for those who need a tough and reliable vehicle that can tackle any terrain. It is built on a strong and sturdy chassis featuring a steel frame that is powder-coated for durability. The body of the Ranger 570 is made from impact-resistant polyethylene. This material is lightweight yet very tough and can withstand bumps and scrapes.
The suspension system of the Ranger 570 has been designed to give a smooth ride even on rough terrain. It features front and rear independent suspension with coil-over shocks. This ensures that the wheels remain in contact with the ground at all times for maximum traction.
The architecture of the Ranger 570 gives it a dry weight of 1,071 lbs.
Verdict: A point to Pioneer 520 for the sportier look, emphasis on safety, and lighter body.
The suspension of each UTV is balanced to ensure optimum functionality when it comes to its use for work without sacrificing the comfort of the driver and passenger when it comes to recreation. When it comes to design though, the Honda appears much sportier than the Polaris, especially in its grille styling and the slope of its canopy's reinforcements.
As a bonus, the Pioneer 520 has sturdier engineering, thanks to its high-strength steel frame, which help ensure the safety of its operator and passenger. And then, despite its more rigid body it still manages to be 13 lbs. lighter than the Ranger 570.
3. Fuel Economy
a. Honda Pioneer 520
Due to its small and lightweight frame coupled with a fuel-efficient power unit, the Pioneer 520 claims a fuel economy of 20 to 30 miles per gallon (MPG). However, it has a small fuel capacity, which can only store up to 4.1 gallons plus a 1.1-gallon reserve.
b. Polaris Ranger 570
Same as its rival, the Ranger 570 claims a fuel-efficiency rating of 20 to 30 mpg. One thing that highlights it though is its large fuel tank that can hold 9.5 gallons.
Verdict: A point to Ranger 570 for better mileage at full tank.
Given the numbers, both have the same fuel efficiency but the Ranger 570 clearly holds the advantage when it comes to fuel capacity. The UTV can hold 4.3 gallons more than the Pioneer 520 even if you include its fuel reserve. Many owners claim that a full tank of the Polaris UTV can reach up to 100 miles.
4. Reliability
a. Honda Pioneer 520
The Pioneer 520 is praised for its power and quality, but it has also gotten its share of bad reviews making the assessment of users somewhat mixed. Some complaints originated on its engine misfires and people sometimes find its transmission getting stuck or lagging.
b. Polaris Ranger 570
Ranger 570 is somewhat of a mixed bag for users. While some admired its power and CVT, others have complained about its transmission struggling in some instances, particularly on rough terrains. Some criticized it for its structural problems after long use and gasket issues resulting in leaks, too. The rest are electrical-related and engine noise-related.
Verdict: A point for the Pioneer 520 for the superior quality of its parts.
Both have mixed reviews from users but the superior quality of the Honda UTV's components makes it stand out against the Polaris UTV.
5. Price
When it comes to pricing, the base 2022 Ranger 570 has a manufacturer's suggested retail price (MSRP) of $11,699 while the Pioneer 520 is more affordable at $9,499.
Verdict: Pioneer 520 for the more affordable pricing coupled with better engineering quality and higher reliability.
The Honda UTV is cheaper by $2,200 but it leaves a lot to be desired when it comes to several factors like its transmission and fuel capacity. The benefits and features should come as your key priorities when determining your choice. Lower pricing does not always mean better utility in the long run. But then again, it is superior to the Polaris UTV in terms of design and reliability.
Recommendation
Up until the end, the Honda Pioneer 520 and the Polaris Ranger 570 are almost evenly matched. However, for the purpose of this review, we award our recommendation to the Pioneer 520 because of the following determining factors:
Sportier and lightweight design with an emphasis on safety
Higher reliability ratings because of the high quality of its components
More affordable pricing matched with plenty of features
On the other hand, don't dismiss the fact that the Ranger 570 has outshined it by the following:
Trending: 10 Car Shop Tricks – Here's How They Cheat Us out of Money!
Smoother shifting from the CVT, higher towing capacity, and higher top speed
Better mileage at full tank
Overall, if you're into better quality and lower pricing, you're good with the Honda Pioneer 520. If you're looking for performance and better mileage, the Ranger 570 should be the ideal choice for you.