When you see the Reflex, you can think it's a motorbike. Big wheels, wonderful exhaust pipe, sporty look... But actually, this is a low-displacement scooter that is safe to ride for beginners and is really comfortable in use. Honda Reflex is one of the most popular 250cc motorbikes or scooters in the US. And it's been really popular all over the world.
The Reflex was introduced in 2001 and it was produced up to 2008. Now, it's quite hard to find a decent option on the market, they all have big mileage, and many of them are dead now. But if you own a Reflex, you'll be interested in possible problems with the motorbike. Today, we'll tell you about all the important problems of the Honda Reflex and will tell you what you should expect at a certain mileage.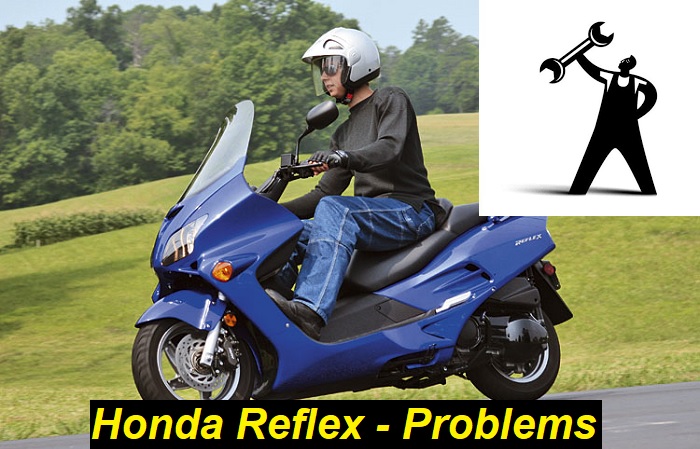 Here is what we're going to talk about:
Honda Reflex's main features - is it actually good?
The engine of the Reflex - longevity and other things.
What are some common problems of the Honda Reflex?
How much is a used Reflex in 2022?
Why will you like or hate your Honda Reflex?
Let's get started!
Why is a Honda Reflex considered to be the best scooter?
Well, it's hard to say whether the Reflex is the best scooter in the world. But we know for sure that nearly all owners say it's a wonderful bike that is going to make you happier. The scooter is also known as the Honda NSS250 or the Honda Forza. The manufacturer says it's a maxi-scooter which means that the size of the vehicle is larger than average.
Also, the Reflex has a 249cc engine with only 19 horsepower. This scooter can't be considered the most powerful vehicle in the class, but it's one of the fastest options. An engine is a single-cylinder unit with liquid cooling and a SOHC head. This is a reliable construction that will not let you down.
Also, you will want to know some other facts about the Reflex:
it's one of the fastest 250cc scooters with a top speed of 85 mph which is not bad at all;
one of the most important things is that the Reflex is equipped with the CVT automatic transmission;
the disc brakes were optionally equipped with ABS which makes the scooter one of the safest in its class;
the weight is 375 pounds which is not that little for a scooter, but just look at the size of the Honda;
the Reflex can hold 3.2 gallons or over 12 liters of fuel and it gets over 70 mpg of gas mileage which is important;
the scooter looks cool and is very comfortable on the road, you will get a wonderful experience when riding it.
Many owners say that the Reflex is one of the best options you can get with a tiny engine. Riding a Honda Reflex gives you a lot of pleasure. It's quite heavy and it's not bad in terms of suspension and handling. So, you'll be able to ride it on any road and still comfortably control the bike.
The Honda Reflex can accommodate two people. But if you are going to ride it for a long time, the passenger will not be happy. The second seat is rather made for short rides around the city. Solo travels are a complete pleasure - the seat is comfortable, the suspension is quite soft, and the handling doesn't exhaust you much.
Longevity and engine of the Honda Reflex
We've read some reviews saying that the Reflex can go over 100K miles, but we aren't that positive about the longevity of this scooter. We believe, the Reflex can approximately go about 60,000 miles with no major problems if not abused much and if maintained correctly.
After 60K miles, you can still ride your Honda scooter, but it will show some problems like a broken engine or a transmission that needs replacement. We wouldn't recommend buying a used Honda Reflex if it already has hit the 50,000-mile mark. Once it happens, these bikes are no longer reliable and inexpensive to maintain.
A high-mileage Honda Reflex is going to become the pain in your neck (or any other part of your body). So, avoid riding your Reflex for more than 50,000 miles unless you have owned it from when it was new and you are sure it has been serviced properly.
The 250cc engine is not bad at all. This engine is going to be one of the best small engines in bikes you've ever met in your life. It's aggressive, it sounds good, and it offers just great gas mileage. But let's learn about the problems.
What are the problems with the Honda Reflex scooter?
Honda Reflex still has some problems. Up until now, we've basically said good things about the scooter. But now we have to start criticizing it because this is what the heading of our article says. And, unfortunately, we've found a lot of things to say in this section. The Reflex is quite an old scooter, so we know a lot about all of its problems and disadvantages.
First of all, it's more expensive than nearly all of its counterparts. But you should expect it from a Honda vehicle, anyway. Also, this scooter will not be cheap to maintain. Especially if we take the older model that is already over 20 years old. It will need regular repair but Honda parts are not cheap at all.
Here are some other important common issues of the Honda Reflex:
CVT problem. Honda CVT transmissions are a nightmare for all car owners. But the scooter CVTs are also bad. They will fail at 50,000 miles or a little later and you will just need to replace the transmission which costs just like the whole scooter.
Heating problems. Although the engine is liquid-cooled, it's still not very efficient in terms of cooling. It can overheat on hot days and it will stall when reaching high temperatures.
Lean or rich mixture. Unfortunately, 20 years ago, the fuel injection systems in scooters weren't very good. It means that you will have to spend your time setting up this system or having it repaired regularly.
Uneven acceleration. Again, this is an old scooter with old technologies. It will produce a lean or rich fuel mixture anyway, even if it's correctly set. At some point, you will feel that the acceleration is not that efficient, but after a while, everything will be fine.
Noise at top speed. Although the muffler is big and beautiful, it doesn't stop the engine from being really noisy and causing a lot of vibration. It doesn't disturb the owner much, but it's not very cool.
Rough idle. You will not do much with it - you just need to cope with rough idle. Or try replacing the spark plug, wires, filters, and many other parts regularly. This will help for a certain period of time.
Honda Reflex has a lot of problems but they are minor. Among the major problems, we can now think of the CVT issues. This is not a very durable transmission. But it gives you one of the best advantages of this scooter - it gives you comfort. You don't even feel any shifting because there is basically no shifting.
But once the CVT is broken, you have to find a lot of money. We can't even say how much is the CVT because you aren't likely to find it new. Used CVTs are also a bad idea because you never know how many miles they are going to live.
How much is the Honda Reflex now?
When new, this bike cost over $5,500. The trims with ABS and all other cool equipment were over $6,000. And it was very much for a scooter. But the old Honda scooter will not cost that much. Although some dealers want to get over $3,000 for a 2004 Honda Reflex, we wouldn't pay that much.
We believe the fair price for these bikes is less than $2,000 for a decent scooter in a good condition. You are buying a scooter with a lot of possible problems and with potential issues with the expensive transmission, so you have to be sure your investment is optimal.
If you want it cheaper, you may try to buy a salvage Honda Reflex from an auction. Plenty of them are available. But you need to be a professional mechanic to do that because 1) you will not be able to choose a scooter that is easy to rebuild and 2) you will have to invest hundreds of dollars in labor.
Final words
We love the way the Honda Reflex goes and looks. This is a wonderful big scooter that is ready for interstate riding and also for city rides even with a passenger behind you. This is an economical and relatively reliable scooter that will become your favorite means of transport once you buy it.
But it's an old scooter with expensive parts and some common issues happening regularly. So, be careful if you decide to buy one.