If you are a fan of Korean cars, you have had or at least have considered buying a Hyundai Sonata. And if you have this car, you may know that at about 100,000 miles, the catalytic converter says goodbye to you and you have to buy a new one to pass the fog test and drive your car legally on the roads in America.
But the good news is that you can sell your old OEM Hyundai cat converter and sometimes even at a good price. Today, we'll tell you everything we know about the scrap price of a Hyundai Sonata original catalytic converter and we'll also talk about ways to sell it. Want to know more? Just keep reading and find answers to your questions.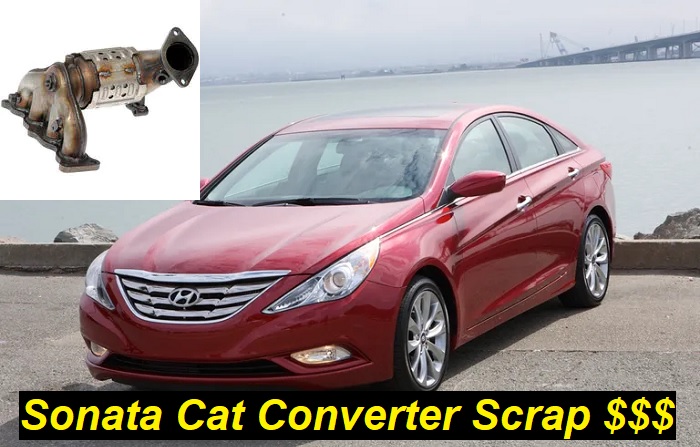 Here's what we are going to talk about:
Where is the cat converter located in a Sonata?
How much should a Hyundai Sonata catalytic converter cost?
Who will buy your cat converter from a Hyundai Sonata?
How much is it to replace a converter in a Korean sedan?
Let's get started!
Cat converters in a Hyundai Sonata - type and location
The Sonata is a legendary model made by Hyundai since 1985. In the USA, it has been sold since 1989. From 2004 to 2018, Hyundai sold over 100,000 vehicles a year, and from 2011 to 2015 - over 200,000 vehicles a year in the USA only. So, this is quite a popular car, even though it lost its popularity over the recent 3 years.
In most cars, Hyundai uses just ordinary catalytic converters that are located under the vehicle. But many engines have converters that are located right near the exhaust manifold in the engine compartment. It doesn't matter where the cat is located, it will still be a pretty precious thing that you can sell to a recycling company.
Here are some facts about the Sonata cat converter:
these cat converters are integrated into the exhaust pipe, they aren't welded in the pipe, and this is an important factor of an OEM cat;
also, original Korean converters usually have serial numbers on them, sometimes you will need to remove some rust to see them;
these cats contain a traditional ceramic honeycomb which is the place where you will find all precious metals;
the amount of precious metals is standard - up to 7 grams of platinum, about 4-5 grams of palladium, and also 1 gram of rhodium;
these converters are quite big, but many vehicles have two or even three catalytic converters including pre-cats;
the original cats are quite big and heavy, and this is one more factor that will help you define between aftermarket and OEM cat converters.
Unfortunately, aftermarket catalytic converters are not very precious. They may cost $10 to $30 and you will need to try hard to find a buyer. These cats cost less than their shipping, so selling them to local scrapyards is the best option. But it will not work that way for original Korean catalytic converters.
The OEM Hyundai Sonata cats should only be sold after price investigation. Please bear in mind that even the prices we'll tell you later in this article may change after a month after the article is published. Make sure you investigate the opportunities to sell your cat converter at the best price.
What's the fair price of a Sonata cat converter?
First of all, the price will depend on whether you have an original Korean cat or some aftermarket option. The aftermarket cat converters are not expensive and you should just sell them to someone in your area. But the original cat converters are much more expensive and they can earn you some money.
The average price for the Hyundai Sonata scrap catalytic converter is from $120 to $250 depending on its size and some other factors.
Here are the most important factors that can change the price:
the size and weight of your catalytic converter - different engines in a Sonata have different sizes of cat converters;
the year of your vehicle - older cats are not so precious because they may be damaged and they may just sell twice cheaper as newer ones;
the condition of the cat - of the part has holes and you can clearly see damages to the ceramic honeycomb, you shouldn't expect a high price;
visible serial number - this will help the buyer to easily investigate the type of cat and offer you the best price because there are not so big risks;
the price for precious metals - if metals drop in price, you can't sell your cat converter and get good money.
These are some factors that are important. But you may see that none of these factors actually depend on you. You can't change the way your converter looks or the way the market prices for precious metals change.
But there is one more factor - the person or the company you are selling your cat converter to. And sometimes it means much more than all those factors listed above. Choosing the correct buyer is important and now we'll tell you how to do it.
Who can buy your old converter from a Sonata?
So, this is one of the most important questions and one of the ways to control the price of your old catalytic converter. Most American drivers will just drop the old catalytic converter at one of the local scrapyards and get around $20 or $40 for this part. It's not the best price at all, even the old and shabby cat converter should cost more.
We can think of at least 5 ways to sell your cat converter:
sell it to your car mechanic or to a repair shop;
drop it at one of the local scrapyards;
sell it privately through advertising your cat on the internet;
find a middleman who is ready to pay more than a scrapyard;
find an opportunity to sell your cat converter to a recycling company.
We would choose the last option. There are a lot of recycling companies that are ready to pay the maximum possible price for your catalytic converter. These companies usually have convenient websites where you can get a quote.
Send your pictures to one of the recycling companies or send the pics to all of them at once. Then, you'll be able to choose the best option from all available offers. This is not very hard to do - just start the process and you'll see that you only need one or two hours to deal with this.
Of course, these companies can offer the best price, and the average price will be around $160. Eventually, nearly all converters from all over the US end up in these companies. So, you don't need to lose your money and sell your Sonata cat to a middleman or a reseller.
How much is it to replace a Hyundai Sonata catalytic converter?
We would love to say that it's not hard and not expensive to replace the cat converter. But you have to choose one of the benefits: it can be hard but inexpensive with an aftermarket cat or easy but expensive with an original cat.
It's not hard to find a catalytic converter for your Sonata model, but the price of the OEM part will not be low. You'll have to pay $1,200 to $1,800 and sometimes even more. The reason for such prices is the need to use precious metals in these catalytic converters when they are produced.
Here is how the replacement is carried out:
first, you will need to buy the new cat (whether a new or an aftermarket one);
then, your mechanic will see the new cat and decide what he or she should do;
after that, the old cat is cut out, the pipe is cleaned for welding;
the new cat converter is welded into the place of the old one;
the system is checked and you may keep on driving your vehicle;
then you can sell your old catalytic converter.
The procedure is quite quick and it doesn't need a lot of effort on your side. But it's not very cheap. If welding is needed, the price of replacement will be about $350-$400. If the mechanic will only need to screw some bolts, the labor price may be $200 or something like that.
The overall catalytic converter replacement cost in Hyundai Sonata is going to be about $2,000. And it's actually expensive for any Sonata driver, we believe.
Final words
If you have an old catalytic converter from your Hyundai Sonata, you can sell this cat and get some money. It's not hard to find a company or a private buyer who will be interested in buying the catalytic converter because it contains quite a lot of precious metals. But be careful when you choose the person or the company to sell your cat converter to. Some companies will only offer a little money while you can get a much better price offer from some other company.