In 2013, Yamaha introduced one of the most interesting café racers on the market. Yamaha Bolt immediately became popular in America with its reasonable price, wonderful and simple technologies, and great design. A lot of compliments you can find in buyers' reviews. But today, we'll concentrate on a certain side of this Japanese motorcycle.
In our today's article, we'll tell you whether a Yamaha Bolt is a good beginner bike for a person. If you are a professional, this article is certainly not for you. But if you are going to buy your first café racer or your first bike at all, you will obviously find a lot of good ideas to pay attention to before making up your mind. We'll discuss both advantages and drawbacks of the Yamaha Bolt.
Trending: 3 Unconventional Services Every Car Owner Badly Needs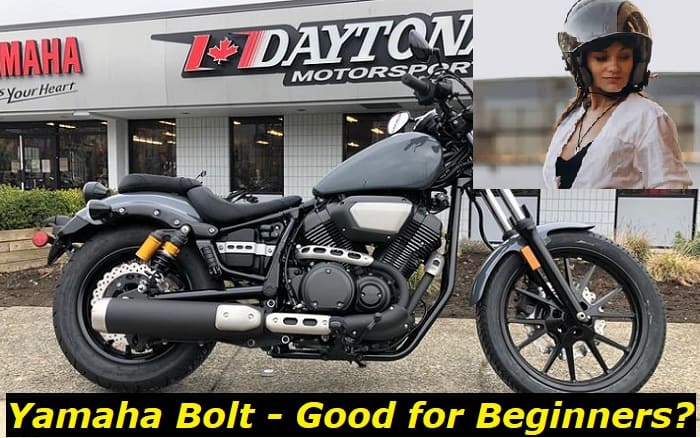 Here's what we will be talking about:
Some key facts about the Yamaha Bolt which are important for a buyer.
What are the advantages of the Yamaha Bolt for a beginner motorcycle owner?
What are the drawbacks of the model for a beginner?
What alternatives should you also look at when choosing a motorbike?
Prices of the new and used Yamaha Bolt bikes on the market.
Let's get started!
Yamaha Bolt - key features and facts you should know
The Bolt is one of the most popular choices in the lineup of Yamaha motorcycles. Yes, it's a café racer which isn't the most popular category of bikes, but exactly in this category, Yamaha managed to become one of the leaders. It means that the bike is better than nearly any other motorcycle of the same type.
If you want to know which bike is the best, look at the statistics of sales. You will see which motorcycles have been bought more by Americans and you can rely on their choice. Also, the fact that nearly a decade this bike has been in production proves that the motorcycle is not bad and there is still a demand for it on the market.
Here are some key facts you should know:
we can't come up with our choice whether we want to put it into a cruiser class or a café racer class;
this bike is powered by the V-Twin engine made by Yamaha, this is a 942cc air-cooled unit with no major problems;
the gearbox offers 5 speeds which is optimal for this kind of bike, again, no major problems with the transmission;
the weight is 540 pounds which is not that much, but this may be a problem for beginners who have never ridden bikes;
the seat height is 690 mm which is thought to be much lower than average, this is one of the features of the design;
also, we should say that the design is a little old-school but it contains quite a lot of modern features and options.
Yes, the design doesn't look very modern. But when you take a bike, you still have two choices: a super modern-looking crotch rocket or a classic cruiser. This is a classic cruiser with a weird seat shape, a teardrop fuel tank, a big old-fashioned rear wheel cover, an open frame, etc. The design features will appeal to someone while other people will not love them at all.
Trending: 10 Car Shop Tricks – Here's How They Cheat Us out of Money!
And this is one of the most important factors for you to consider. Do you love the way Yamaha Bolt looks? If not, then why are you reading this article? You probably want to have enough arguments to give up the idea of buying this motorcycle. Well, we'll give you some ideas for this. But first, let's talk about the advantages of the Bolt.
What are Yamaha Bolt's advantages for beginners?
Ideal size. In our opinion, the Bolt has the optimal size for beginners. It's not really big to make steering and handling too difficult. And it's not very small, too, so, you will not outgrow it rapidly.
Very comfortable seat. Beginners will not be able to ride a bike with pleasure unless the seat is comfortable. In a Bolt, you don't have to worry about that, the seat is superb and it suits people of short and middle height. Are you over 6 feet? Choose another model.
Great riding experience. For a beginner, this bike is really convenient to ride. It's relatively silent, the gears shift smoothly, it has a very responsive engine, and it's ideal for urban rides.
Great handling. You should pay attention to handling. Thanks to a certain number of specs and measurements, the Bolt is easy to handle and it will not become the bike that made you hate biking.
Efficient engine. The estimated fuel consumption is about 51 mpg. It means that with a fuel tank of 3.2 gallons, you are able to ride about 160 miles. Not bad for a relatively small motorbike.
Great durability. If you are going to ride your Yamaha Bolt for a long time, this will not be a bad choice at all. Forums say that the Bolt will approximately last 100,000 miles before it will start getting on your nerves with numerous minor and major problems.
The price is not bad at all. You can buy a new Yamaha Bolt for $8,600 while the used one may cost twice cheaper still being in a good condition.
What are the certain disadvantages of the Yamaha Bolt for a beginner?
It's hard to say which problems you will have with this bike if you are a beginner. First of all, these problems are all very personal and depend on your style of riding. One person will be glad about the bike while some other buyer will just try to get a refund.
Here are some important things you should consider:
Numerous technical issues. A lot of these issues are not hard to locate and repair, but for a beginner, it will still be a problem.
Price for parts. Yamaha has never been a cheap brand (not only in the motorcycle world). And you will have to spend a lot to maintain or repair your bike.
Weight. The bike is not light with its 540 pounds of weight. And sometimes it can be difficult for a beginner to deal with such a machine.
High-mileage issues. If you choose a used Yamaha Bolt, you may have problems from the very first day of use. For beginners, it's a disaster.
Hard to buy. Unfortunately, Yamaha doesn't manufacture a lot of Bolts to satisfy American demand. That's why a lot of time may be gone between your order and actually getting your bike.
If these disadvantages are important for you, you should not hurry up to buy a Yamaha Bolt. This motorbike should appeal to you in order to be a good purchase. Otherwise, you will just waste your money and will not get any pleasure.
What are the three best alternatives for the Yamaha Bolt?
We understand that it's hard to appeal to all people. So, a Yamaha Bolt may still be a bad choice for you. For example, if you don't like its design or you are taller than 6 feet and this motorbike just doesn't suit your needs.
We've prepared three alternatives in approximately the same budget niche. Here are the models that we offer you to consider:
Honda Fury. Yes, this motorbike will cost you a little more money (about $11,500) but it's a more professional choice. We don't recommend it as the bike for starters but if you consider a Yamaha Bolt as your second motorcycle, then Honda Fury may be a better choice for a number of reasons.
Kawasaki Vulcan 900 Classic. It's the same price range as the Yamaha Bolt and it's even weirder in terms of design. This wonderful motorbike is a good choice in terms of technologies and durability - it's no worse than the Bolt in any case, but the design may seem too weird for someone.
Harley Davidson Iron 883. This bike really resembles the Bolt in characteristics and design. But it's the Harley Davidson product and you probably will have fewer problems with maintenance and repair. Also, you will not have to wait for so long after you order the motorcycle.
Well, you can find more wonderful options on the market like the simple Triumph Speedmaster, the long Honda Shadow Phantom, the classic Suzuki Boulevard M50, etc. But all of them will have their advantages and drawbacks. Finding an ideal cruiser or café racer is not a simple task for a beginner.
Final words
We know for sure that the Yamaha Bolt will appeal to a lot of people who want to get their first cruiser bike. But you have to be really careful and get more information about the motorcycle before you decide whether you really want it or not. First of all, read some forums to see what problems you will have to deal with. And then, ask for a test drive in a Yamaha motorcycle store to feel the bike.
Trending: OUR 5 Golden Tips on How to Cut Your Driving Costs
We hope you'll be able to identify the best cruiser bike for you and will not disappoint in your choice.