There could be seen hundreds of additional parts and accessories for your vehicle. You might get them in shops, in big internet malls and even directly from producers. But some accessories which are being sold and advertised nowadays aren't even worth their money. You have to look calm at everything and make no spontaneous decisions.
On the other hand, there are loads of things which might be really helpful in different situations. Hope, there are no cops who read my today's review. Anyway, you may find plenty of information in web about these products, so I can be at ease for revealing some more facts about License Plate Flippers. These are really wonderful purchases for a car owner.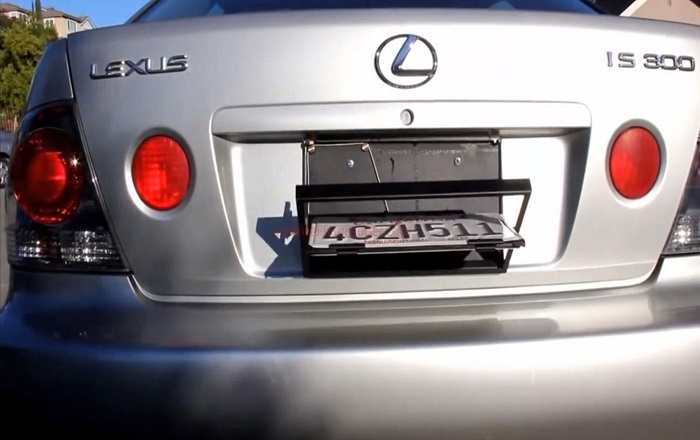 What does this thing actually do? It rotates your license number on the car for 180 degrees and shows cops and other chasers some other plate. It's not about classical spy films but about your own car. Of course, for some of us it will be just a thing to laugh at but for others it might be wonderful idea to avoid some fines.
How does the License Plate Flipper work?
It's quite simple technological element which works with remote control fro the driver's place. It's not so easy to install correctly but right after some hours of work in a garage you get wonderful results. By pushing a single button on your remote control you'll get the license plate turning to the other side. It works really easy and doesn't need many new technologies. Though, there are still some things to mention in here:
the whole construction seems to be quite technological, it's made to suit all US license plates and fixing places on cars;
the motor is powered by car's electric system and accumulator, so you won't need to change batteries all the time;
there are some options which don't rotate but just hide your license plate, but I don't see them as efficient ones;
the button for control might be remote or wired, it has to be installed in some comfortable place in your vehicle's interior;
one more thing you'll need for optimal driving is some other license plate which might be fake or someone's transit one.
The Flipper is organized quite well, so it works with no problems. It's fully adapted to the US license plates size and shape. It also can work under any weather and conditions. It's made of plastic, so in winter you'll need to delete ice from the mechanism to make it work. Rotation is made quickly, so the chaser won't see the real number of your car unless you want it. There aren't any expensive technologies and still the thing isn't cheap. Let's find out why.
By the way, if you own the car and want to save it from rusting, read my review of EVAPO RUST material which offers you to remove all rust from metal parts.
Why does the License Plate Flipper cost so much?
There are some brands which propose you such technologies. Some of them cots less, some ask more money for the purchase. I would recommend looking for original flippers because of high quality. Well, they cost twice more than those of other brands. But you get what you need - the license plate will hide itself as soon as you need it. Sometimes you are ready to pay for that more money than you've ever had.
Look at price and you can immediately understand if this product is of any purpose. If it costs thirty dollars, I would really doubt the quality. In original set you'll find everything which you need to install the thing on your car. Bear in mind that no official service will take the flippers to install onto your car. You'll need to do it by yourself or to go to some "garage service" with no guarantee of optimal quality.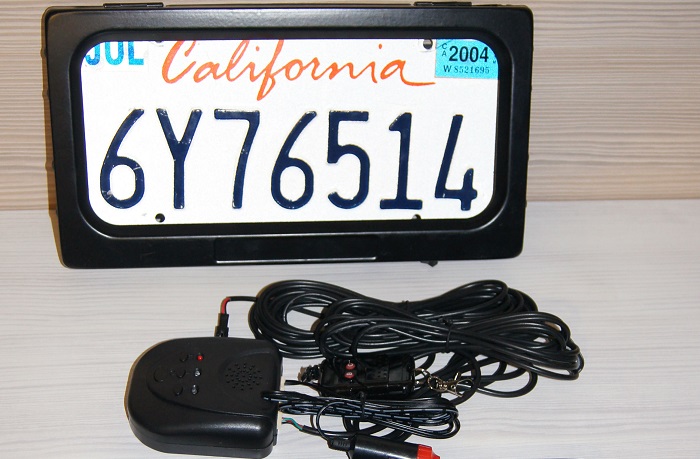 Is it at all legal to install Flippers onto your car?
Well, in the US democracy wins. If it's not forbidden, you can easily use it and find it really easy to explain your accessory to any police officer. Personally I haven't seen in any law some special note that you can't rotate your license plate or use some special device for it. And until we don't have such notes in the law, we can be free to use whatever we want as our license plates holders without explaining that to police.
But! Be careful at rotating the license plate right in front of police car. It won't make any good if they start asking you about the holder and flipper. Well, right now it's not illegal but as soon as we start using it on every other car, there will be some special law which forbids such technologies and accessories. So, yes, you can use it. But no, don't boast your purchase with no need and just for fun.
Where to buy the license plate flipper?
It's not that hard to buy the needed options to install into your vehicle. It can actually be done in every car shop with such thing in assortment. But not every shop will sell such things to you. So, it's a great idea to go and find some things in internet shops. First idea is to buy it in huge market like Amazon or something like that. And the other way is to go to official producer's website and order delivery.
Personally I bought my Flipper in a huge internet shop and I was glad by all the ways of paying you may get, best delivery time and other pluses. You still can choose any way you want. Just look at one factor - the product should be official and have some documents from producer. You may use warranty if the thing is broken during warranty period.
How to install and set the License Plate Flipper?
The installation process seems to be quite difficult. You can find a lot of ways to put the thing onto the rear and front bumper. It's very important to keep up with all recommendations of professionals and producers. When buying the set of Flipper, ask seller about installation guide in the box. If it's not provided, check the fixing advice on the producer's website. It may be very useful and you could install the thing onto the car by yourself. The steps below show universal way of Flipper adjusting:
First you need to take electrical connection from parking system in rear bumper and from headlights relay, for example, in front bumper. Often drivers only use rear flippers to avoid extra costs.
Then you have to install the button in the interior. If it's wireless, then everything is ready to the main part. If it's wired, you'll have to take the wire to the plate flipper and connect it - this is one of the most difficult parts.
Make sure that every connection is isolated in proper way. Also don't make any new holes in the car body - you'll get rusting metal in this way. Only use the existing cable holes.
The next part is connected to physical adjusting of the flipper. You'll need the level to check the fixing position. In the box you'll find every needed fastener to make all connections and fixations.
The last step is to check if everything works right. Turn on and off the button and look at the reaction of the flipper. If it makes slow rotations, you may have installed it incorrectly. Try to use level and change fasteners' position.
Having done all these steps, you might be glad with the results. Before installation I propose you to check all set. You'll get to know that it works properly. Make sure you keep up with all recommendations which are given by producer. This is the most important condition to pay attention to, because it also influences the warranty. Unless you've installed the thing correctly, you can't expect all warranty services from producer or seller.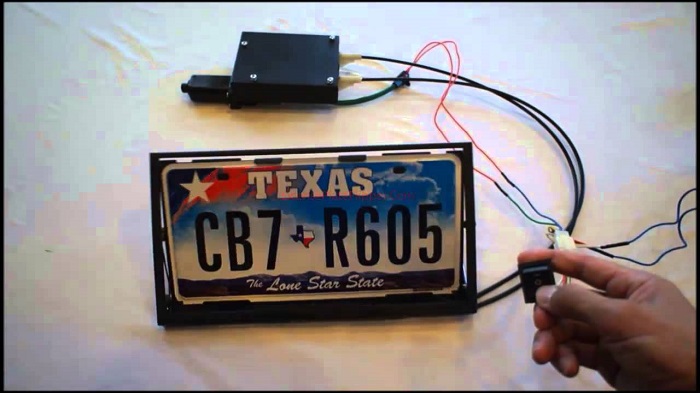 So, should I buy the License Plate Flipper?
Not one single person in the whole world can make you buy such thing or recommend you not to do this. Actually, you have to deicide it by yourself. There are tons of products in the car world which provide much less wonderful emotions than this one. So, I can see no reasons why you shouldn't buy a flipper and install it onto your car. At least the rear license plate will be safe from chasing and sending you some fine.
Also look at prices of such accessories. They aren't big and they seem to be affordable. It's one more feature of your car which might be really nice and helpful in some situations. Even if you drive completely under the law and obey every road rule, this feature won't be unnecessary. I would call it image thing but not a functional change in your vehicle. So, let's watch the video with final part of License Plate Flipper installation and decide if you need to buy it: