On your mark, Get, Set, Go!
And the roads are charged up with fully electric vehicles.
The automobile industry has successfully let the wheels of the electric vehicle running. It is time for the advanced vehicle to attain the zenith. With Nissan and Chevrolet, there are options to explore and opportunities to open for better batteries and more efficient motor.
Nissan Leaf Plus Vs Chevrolet Bolt EV- Feel The Difference
Change is the only constant. Experience the unknown. Get a ride or drive in a car that is par excellence. Automobile Industry is an ever changing sector. The future of the industry is to charge us up with hybrid and electric vehicles, for lower fuel consumption, hence reaching towards a greener planet.
The Top Things to Consider
There were ground-breaking strides in the field of electric automobiles and 2019 Chevrolet Bolt EV and 2019 Nissan Leaf Plus entered the game with better capacity and a range of about a dozen miles. There are guidelines to compare the specifications of both their electric hatchback, power, torque, electric range, charging options, interior space and then the price and incentives. Get an overview of the comparative study of the features, dynamics and pricing of the Nissan Leaf Plus and Chevrolet Bolt EV. Here is the Chevy Bolt vs Nissan Leaf comparison you need to read.
A Comparison List of Leaf Vs. Bolt
The raw data provided will help you grasp more about the specifications-
2019 Nissan Leaf Plus
a. Engine- Electric motor with 216 HP
b. Torque- 250 lb-ft
c. Drivetrain- front wheel drive
d. Transmission- single speed
e. Range in miles- 226
f. Curb weight- N/A
g. DC Fast Charging- Standard
h. Length-176.4 in
i. Wheelbase-106.3 in
j. Width-70.5 in
k. Height- 61.6 in
l. Front headroom- 41.2
m. 2nd row headroom- 37.3
n. Front legroom-42.1
o. 2nd row legroom- 33.5
p. Front shoulder room- 54.3
q. 2nd row shoulder room- 52.5
r. All seats up- 23.6
s. 2nd row lowered- 30
t. Base price- N/A
2019 Chevrolet Bolt EV
Engine- Electric motor
Horsepower- 200 HP
Torque- 266 lb-ft
Drivetrain- front wheel drive
Transmission- single speed
Range in miles- 238
Curb weight- 3563
DC Fast Charging- Optional
Length-164 in
Wheelbase-102.4 in
Width-69.5 in
Height- 62.8 in
Front headroom- 39.7
2nd row headroom- 37.9
Front legroom-41.6
2nd row legroom- 36.5
Front shoulder room- 54.6
2nd row shoulder room- 52.8
All seats up- 16.9
2nd row lowered- 56.6
Base price- $37495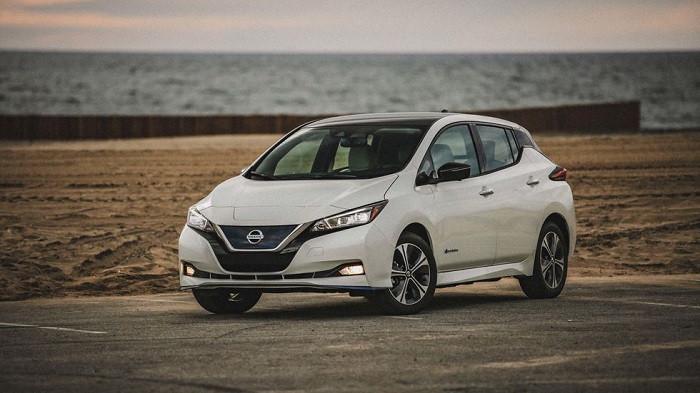 Range Anxiety
The range anxiety of the electric vehicles have persisted. It is interesting to observe the Nissan Leaf plus with a 226 mile range competing with the 238 mile range Chevrolet Bolt EV. Keep in mind that the mileage depends on the weight of the right foot, wind speed direction and the distance driven at freeway speed.
While Nissan gets powered by the 150 kW electric motor, Chevrolet gets its power from the 60 kWh battery. A battery pack of 64kWh lithium ion cells make up the 150kW electric motor of Nissan, and still remains one of the better EV's around.
The EPA estimates that the range is around 215 miles for the SL and SV trims as they carry more weight. The 17 inch Michelin Energy Saver tyres are normally used, while fir a 226 mile range, 16-inch Bridgestone Ecopia tyres are used because of its slightly less weight than the upper trim level.
Charging Facilities
Let's take our Nissan Leaf vs Chevy Bolt comparison further. The charging feature is an important one to consider while deciding which car you should prefer. The bigger the battery, the more the time required at the charging station. For the older BEVs with the range almost half that of the recent developments, they took less charging time. For a rough estimate of the power versus time, it shows that almost seven and a half hours are spent on recharging the battery to 84%. Do not think of hastening the process by using L3 DC fast chargers asd they have been known to degrade the battery.
Recharge the battery slowly and passionately. As slow and steady wins the race, the steady charging improves the longevity of the battery.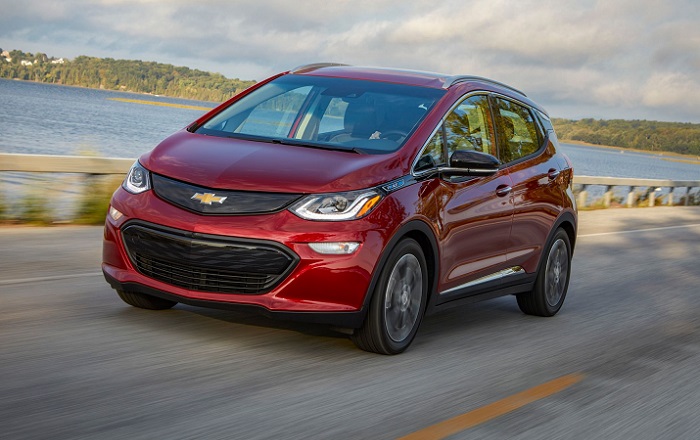 Styling And Design
Nissan's debuted Leaf plus model is bulbous, although much less swollen as compared to its previous generation. No dramatic styling or extravagant flamboyance adorns it. The two tone exterior with a black roof gives the classy look to the car. Chevrolet comes in with a bit more bold look than Nissan Leaf Plus, with almost no ground clearance and plenty of headroom. Chevrolet Nissan Bolt is best suited for rear passengers, with 3 extra inches of legroom.
The front seats of Nissan on a long drive are a bit uncomfortable. Chevrolet Bolt EV seats are so designed that they are good for all day comfort, with higher positioning like a subcompact crossover.
Nissan and Bolt both are five seat hatchbacks, with the Bolt being more upright and spacious. When it comes to cargo volume or interior passenger volume, Chevrolet Bolt EV definitely bears out against Nissan. There are not many points to distinguish the two, except that Chevrolet is somewhat spacious and daring, while Nissan sports a lower structure.
Powertrain
The human body has various organs which work in synchronisation to maintain normal body functions. A car is no different. The power train of a vehicle is the heart, that pumps energy to all the other components through the transmission system.
The Nissan Leaf is powered by a single synchronous electric motor that transmits power to the front wheels. The Leaf Plus model comes armed with two powerrains and a larger battery of 64kWh that provides an estimated driving range of 226 miles. It also features a more powerful motor.
Chevrolet Bolt has a single power train that comprises of a single permanent magnetic drive motor on the front axle and a 60 kWh battery pack. Against Nissan's 215 hp rated motor, Chevrolet is rated at 200 hp. The battery provides an estimated range of about 238 miles.
Nissan can charge its battery at a fast rate at 70 kWh with a 100kWh peak. The Chevrolet Bolt can charge up to almost 80% of its capacity within an hour using the 80kWh Dc fast charger. Both Chevrolet and Nissan's battery comes with a warranty of 8 years or 100000 miles, whichever comes first.
Dynamics Of Driving
The lower and sporting structure of Nissan reduces its centre of gravity, making the drive fun and spirited. The linear power delivery is commendable and Nissan achieves fairly high speed. The smooth ride is enhanced by the light steering and quiet cabin.
Nissan has an impressive one pedal driving with the e-pedal toggle switch. The estimated range increases while moving uphill, and the head jerking are significantly reduced.
Chevrolet has a suspension that goes a long way in absorbing shocks on bumpy terrain. The brakes are natural, stiff and harsh than other Electric Vehicles. However, the combination of the upright Bolt structure and the flat steering poses a little difficulty when handling. Plus, the tyres are a bit noisy at low resistance.
Both Nissan Leaf Plus and Chevrolet Bolt EV provide smooth riding with the shocks being absorbed. The vibration and rumble by the power train is negligible, that makes riding smooth and less noisy.
Technology
Battery charged? Check!
Driving test done? Check!
Your Electric vehicle is ready to set on the roads. However the EVs come with additional technology making them stand apart from the rest.
The Nissan leaf plus boats of abundant technology with 7.0 inch touchscreen with Apple Carplay and Android Auto. Active safety technology, including emergency brakes, high beam assistance, rear cross traffic alert, 360 degree camera and others, creates a boost in its technological aura with its impressive Pro Pilot Assist suite.
Bolt offers 10.2 inch touchscreen, digital display and safety features like automatic braking and forward collision with pedestrian detection. However there are no impressive technological features to assist in highway driving. The Bolt EV does not use the intuitive infotainment software. The software that it has installed however is slow to react and respond during driving.
Price Of Nissan Leaf Plus Vs Chevrolet Bolt EV
The first Nissan leaf model was somewhat priced around $20000 in the United States, without destination charges. The latest leaf plus model was tagged at $43445, including its $895 destination charges. The equivalent pricing for Chevrolet Bolt EV comes at $41895, including destination charges.
With brand name, safe technology, affordable pricing and decent and sporting driving experience, both Nissan Leaf Plus and Chevrolet Bolt EV excel in their own way. Delve a little deeper to grab the one that best suits your needs.