The Outback is one of the oldest yet most promising models that was released by the Subaru Corporation. Having the perfect balance between an SUV and a station wagon, Subaru Outback made its way to popularity as a smart and reliable option for car owners.
From comfortability, cargo space, off-roading, and safety, Subaru Outback was built with deluxe features maintaining the security for different important aspects. For its 2022 model, Subaru Outback offers 8 different trim levels: Outback, Premium, Limited, Touring, Onyx Edition XT, Wilderness, Limited XT, and Touring XT.
Trending: 10 Car Shop Tricks – Here's How They Cheat Us out of Money!
But just like any other car, Subaru Outback can still shine from its own space providing a new spectacular ride for its owner. In this article, we will talk about the modifications for the Subaru Outback. So, if you're an Outback owner, make sure to finish this one and elevate your car to be the best version of itself.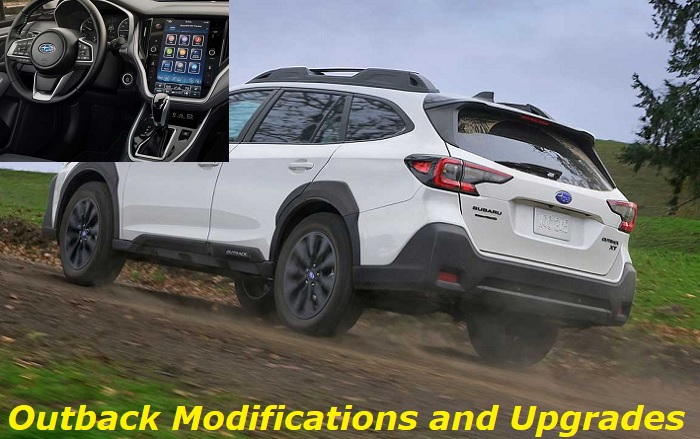 Subaru Outback Modifications
Through the years, car owners learned how to modify vehicles in order to improve their appearance or performance, sometimes it can be both. Car modifications became famous as many car owners want to personalize their respective cars in order to have a new glance at it.
Generally, there are three types of car modification: Performance modification, Functional modification, and Aesthetic modification. These types primarily differ with what the owner's aiming for, whether to upgrade some specific function in the vehicle or change the way it looks.
Performance modification.If you want to boost the performance of your car, then performance modification is the best way to do it. This type of modification mainly includes refining the handling, power, or fuel efficiency of the car. Also, it can be modifications to the engine, air filters, brakes, exhaust system, tires, suspensions, and more.
Functional modification. This type of modification refers to changes or additions of specific functions that are not originally accustomed by the vehicle. Usually, functional modifications include air conditioning, installation of sunroofs, roof rack, car phone, navigation system, and more.
Aesthetic modification. As the name suggests, aesthetic modification involves the enhancement of the appearance of the vehicle to make it high-class and unique. This type of modification covers a wide variety of changes that happen in the exterior and interior of the vehicle. Sometimes, aesthetic modifications do not only aim to improve what the car looks like, but they can also provide significant improvement in the vehicle's performance.
Well, all of these modification types are applicable for your Subaru Outback. These modifications will surely make your Outback unique and stunning. You can do anything that you want to your Outback as long as you have enough budget to manage its cost. However, you must still need some guides on how to modify your Subaru Outbacks and make the best modifications for them.
What Can You Modify with Your Subaru Outback?
As discussed above, there's a wide variety of modifications that you can do with your Subaru Outback. From performance modifications to aesthetic modifications, you can use your broad imagination to think and study what's the best modification that will fit your Outback. Well, every car owner wants their car to be different and stand out from others.
Here are all of the possible modifications that you can do with your Subaru Outback. However, always keep in mind that modifying your Outback deeply needs enough knowledge and help from professionals to successfully achieve your goal and not to create problems with your vehicle.
Performance Parts

Interior

Trending: OUR 5 Golden Tips on How to Cut Your Driving Costs

Exterior

Throttle Cable Adjustment

Automatic Transmission Fluid Cooler

Lightning

Emergency and Warning Lighting

Wheels and Tires

Body Parts
Affordable Subaru Outback Modifications
We cannot deny that Subaru Outback modifications will surely cost you money, especially for performance and functional modifications. For aesthetic modifications, what you should always look for is the quality of the part or accessory, thus, money is still included.
For Subaru Outback owners with a sufficient budget for modification, here's a short list of affordable yet standard modifications that you can do with your vehicle.
Cargo Tray.For car owners who like to haul cargo in their Outbacks, then a cargo tray would be a perfect modification. It will primarily protect the vehicle's cargo area from dirt and spill. OEM cargo trays are the best ones that you can have since they will surely fit your cargo area and they're easy to maintain.
Steel Wheels.If you're the adventurous type of person who likes going off-road with your Outback, then you should replace the aluminum alloy wheels with steel wheels to have a safe and extraordinary ride. Unlike steel wheels, alloy wheels do not have the same tolerance for impacts. Steel wheels modification will avoid further damage and problems.
Roof Rack.For road trips and camping, having a roof rack on your Outbacks will be a great help in hauling cargo without cluttering the interior of your vehicle.
Floor Mats.In order to keep the cleanliness and refreshment of your Outback's interior, a floor mat is necessary. OEM floor mats are the best option for this modification as they are made of high-quality materials that can guarantee durability and longevity.
Splash Guards.This modification is essential to protect your Outback's underbody from dirt and road grime.
Rain Guards. Also known as side window deflectors, rain guards are attached to the top of your Outback's side windows. Its primary role is to assure that the interior's heat will escape when the vehicle is parked and allow car owners to open the window a bit during rainy days.
Roof Spoiler.Aside from making your Outback look more sporty, the roof spoiler also helps to have a smooth airflow over the roof rack. This modification is important as it improves your vehicle's aerodynamics and lessens wind noise.
How Much Does Subaru Outback Modifications Cost?
Just like other cars, there's no specific cost for Subaru Outback Modifications. To give you a background, the average price for quality modifications ranges from $1,000 to $4,000. However, the total price for your Subaru Outback Modification will primarily rely on the type of modification that you will do.
If you're planning to have your Subaru Outback Modification, it is best to have a wide and enough budget in order to maintain the quality of your modification. But for those who have a tight budget, the list of affordable Outback modifications from above will not exceed $500, still pricey but it is the lowest price wherein you can assure that your Outback will be better after modification.
Trending: 3 Unconventional Services Every Car Owner Badly Needs
Tips for Subaru Outback Modifications
Find the part of your Subaru Outback that you will modify.The first thing that you need to do is to identify what modification will you do with your Outback, you can find this by evaluating your car performance and determining what needs improvement.
Dig deep research on how to start your Subaru Outback Modifications.Once you know the modification that you will do, have a deep research on how you will pull it off. There are various possible ways to modify your Outback, but it is essential to conduct research and find the best way to do it.
If you can, always take OEM parts to ensure the quality of your modification.When it comes to Outback's modification, OEM parts or accessories will give you 100% assurance in terms of quality. Subaru always maintains the capacity of their OEM parts and accessories in order to provide Subaru owners with what they need.
Assess whether you're comfortable with your Subaru Outback Modifications. After your vehicle modification, the final judgment will depend on yourself. There are situations in which car owners are not satisfied or comfortable with their car modification, and this is something that's very regretful. You better ask yourself "Am I comfortable?" so that you can avoid such problems with your vehicle.
Conclusion
Well, there are a lot of things that you can do with your Subaru Outback. Modifications are the best way to personalize your vehicle and design it the way you like. However, Outback's owners must always assure that the modification that they'll do is for the improvement of their vehicle and not destruction. Try to learn first, before you modify and enhance your Outback.