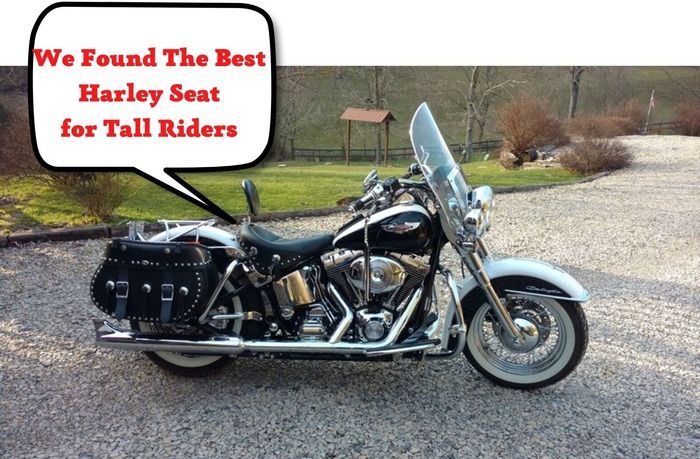 Being tall is flex not many can enjoy. But like every appealing thing in this world, it comes with its side effects. Only tall people would agree that sometimes they feel like they don't simply fit into this world's frame. From difficulty in finding the right sized clothes to uncomfortable passenger seats, everything reminds them of how the world is not designed accurately for them. For them, the 'tailored' is the new normal. But the case is different for two-wheel lovers.
If you are a Harley enthusiast and own a tall physique, you have twice the chance to stand out in the crowd. With a little modification to your bike & you are ready to tour. This article is all about the best Harley seat for tall riders.
In this article, we will discuss:
What Difference Your Harley Seat Height makes
Things We Consider Before Choosing the Best Harley Seat for Tall Riders
Top 5 Harley Seats for Tall Riders
What Difference Does Your Harley Seat Height make?
Though riding a Harley Davidson looks like a very rough & tough thing and doesn't seem to be affected by the difference of a few inches. But in reality, the riders would acknowledge that it creates a world of difference about your sitting position, riding comfort, and the whole experience.
Generally, tall people have two problems: firstly, the seat is so low that you have to bend your knees outwards to create an unusual posture when you stop your bike. And secondly, there is not enough room on the seat, so you have to keep shuffling your back on the bike to find a comfortable position to ride. In either case, you end up having an awkward contortion. And the problem with that is it will strain your vital body parts for riding; knees and lower back. In the longer run, it can cause back pain issues and deprive you of your favorite passion for riding.
Things to Consider Before Choosing the Best Harley Seat for Tall Riders
Choosing the right Harley Seat for the first-timers is a challenge. And the difficulty multiplies if you happen to be a tall rider. Many times, riders visit websites and choose seats without doing cross-examination and end up complaining about their discomfort. But we will make sure that you make your first decision the best decision. It would help if you considered the following before choosing the best Harley seat for your bike.
Height
The common problem with the seat sizes available in the market is that either they are too low to give you a comfortable riding position or too high that you might struggle to reach the ground when the bike stops. It is, therefore, advisable to first calculate a little about your height and the seat's height before finalizing your pick. Trying multiple options is another way to accomplish good results.
Size
A tall person will likely possess big body features, and so it becomes inevitable that the seat designed for the average body size will not offer the required amounts of comfort and ease of riding. If the seat you have finalized for your Harley offers enough space for adjustments and falls into your budget, go for it.
Material
The material of your seat has a lot to do with the comfort levels it offers. The most common material in seat manufacturing is foam with multiple synthetic leather coverings and finishing on it. But depending upon your budget and your interest, you might get different quality materials from different vendors.
Durability
The material of your seat will decide how long it will last for you. Nothing lasts forever, but some materials last longer than other materials. And when we talk about the material, it is not just about the foam, but it also includes the padding material, the base material, the reinforcement, and the finishing.
Padding
If not all, more than half of the comfort of your seat is decided by its padding. Apart from the most common material that the manufacturers use (foam), you will also find seats padded by sponge and gel materials. You will realize the importance of a well-cushioned seat when you are halfway through a solo long-distance trip.
Backrest
The backrest is not a listed feature, so don't worry if you don't find many seats at the store. It is added advantage. The backrest is responsible for supporting and comforting your back in the long traveling, making your trip pleasurable and comfortable. There is only one condition. The backrest should be located in its right position to serve its purpose. Otherwise, it is a wasted modification.
Ease of Installation
What if you bring home the best Harley seat you think you bought and you are unable to install it correctly? Installing seats on your Harley can be tricky sometimes. To ensure a smooth experience, it is advisable to read the customer reviews of your best choice to avoid what others have possibly faced.
Price
The least and arguably the most important factor in choosing your Harley seat is your budget. As the list of features of your favorite seat expands, its price tag also gets heavier. But as far as it is offering the best value for your money, it is good. Here is a tip: it is not necessary that the most expensive seat you come across must be the best seat for you. So, always try more than a few options before settling for one.
Top 5 Harley Seats for Tall Riders
Filtering out the top few Harley seats for tall riders was indeed a tough job. After investigating the market, doing numerous trials, going through several websites, and reading hundreds of blog posts, our team was finally able to list down the best picks for you. Enough of the talk – let's get down to the list of the best Harley Seats for tall riders.
01. The Best Choice Overall - Mustang 76694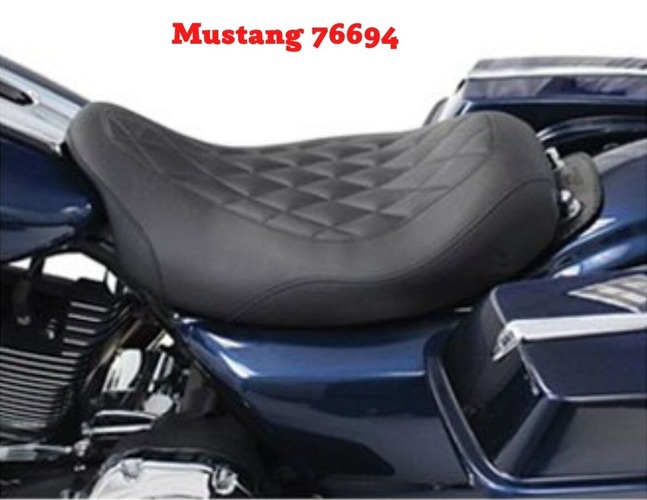 The first on our list is Mustang 76694, and we are in love with this seat. It gives you more than one reason to fall in love with it. The first thing you will notice in this amazing choice is its comfortable width for an average tall body.
Marked with diamond stitches, finished with durable synthetic leather, cut low, the seat is contoured to allow the hip area to lower for a comfortable low ride. The seat performs equally well when used singly and when combined with a passenger seat. Overall, it is a complete package with almost everything designed to perfection.
Things We Liked
Suitable for a low ride
Attractive diamond stitches
Compatible with Harley Davidson standard
Shoulder washers and Chrome Hardware for adjustment
Things that we didn't like
Backrest not applicable
The quality of padding could be improved
02. The Most Comfortable Choice - Le Pera Maverick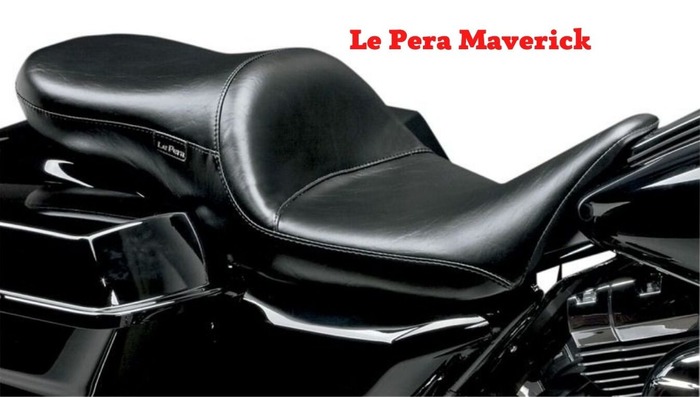 Le Pera Maverick follows our top pick and is another promising choice for the tall riders. The Maverick is an excellent choice for tall riders looking for a comfortable fit. Not only does it come with extra room that allows you to move back and forth, but this model also has a sleek design that will keep you comfortable on longer rides! Made of high-quality vinyl material, providing 2-inch extra space for your legs, Le Pera Maverick is sure to make your solo rides memorable.
What We Liked
Steel base plate for good posture.
Impressive Seat dimensions
High-quality, durable material
What We didn't Like
03. The Best Quality Choice - Mustang 79556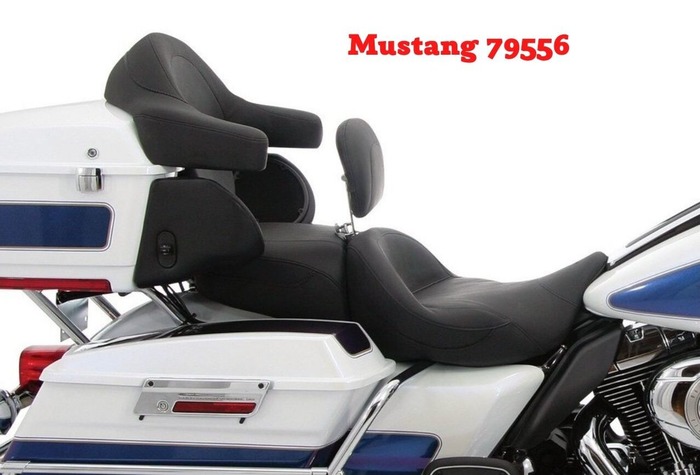 There is a reason Mustang is featuring for the second time on our list. If you are looking for a one-piece Motorcycle seat with excellent comfort features and a backrest, Mustang 79556 is the way to go. The black seat is wide enough for typical tall riders. If you are not too comfortable with the backrest, you can also remove it entirely from the arrangement. The high-quality backrest can be adjusted to your desired riding position. It also comes with all necessary hardware, so it's compatible with a wide range of Harley models!
Things We Liked
Adjustable Seat Backrest for added comfort
Spacious and Comfortable Seat
Best Suitable for tall people
Chrome Hardware for extra Durability
Things We didn't Like
It might not go well with your budget
04. The Most Durable Choice - Saddlemen LS 806-04-172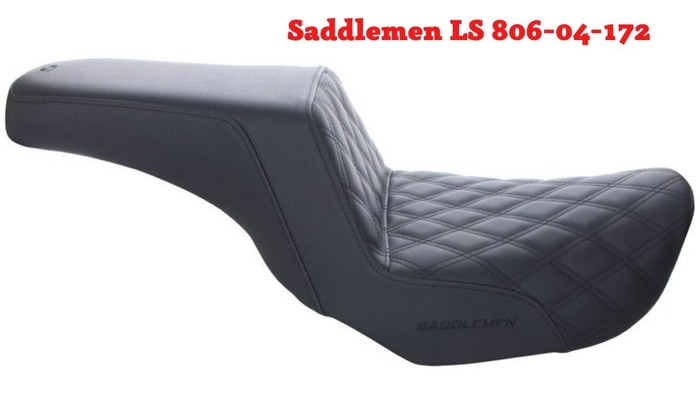 We cannot make a list of the best Harley seats without including Saddlemen Ls 806-04-172. Saddlemen is a name known for manufacturing top-quality rider's equipment, and its finest Harley seats don't disappoint. The notable features of this seat include its ergonomic design for adequate comfort of both passenger and driver, quality material for long-lasting, and easy to fix hardware. The only challenge it offers to its users is its affordability.
Things We Liked
Perfect for tall riders
High comfort Levels
Ease of Installation
Ergonometric Design
Things We didn't Like
05. The Best Street Glide Choice - Danny Gray 21-403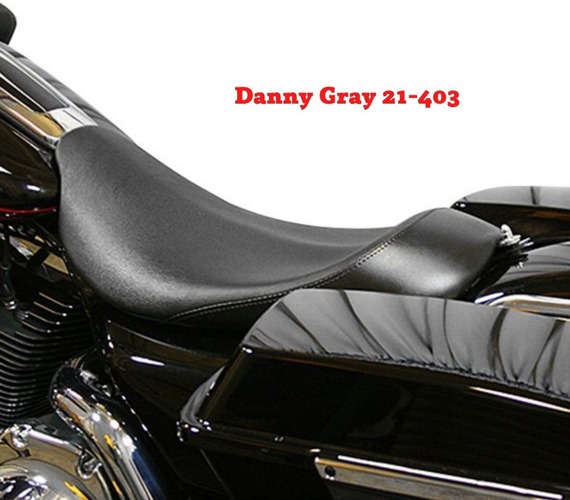 Last but surely not least, The Danny Gray 21-403 is one of the most luxurious seats available on Harley Davidson motorcycles. It is made of leather that will instantly contour your body and let you rest in comfortable positions while riding. This masterpiece's custom look can be completed by its solo seat, crafted with premium quality material, making sure it lasts long.
Things We Liked
Ergonomic design
Designed keeping in mind tall riders
Carved leg passage for rider's comfort
The all-leather cover gives a Shiny look
Things We didn't Like
The seat is slightly sliding
Conclusion
Tall riders may compromise on the seat specifications of a normal bike, but for Harley, you need everything detailed and tailored up to perfection for a complete experience. Ideally, the best Harley seat for tall riders will be the one that offers maximum space for adjustment, has a significant height, comes with a backrest, and is easy to install. All the seats listed above come from reputable and trusted brands.