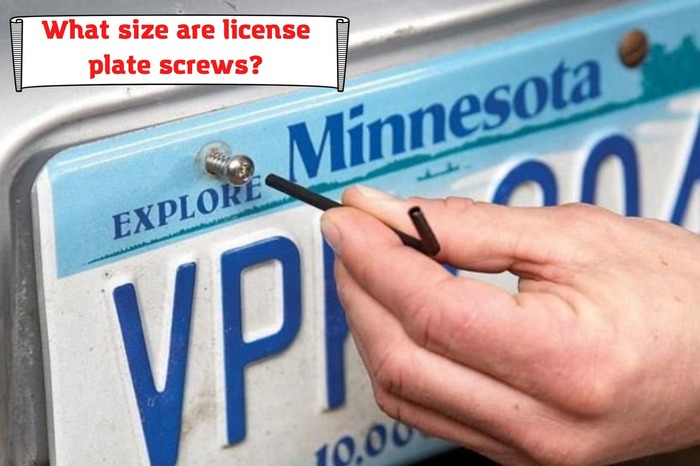 When was the last time you checked your license plate screws? There is a high likelihood you may need to replace them if you have had for them a while. We rarely check or maintain our license plate screws. Most of us do not know how to choose license plate screws that perfectly fit our cars. Manufacturers use different materials to make these screws. They produce them in varied sizes and dimensions to fit different car models. For that reason, it is important to know the right fit for your car before replacing your license plate screws. Read on to fully understand license plate screws, screw sizes, and the right fit for your car.
Today we'll discuss the following:
What are license plates screws?
Type of license plate screw and their sizes
The perfect size for different car models
Where to buy the screws
Materials used on license plate screws
How to replace license plate screws
Summary
What are license plates screws?
A license plate screw is a device used to fasten license plates on your car. The license plates give identity to your vehicle. It is a legal necessity in most countries if you own or plan to own a car. That being the case, you need to constantly check whether the back and front license plates are in place.
License plate screws come in two distinctive types: original equipment manufacturer (OEM) and aftermarket license plate screws. Manufacturers produce OEM license plate screws for specific car models. They uniquely produce the screws to fit specific car brands. Thus, an OEM license plate screw meant for an Audi car will not work on a Ford truck.
Types of license plate screws and their sizes
Manufacturers specify screw measurements of license plate in terms of the screw's pitch, diameter, and length size. The screw's measurements can be in millimeters (mm) or inches. The United States uses inches while the rest of the world uses mm. The US uses ¼ and ¾ inches as standard screw measurements. The license plate screw size commonly available in the US is a ¼ - 14 – ¾ inch screw size. So, what do these figures mean? The first figure (¼) stands for the shaft diameter, the second figure (14) represents the number of threads on the screw, and the last figure (¾) stands for the screw's length. The size can fit many types of car. These screws have a universal fit.
An example of a millimeter screw size is M6 -1.0 x 16mm. The M shows the screw uses metric measurements and 6 stands for the diameter of the screw. The diameter is in millimeters. The 1.0, measured in mm represents the pitch, that is the distance from one thread to the next. Lastly, 16 mm represent the length of the screw.
The perfect size for every brand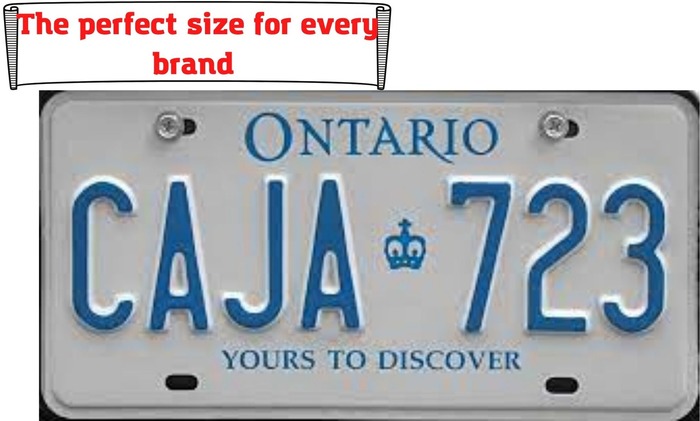 Both the aftermarket and OEM license plate screws differ from car to car. They differ in terms of the material used and the type of screw head. License plate screws range from screws with truss heads, hex heads, pan head screw, slotted pan head, Philips truss head, double hex head, slotted hex head, slotted hex washer head, or slotted truss head.
If you prefer license plate screws customized to fit your car, the following list will guide you as seek a size that perfectly suits your car.
Audi and Volkswagen
Most Audi cars use a standard slotted hex or washer head screw measuring M6-1.0 X 8-16 mm. The length size varies between 8 mm and 16 mm. This means you can go for screws that are 16 mm or 8mm long. Manufacturers use stainless steel, particularly the 316 stainless steel because it is highly resistant to corrosion and durable.
BMW
BMW cars need license plate screws measuring M5-0.8 X 8-16 mm. However, most manufacturers produce 10 mm long screws for BMW license plates. A Philips truss head M5-0.8 x 10 mm screw is the perfect screw for any BMW car.
Ford
The perfect fit for Ford cars is a ¼ -14 –5/8 inches license plate screw. This is a perfect fit for Ford license plates. Most manufacturers opt for slotted hex or washer head screw made of high-grade stain steel that is resistant to corrosion.
Toyota
When fastening a license plate on any Toyota vehicle, go for 1- 0.5-. 0.5 inches or M6-1.0 x 25 mm screws. The size perfectly fits Toyota cars and trucks. Go for slotted pan head screws. Screws made of high-quality stainless steel will be a perfect choice for Toyota cars and trucks. Moreover, you need screws that are durable and resistant to corrosion.
Honda
Honda cars and trucks use license plates screws with a standard size of M6-1.0 X 20 mm. Look for a revolution steel license plate screw that has a universal fit. They are made of zinc-plated steel with glossy black finishing, thus making them rust-resistant and long-lasting. The screws are ¾ inch long and ¼ diameter-wise.
Acura
If you own an Acura vehicle a Philip pan-head M6-1.0 X 10-20mm screw will be a perfect fit for your car. Go for stainless steel or black zinc-plated screws for durability and aesthetics.
Chevrolet
Chevrolet cars use license plate screws with a universal fit, which is ¼ - 14- ¾ inches. Alternatively, the prime Ave stainless plate screw can also work for your Chevrolet. Any size between 8mm to 12mm will work for your car. We recommend a 10 mm 18-8 stainless-steel screw for Chevrolet cars. You need to note that different Chevrolet models may require varied sizes.
Mercedes-Benz
If you have a Mercedes-Benz, an M6-1.0 X 8-16mm or an M5-0.8 X 8-16 mm can perfectly fit your car. Go for high-quality stainless steel or zinc-plated steel with a black finishing for a visually pleasing look.
Hyundai and Kia
An M6-1.0 X 16 mm stainless steel screw will perfectly fit any Hyundai vehicle. Screws that fit Hyundai cars can also be used for your Kia.
RAM
RAM trucks go well with slotted Truss Head or Philips Pan Head ¼ -14 – ¾ inch license plate screws. Ensure the material on the screws is high-quality stainless steel. A good screw option is the Ottospeed rustproof screws. They are easy to install and have a black glossy finishing making them 100% rust-resistant.
Nissan and GM
If you have a Nissan or a GM car, the regular standard size ¼ - 14- ¾ inch screws will do. When choosing screws, go for hex head screws made of high-grade stainless steel, zinc plated, or chrome-plated steel. Such screws are durable and rust-resistant.
Where to buy the screws
You can buy the screws from automotive stores, reputable car dealers, or simply order online. Remember, most online stores sell standard screw sizes. If you need screws that perfectly fit your car, Amazon is a suitable place to begin. They have different screws that fit different car models. Pay attention to the length and diameter size when ordering screws online. When you buy bigger or smaller screws you may have to reorder other screws.
The screw length should perfectly hold together the other components of your license plate. You need the washers, license plate cover, license plate, a frame, a frame gasket, spacers, and screws cover with a base to mount a license plate on your car. The length of the screws should fully house these components.
Before buying any screw, read on to understand different screw materials. You should go for a material that is durable and corrosion-resistant.
Materials used on license plate screws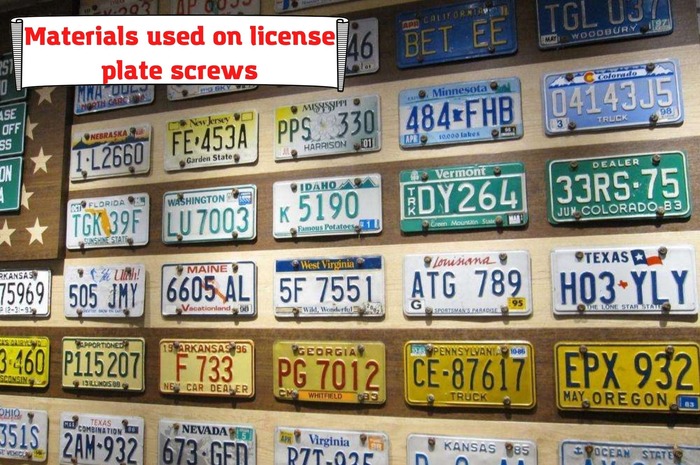 The type of material used on a screw affects its durability and resistance to rust or corrosion from harsh chemicals or elements. Here are a few materials manufacturers use to make license plate screws.
Stainless steel
Car owners often prefer screws made of stainless steel. Stainless steel is non-magnetic hence a good material for screws. Stainless steel does not rust; however, it may cause carrion around the fastening nut or bolt. To avoid corrosion, insulate the nuts or bolts.
Remember, stainless steel comes in different grades. The type and grade of stainless steel you go for dictates the durability of your screws. The most common grades manufacturers use are 18-8, 304, and 316 stainless steel.
18-8 stainless steel contains 8% nickel and18% chromium. Most 300 series use 18-8 stainless steel as a base. The content makes 18-8 stainless steel quite resistant to corrosion. However, when subjected to salt or chlorides, it may exhibit signs of corrosion. It has superior durability and strength, hence requiring little maintenance. In addition to this, 18-8 stainless steel appears smooth and polished
304 stainless steel is austenitic stainless steel. It has chromium, nickel, some bits of magnesium, and carbon content. While it cannot rust and is resistant to oxidation, the 304 stainless steel often tarnishes when exposed to harsh elements.
316 stainless steel has some bits of molybdenum which gives it ductile strength. The steel can withstand harsh environments, thus highly resistant to corrosion including exposure to saltwater. It is substantially costly compared to 18-8 and 304 grades.
Regular steel
Regular steel screws have less strength and are less resistant to corrosion compared to stainless steel. They are non-ferrous, therefore, good material for making license plate screws.
Alloy steel
Alloy steel is formed by mixing carbon steel with one or several elements. They are unplated, giving the screws a dull black finishing. The components mixed with carbon steel make the alloy steel strong and exhibit little resistance to corrosion. The black finishing prevents rusting on the screws.
Zinc-plated steel
The zinc plating protects the screws against corrosion. In addition to this, they are less costly and quite durable since the zinc platin hardens the screw.
Brass and bronze
Bronze and brass are copper alloys. Brass has some zinc in it while bronze has tin in it. Both brass and bronze are heavier than steel making them quite durable. Copper alloys offer good resistance to corrosion. In addition to this, both brass and bronze are good electricity conductors. They are softer and slightly more expensive compared to steel.
Aluminum
Aluminum screws are non-magnetic making them a good material to use on screws. It is relatively lighter compared to steel and its alloys. Aluminum also makes screws resistant to corrosion.
Titanium
Screws made of titanium are resistant to corrosion, lightweight, ductile, and are incredibly strong. Titanium exhibits a high melting point, is non-magnetic, and is highly resistant to chemicals and chloride solutions.
Nylon or plastic
Plastic screws will not rust. However, they break easily. They look aesthetically pleasing but are not durable. If you desire plastic screws, go for nylon screws because they are slightly stringer when put side to side with other plastic screws. However, they may break even with the slightest tightening.
How to replace license plate screws
Replacing screws is easy. You can do it yourself. Follow the next steps to replace worn-out screws on your license plate screws:
Using a screwdriver, unscrew the old screws. Use penetrating oil to make the process easier.
Remove the screws and the frame.
Clean the surface and the holes using a solvent to remove all the dirt and debris in the holes
Put back the license plate and the frame.
Put the new screws in the holes and tighten the screws with a screwdriver.
Ensure they are secure by gently pulling the license plate.
It will take you close to 15 minutes to replace the screws. Pay attention to the type of screw head on your screws. The screwdriver should match the type of screw head.
Summary
It is vital to know the perfect fit for your car. Get yourself license plate screws that perfectly fit your car with this guide at hand.