There is nothing like a Jeep if you are into powerful offroading vehicles that look just as tough as they perform. Ever since the Jeep came out in the 1940s, it has retained its recognizable style and charming good looks, but everything else has changed.
What started as a strictly practical vehicle now has many models that are as great for recreation as they are for work. Jeep calls them "luxuriously capable transportation," and for a good reason.
So what's changed for them over the years?
Let's look at where Jeeps are made these days and who owns this company.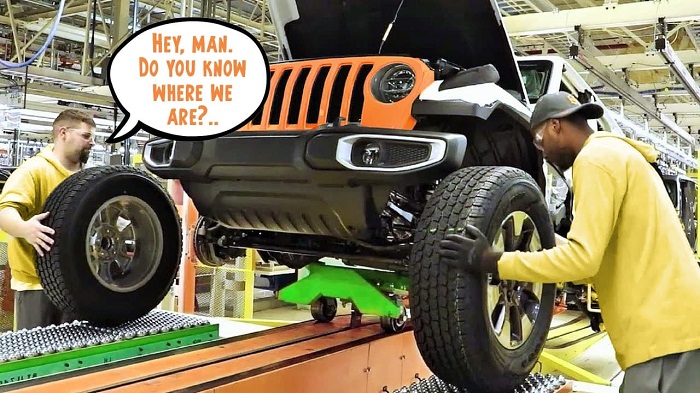 Where are Jeeps Made?
Jeep parts are manufactured all around the world in ten plants in over six countries. Moreover, the vehicle itself is sold in more than 140 countries. However, the assembly takes place in the U.S.
Here's a quick look at where the individual models are made within the U.S.
Jeep Wrangler
These are made in Toledo, Ohio, at the original Jeep plant since 1992.
This plant runs 24/7 in tandem with another plant nearby that was developed a little later to keep up with the never-ending demand. These are called the Parkway Annex and Stickney Plant.
Jeep Grand Cherokee
The 2-row Jeep Grand Cherokee is made in Detroit, Michigan, aka the industrial complex of the US. The Jefferson North Assembly Plant is where all the action happens for this vehicle. However, the new Grand Cherokee L will start getting assembled this year at the Mack Avenue Assembly that's also in Detroit.
Other Jeeps models such as Patriots and Compass are made in Illinois at the Belvidere plant.
Jeep Renegade
Jeep Renegade is assembled primarily in Melfi, Italy, but Fiat Chrysler has also set up production lines for them in China and Brazil. These vehicles are in high demand in these countries, hence the decision to set up plants there. However, many Renegades are also sent to the U.S. on container ships to be sold here.
Who Owns The Company?
Jeep has a colorful history of over 75 years. It started manufacturing its signature vehicle in 1941, then owned by Willys-Overland, later known as Willys Motors. In 1970, AMC acquired the company and sold their cars till 1987.
Then, Chrysler bought this brand and took care of it till 1998, after which Daimler Chrysler bought it out and produced Jeeps till 2007. After that, for the next two years, Chrysler Group LLC made Jeeps vehicles.
Since then, Jeep is owned and operated by Fiat Chrysler Automobiles (FCA) who also owns Chrysler.
Fiat also owns other car and truck brands, such as Dodge Ferrari, Maserati, Abarth, and Lancia. This makes them an expert at manufacturing and marketing high-end automobiles. However, after the merger between PSA Group and Fiat Chrysler Automobiles, Stellantis now owns Jeep. In fact, both Jeep and Chrysler come under the Stellantis banner.
In Conclusion
Jeeps is a well-known and well-established car brand that is celebrated the world over.
Chances are you have come across a Wrangler or Cherokee before, no matter where you live. Even though it started as an American brand, it has expanded nearly worldwide, and it is now made in over six countries even though most of the assembly still takes place in America.