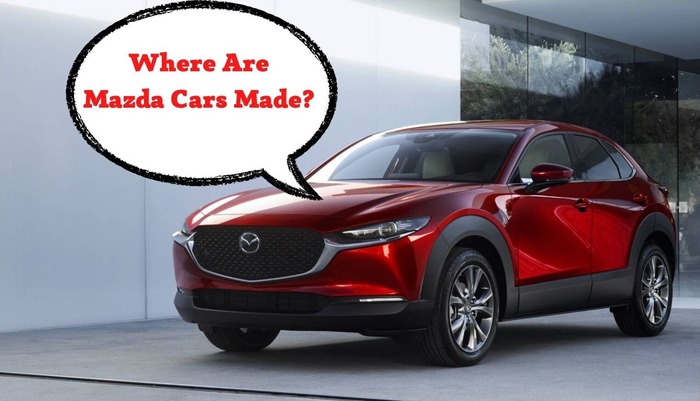 Mazda is a famous automaker, best known for its rotary engines. It has its headquarters in Fuchu, Aki, Hiroshima, Japan. They produce efficient and sporty models that are easy to use. Find out more about Mazda manufacturing locations around the world. In this article we will enlighten you on the following:
Who owns Mazda?
What Makes Mazda Stand out from Other Brands
Mazda Cars for North America
Mazda Cars for European Market
Production Sites for Australian Mazdas
Production Sites for Canadian Mazdas
Tips on finding where a specific Mazda model was made
Summary of Mazda production plants worldwide
Who owns Mazda?
In 1920, Mazda Motor Corporation was established in Hiroshima, Japan. Initially, they were making three-wheeled motorcycles known as "Autorickshaws" and this helped to increase the popularity of motorized vehicles. The first passenger car was made in 1940. From that time, Mazda began to compile designs for compact cars and trucks.
You'll be surprised when you get to know that Mazda is now controlled by Toyota and also by three Japanese banks. But Toyota actually decides how to develop the Mazda business in the world.
So, let's see what are the production sites for Mazda cars all around the world.
Mazda Cars for North America
Mazda cars that are aimed for North America are manufactured in Japan and the United States. Mazda currently has three manufacturing plants in Japan: two in Hiroshima, one in Hofu. Mazda also has assembly plants at Kansas City, Claycomo, Missouri, and another facility called Auto Alliance International in Flat Rock Michigan.
Mazda Cars for European Market
Mazda Motor Europe is the European regional headquarters of Mazda Corporation, which was founded in 1989. Its physical location is on the banks of the Rhine in Leverkusen, Germany. Its roots in Europe extend back to 1967 when Mazda started exporting on a full-scale to Europe. What followed was the establishment of the Mazda Motor Parts Center in Belgium in 1968, and Mazda Motors Germany in 1972. The first Mazda specifically designed for European markets was Mazda 323. Although, there are no proper production sites of Mazda in Europe.
Mazda Research Europe (MRE)
Mazda Research Europe, a European research and development center was also established by Mazda. This center was established in 1990 and is located in Oberursel in Germany serving as Mazda's product development arm. It also provides Mazda's parent firm in Japan with crucial market information and technologies.
MRE develops new models from initial sketches to final vehicles. MRE's mission is to develop unique products that can be used in every European market. This 75,000 square-meter building houses offices, workshops, as well as design studios. The current staff is around 100 employees. Engineers, designers, and technicians study technological trends, European driving habits, European tastes, and other factors to ensure that products and services are inclusive of diverse client perspectives.
Mazda Motor Logistics Europe
Mazda Motor Logistics Europe is a Mazda Motor Corporation entity that handles European logistics and is responsible for distributing parts to their customers in Europe. The company was established in 1968 with its headquarter in Willebroek, Belgium. MLE also provides financial, and technical services to all of Mazda's National Sales Companies.
Production Sites for Australian Mazdas
The Mazda models like Mazda CX-5, which are headed for Australian markets, are made at Hiroshima and assembled in Hofu. They are then shipped to Australia from Japan.
Production Sites for Canadian Mazda
Mazda Canada was founded in 1968 as a Mazda Motor Corporation subsidiary. It has its headquarters in Richmond Hill and regional offices in Montreal, and Vancouver. Other than the Mazdas made in Japan, some Canada-bound Mazdas are also manufactured in Salamanca, Mexico.
Tips on finding where specific Mazda Model was made
These steps will allow you to verify the exact location where your Mazda was constructed using the VIN.
On the dashboard's left side plate, you will find the VIN for your Mazda.
The VIN can be seen if you look outside through your windshield.
Once you have located the VIN, you can use an online VIN coder to get all the details about your Mazda.
You can also manually decode your VIN.
The production location will be indicated by the first letter or number in the VIN. If the first character of your VIN is J, it means that your car was manufactured in Japan.
The 11th digit is the location where your vehicle was manufactured. If the digit is a 0, it means that the car was manufactured at Hiroshima Plant.
Summary of Mazda Production Plants Worldwide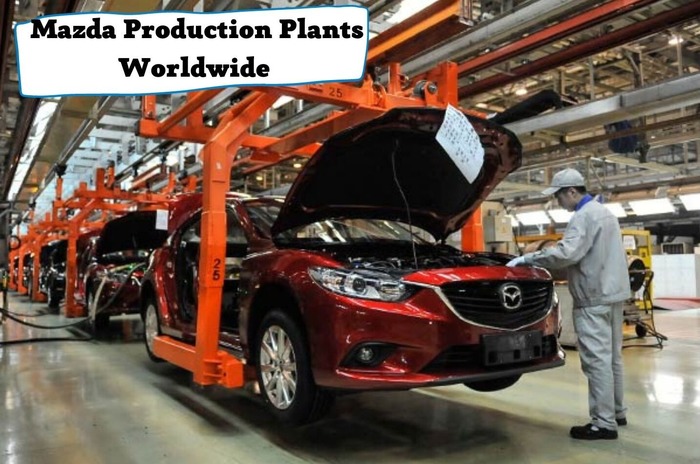 Below is a list of all the Mazda production sites all over the globe including both manufacturing and assembly plants that Mazda owns or operates wholly, as well as joint-venture plants where Mazda holds equity.
Hiroshima Plant. Hiroshima plant is located in Aki, Hiroshima Japan. The production plant commenced its production in March 1931 and is in operation up to now. At the plant, there have been notable milestones including the opening of Ujina U1 in 1966 followed by Ujina U2 in 1972. The production plant serves all the markets around the globe and operates on automobile manufacturing.
Miyoshi Plant. Miyoshi plant is located in Miyoshi, Hiroshima, Japan. The production plant started its operation in May 1974 by manufacturing engines for Mazda's models.
Hofu plant. Located in Hofu, Yamaguchi, Japan, the Hofu production plant commenced its operation in September 1982, with three notable milestones serving all its markets globally. One is the Nakanoseki plant which was opened in 1981 for transmission manufacturing. The second notable milestone is the opening of the Nishinoura H1 plant in 1982 for the Automobile manufacturing of Mazda 2, Mazda 3, and CX-3. The other notable milestone is the Nishinoura H2 plant majoring in automobile manufacturing of Mazda 6 and CX-5.
Bogota Plant. Bogota plant was purchased by Mazda from Fiat in 1982 under the name Compania Columbiana Automotiz. The following year after purchase, Mazda commenced its operations, majorly dealing in automotive assembling. However, in 2014, it ceased its operations.
Michigan Plant. Michigan plant started as a subsidiary company wholly owned by Mazda under the name Mazda Motor Manufacturing USA. The plant is located in Flat Rock, Michigan, USA. However, in 1992, Ford got a 50 percent stake in the company and changed its name to Auto Alliance International.
In 2012, Mazda stopped its operation at the plant following its fallout with Ford. Ford, therefore, bought all the Mazda's shares in the company and changed its name to Flat Rock Assembly Plant.
Rayong Plant 1. This plant started in 1998, after the joint partnership between Mazda and Ford in 1995. It operates under the name AutoAlliance Thailand manufacturing Mazda 2, Mazda 3, BT-50, and CX-3, and serves all its markets globally.
Nui Thanh Plant. This plant is located in Vietnam and started its operations in 2011 to serve its market only in Vietnam. Nui Thanh Plant operates under the name Vina Mazda Automobile which is a non-Mazda subsidiary producing Mazda 2 models.
Kulim Plant. Kulim plant in Malaysia started its operations in the year 2011 with three notable milestones to serve its markets in Southeast Asia. One of them is the Inokom that started contractual assembly for Mazda in 2011. The second milestone was Mazda Malaysia which was a partnership between Mazda and Bermaz. Mazda, though, has only a 30 percent stake in the joint venture. The last milestone is the assembling plant built within the Inokom complex. All these three plants manufacture Mazda 3, CX-5, and CX-8.
Vladivostok Plant. In 2011 Sollers manufacturing Rus went into a partnership where each owned 50 percent stake and in 2012 it started its operations. The plant was located in Vladivostok, Russia and it manufactures and assembles Mazda 6, CX-5, and CX-9 for the Russian market.
Nanjing Plant. Nanjing plant is partly owned by Mazda and Changan at 50 percent stake each under the name Changan Mazda Automobile. The plant started its operations in 2013 manufacturing Mazda 3 and CX-5 for its market in China.
Salamanca Plant in Mexico. In January 2014, Mazda commenced its operations in the Salamanca plant after a joint venture between Sumitomo and Mazda. The plant is producing and assembling Mazda 2, Toyota Yaris, Mazda 3, and CX-3 for its market in North America, South America, and Europe.
Rayong Plant 2. This plant operates under the name Mazda Powertrain Manufacturing and is a fully owned subsidiary company of Mazda. It started its operations in January 2015 in Rayong Thailand specializing in engine manufacturing for all its markets globally.
Alabama plant. Alabama plant hosts Mazda Toyota Manufacturing USA in Huntsville, Alabama, United States.