Color white is beautiful and widely accepted. A white car will easily find a buyer and offer a great resale value when you put it on sale. That's, of course, if it's still good-looking with powerful specifications and meritorious mileage. But, wheels contribute immensely to the overall appearance of a car. Gunmetal wheels highlight strength, elegance, and a lasting impression on a white car. So, what are some white cars with gunmetal wheels on the market? What types, manufacturers, and prices for these cars? Let's find out below.
1. Pearl White Tesla Model S
Manufacturer – Tesla
Type/Body style – Sedan, 5-door lift-back
Price – MSRP $89,990 but up to $150,000 for a fully-loaded Tesla Model S Plaid.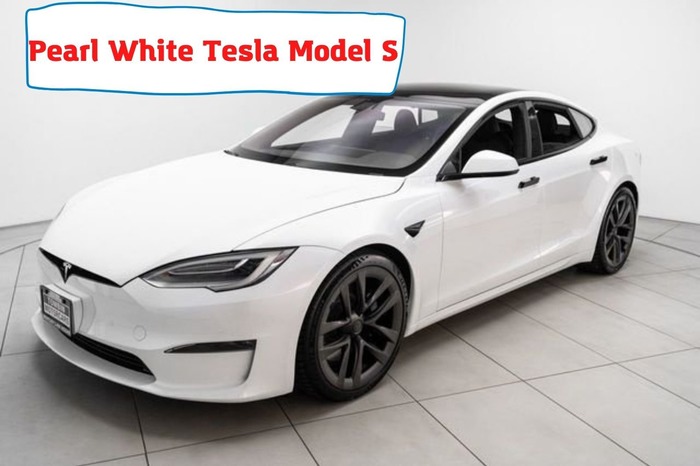 The Pearl white Tesla Model S has been on the market since 2012. The model still looks as fresh and clean as it was released almost a decade ago. That makes this car draw a lot of admiration anywhere the public spots it. It's also a future-oriented, eco-friendly car powered by an electric engine. The vehicle comes with a range of features that strikes a perfect balance between class, comfort, and functionality. It's elegantly molded and accentuated with carefully selected aftermarket parts.
The vehicle has had a wheels setup of 21 inches in the rear and front. However, this Model S includes 22 inches wheel ADV5.2 Specification SL Series 3-piece forged wheels with brushed gloss gunmetal finish. These wheels measure 22 x 10.5 inches in the rear and 22 x 9 inches in the front.
Also, this luxurious electric car features a unique carbon fiber lip spoiler in the front and a deck-lid spoiler in the rear. These add-ons enhance the look of this model significantly. The Model S comes with several sophisticated features to make your experience and ride more classic and smoother. These include the automatic rising suspension, advanced parking sensors, upgraded autopilot, steaming services, and web browser. There's also an App that allows you to lock or unlock the car and do much more right from your phone.
Generally, the Model S is an attractive sedan perfect for anyone looking for a luxurious, executive car for everyday use.
2. Alpine White BMW F30 335i
Manufacturer – BMW AG
Type of body style – Long Wheelbase Sedan
Price – MSRP $40,750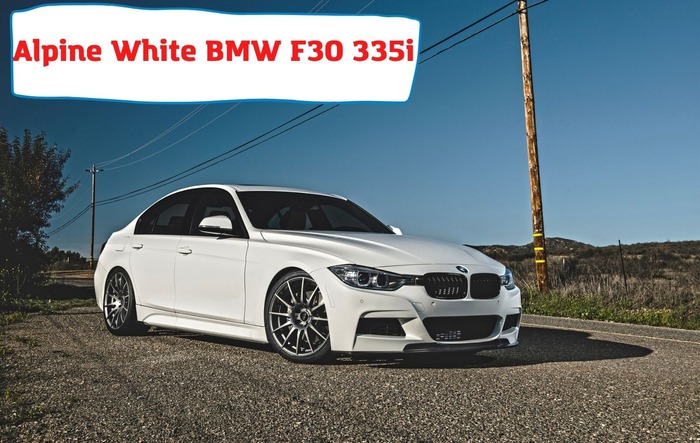 BMW cars are a symbol of class and power. Since the release of its first model on the market, every other car has gained popularity for its look, design, and performance. The Alpine White BMW F30 335i model isn't different. Since the F30 335i's production between 2013 and 2019, this 6-cylinder 3L bi-turbocharging engine has been a tough competition to other cars out there.
The manufacturer equipped it with world-class features, including a four-wheel drive that offers power, performance, and excellent handling. This model is now available with a set of VMR wheels enhanced with a gunmetal finish. But, the Alpine White F30 335i has never been more attractive following the addition of the uniquely accentuated wheels. The multi-spoke wheel design creates a perfect match with the exterior white color. Moreover, the professionally crafted lines on this executive sedan body further enhance its look. They are set up in 20-inch x 10-inch rear and 20-inch x 9-inch front.
The manufacturer hasn't changed the engine of this 335i model yet. As we mentioned, the vehicle still has a 3.0L Twin-Power Turbo optimized with a 6-cylinder, 24-valve engine. This engine includes a twin-scroll turbocharger alongside variable valve control and high-precision direct injection. That makes it deliver power efficiently for a smooth ride. Additionally, its 8-speed Step-Tronic transmission with ATC enhances the efficiency and offers a good 32 mpg in normal driving conditions.
The Alpine White F30 335i model is still a famous luxurious car model so far. With the addition of the VMR wheels with a gunmetal finish, you can now enjoy a better look and performance on the road.
3. Alpine White BMW 7-Series
Manufacturer – BMW AG
Body Style/Type – Full-size luxury Sedan
MSRP Price - $86,800 to $157,800 depending on factors such as the trim, engine, drivetrain, and transmission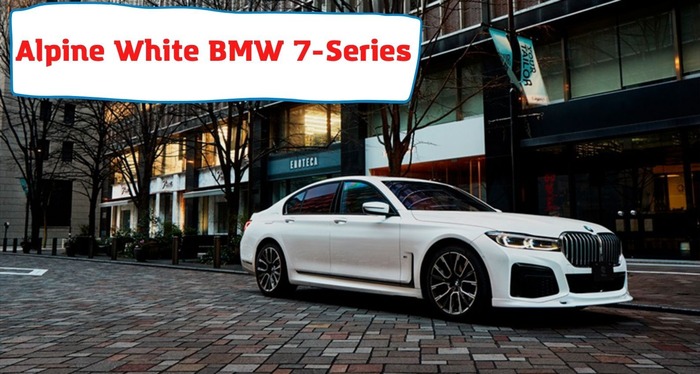 The BMW 7 Series has been very popular for many years. This car is a top-ranking luxury sedan whose setup is almost like the 8 Series Gran Coupe. However, the 7 Series model offers more room and an optional V12 engine. The latest 7 Series model now has more advanced features and significant styling. It has an excellent rear passenger room, safety tech, and adaptive air suspension for more comfort and control.
This full-size luxury sedan includes all the most recent technologies that enable a more comfortable ride. The car competes with industry giants like the Mercedes-Benz S Class, Porsche Panamera, Genesis G90, and Audi A8.
Now equipped with custom gunmetal wheels, the 7 Series model has never looked more elegant. The new design draws a lot of attention anywhere it goes. This white BMW 7 Series also provides significant inspiration to lovers of BMW cars who are looking to customize theirs.
The 2021 models of the BMW 7 Series are available in 5 trim levels. These are the M760i all-wheel drive, 745e all-wheel drive, 750i all-wheel drive, 740i all-wheel drive, and 740i. The 740i Sedan runs on a 3L Turbo inline 6 gas engine. It features an 8-speed automatic transmission and RWD drivetrain. The 740i all-wheel drive sedan comes with a 3L Turbo inline 6 gas engine, 8-speed automatic transmission, and all-wheel drive. The BMW 750i xDrive Sedan includes a 4.4L Twin-Turbo V8 gas engine, 8-speed automatic transmission, and all-wheel drive. Lastly, the M760i xDrive Sedan has a 6.6L Twin-Turbo V12 gas engine, 8-speed automatic transmission, and all-wheel drive.
4. White Lexus GS350 F Sport
Manufacturer - Lexus
Type of Body Style – Mid-Size Luxury Sedan
Price – MSRP $57,785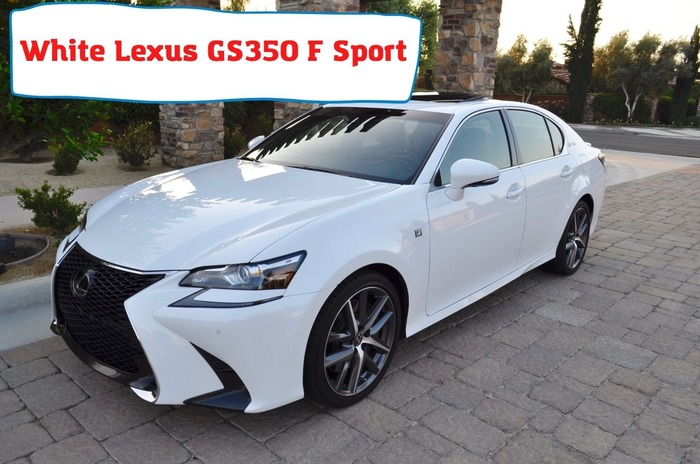 Many people have had doubts about the performance of the Lexus GS model. However, in 2007 the manufacturer upped its engine from a 3.0L to a 3.5L, V6, and 24-valve power plant. Since then, this vehicle has proven to be one of the top performers. Many lovers of luxury cars are now admiring this model. The 3.5L engine delivers over 300 horsepower and about 270 lb-ft of torque. That enables the vehicle to compete with some V8 models in speed and power.
The latest GS350 F Sport comes with a 3.5L V6 engine with rear-wheel drive and 8-speed automatic transmission. It has excellent performance that suits the needs of most drivers. Like most luxurious cars, this one offers a variety of customization options. That means, if you're going to purchase it, you can specify the features that you want. This car offers a wide range of standard features and a few great add-ons.
So, if you have never been a fan of this car, wait until you see the white Lexus GS350 F Sport. Thanks to the new custom gunmetal Vossen wheels, the vehicle looks great. This refined look that the wheel creates matches the exterior white color of the car perfectly. The wheels make the car look more classic, elegant, and powerful. Besides great looks, this luxury sedan offers a quiet, roomy, and comfortable cabin for a smooth ride with the family.
5. White Ford Mustang
Manufacturer – Ford
Body Style – 2-door Coupe or Convertible
Price - $27,155 for the Base coupe model, $32,625 for the convertible, $52,720 for the GT model, and $37,000 for the Shelby GT500 model.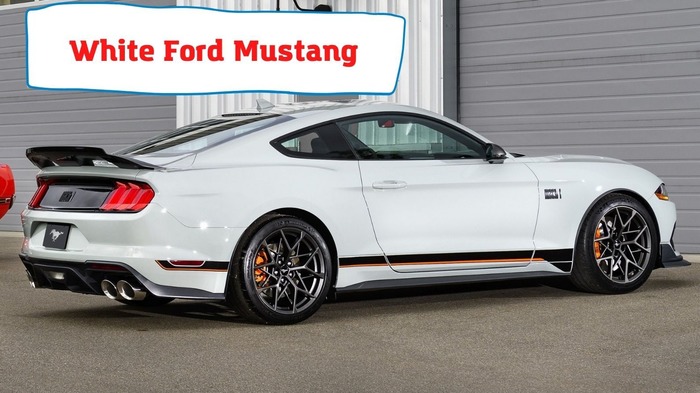 Ford is now a giant in the automotive industry with popular car brands on the market. Many car enthusiasts are looking forward to any new innovations from this manufacturer. And the good news is that the prestigious company never disappoints.
Ford continues to make lots of enhancements to the Mustang lineup. The 2021 model is available on the market in 5 primary trims. They are the Eco-Boost, Eco-Boost Premium, Match 1, GT, and GT Premium. Besides the standard 2-door coupe, you can also find the White Ford Mustang in a folding-top convertible version in all the above trims except Mach 1. The convertibles come with more add-ons like noise cancellation. There are also several security features to make your ride as smooth as possible. This sports car comes with an excellent engine lineup starting with powerful turbocharged 4-cylinder engines and a V8 engine (Mustang GT).
A set of customized gunmetal wheels on the White Ford Mustang is just amazing. The vehicle stands out and outranks almost all other coupe car models out there. The 2021 standard CoPilot360 driver-assistance plus a new set of custom gunmetal wheels will ensure that Mustang lovers enjoy a whole new level of driving experience.
Conclusion
There are many great cars out there that would look great on a set of gunmetal wheels. The above are just a few. Therefore, if you're looking for a classic white car, we recommend that you go for one with gunmetal wheels. Whether it's a sedan, coupe, or any other type that you prefer, gunmetal wheels offer a casual appeal ideal for everyday use. These wheels are also easy to maintain as the blackish or dark gray color is perfect for hiding stains.