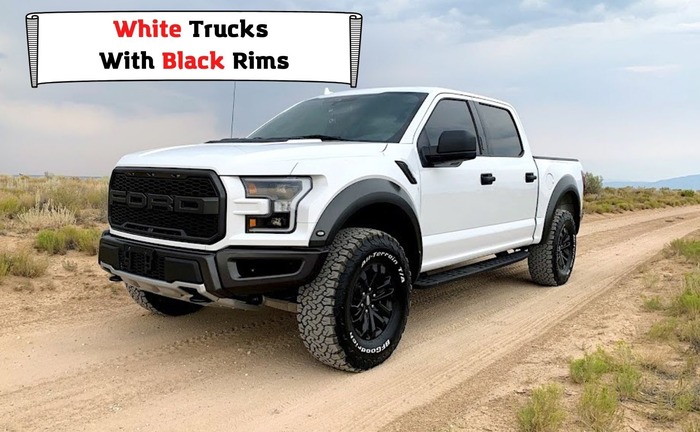 Pickup truck drivers aren't usually that concerned with what their vehicle looks like. Or maybe they are? Well, we investigated the search stats in Google and found out that thousands of people monthly ask the search engine if it's good to buy black rims for a white truck. And now we know for sure that those truck drivers actually care about the looks of their cars.
In our today's article, we want to give some hints and tips about a white truck and black rims. You may have seen dozens of such cars outside, but the trouble is that they all look kind of weird. They may look like workhorses, not like the cars that are loved much by their owners. The reason is not only the color of rims but certain design failures that we often overlook when buying some aftermarket rims.
So, today we'll investigate such points:
is it good to equip a white truck with black rims;
what kinds of rims should you buy;
which trucks look bad with those black rims;
what should you add to make your white truck look good with black rims;
rim brands and models to consider for your white truck.
Let's start right now!
Is it good to equip a white truck with black rims?
At first, let's figure out if it's actually good to think about those black rims.

As you see in this picture, the truck looks really good. And it's going to draw some attention when you are driving. But this Ford truck has some advantages over many other pickups that are wearing black wheels.
Sometimes the vehicles may look really weird when equipped with black rims, as in this picture, for example: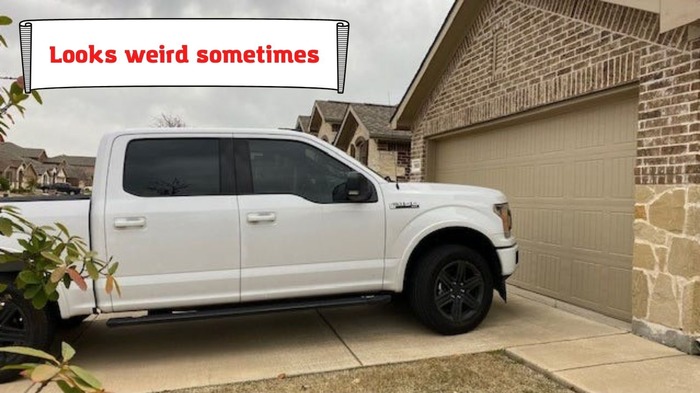 It's the same Ford model, but the rims and wheels look like they have been taken from another car. Why is that?
Many concerns may arise when you are considering black rims for your white pickup truck, and here are some of them:
the rims may look weird and seem like they have been taken from another car;
the rims may make the pickup truck look cheaper than it looks with its original rims;
black wheels may be too contrasting with the white body color of the truck;
black rims may not be that practical.
Well, some of these concerns have to be taken into consideration as the practical side of the question. But many factors depend much on your choice. You may buy the rims that wonderfully suit your vehicle or you may choose bad options that will actually make your truck look cheaper.
What rim design should I choose for a truck?
Modern trucks look like beasts. Manufacturers try to show all the power and all the good sides these cars have. So the design is very brutal, beautiful, modern, and aggressive. The pickup trucks are still very popular with American buyers, so producers tend to invest a lot in their designs. By the way, white trucks are the most popular, so the dilemma of rims for these vehicles is very urgent.
When you choose the black rims for a white pickup truck, make sure you go through this check-list:
the rims shouldn't be too simple-looking;
the sporty design is quite a good option;
big rims are good if you have the option to customize the suspension;
rims with additional colors are good (silver plus black or steel plus black, for example);
rims with soft lines aren't very good for modern pickup trucks;
the sharp and sporty shape looks much better.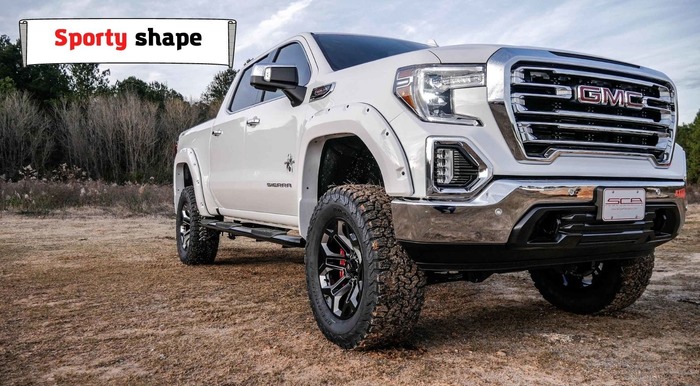 Also, pay attention to glossy black rims. Your beautiful white truck will look poor with matte black rims. These matte colors fit perfectly with the tire color and just form a weird feeling when you don't understand where the rim ends and the tire starts. This brings to the impression that your wheels are just black barrels with no design.
Tires – they change everything
Well, we came to the conclusion that you should choose glossy black rims with sporty design and sharp lines for your white truck. But the wheels won't look good if you just fit those beautiful rims with your stock tires. The tire design is extremely important when you think about black rims.
The main idea is to buy a tire with a high and gripping tread. It will look great with a sporty rim. Also, your pickup truck will get extra talents for off-roading as a bonus for your choice.
One more thing is that the tires could have some white text on them. It may be a brand name or maybe just the size of the tire, or anything else. White figures and letters will combine the style of the vehicle with the style of the wheels. And it will look perfect.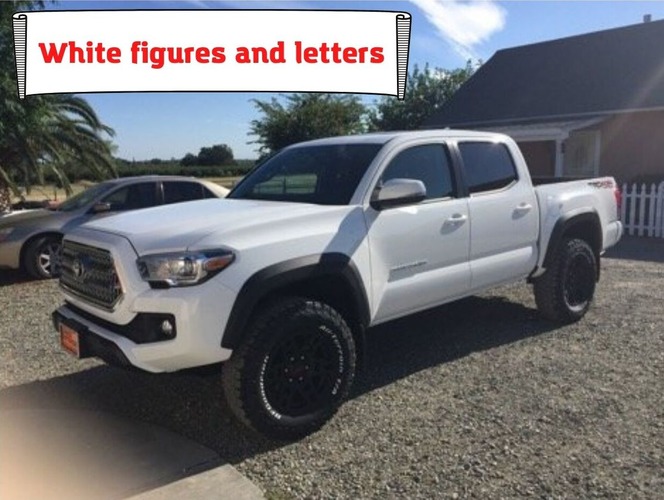 Which trucks will look bad with black rims?
Not all white trucks look good with black rims. We have seen numerous old white pickup trucks that have simple black wheels and they looked awful. When you buy some aftermarket wheels, you need to be sure that they suit your vehicle. If not, you will just say goodbye to a large sum of money without getting anything good.
If you have an older truck with a classic design, it's better to look for some classic wheels. Silver ones will be good in this case. Or you may even have the stock wheels and just replace the tires with bigger ones. This will cost you much less, but you'll still get a lot of pleasure in the end.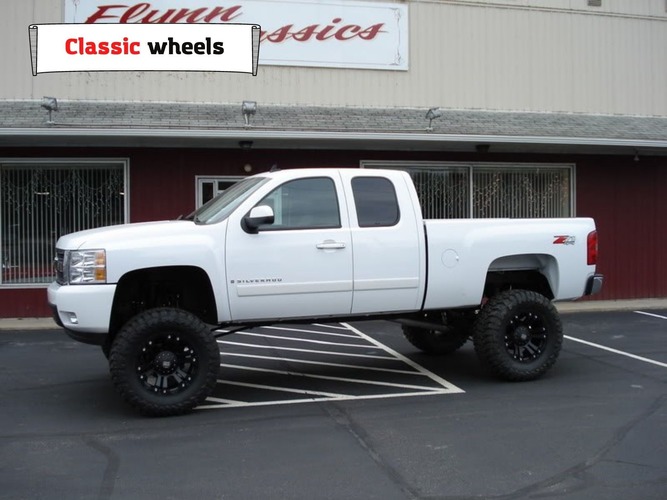 What to add to make your white truck look good with black rims?
Well, if your vehicle is totally white, it doesn't make sense to install totally black wheels. Something should connect the wheel design with the body design. You may find some aftermarket accessories for your pickup truck and make your vehicle look even more stylish.
For example, you may use black side mirrors and a black front bumper like here:
Or you may choose black plastic fender covers along with dark window tilt like here: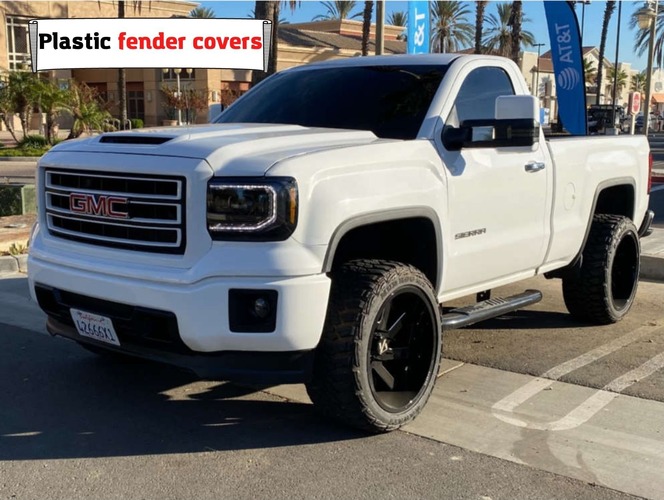 White and black go together pretty well, but you will need to style your vehicle a little more than just to buy appropriate rims. Some styling will pay off in the good looks of your truck.
Rims models and manufacturers to choose from
We don't want to limit you much in the choice of your future black rims, but we have researched the market and found some models of rims that may suit your white truck. Of course, pay attention to technical specs. For example, some cheap rims aren't made to withstand huge loads. Make sure the rims you pay for are guaranteed to hold the weight of your car with no risks of damages.
Here are some models we can recommend:
1. Japan Racing JR11. These rims are made for sports cars, but they come in a variety of sizes, so you may easily choose ones to suit your truck. Although these rims are matte black, you will find them suit your car well if the tires are properly chosen.

2. Bola B11. Very simple design, great looks, wonderful quality, and availability in many size types. The rims look wonderful with smaller trucks, but they may be too sophisticated with a bigger pickup truck.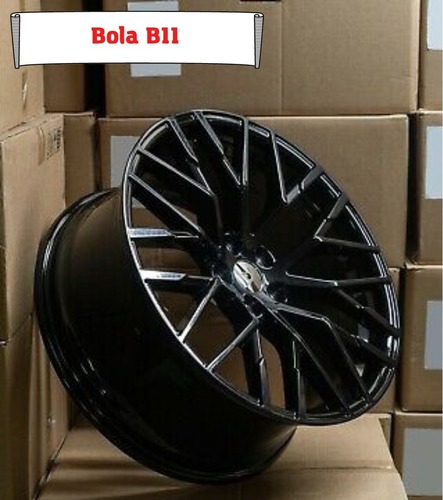 3. Bola B4. Another Bola option – a great choice for those who want better quality without paying too much. The rims have quite an unusual design, so they will require optimal tires to look really good on your vehicle.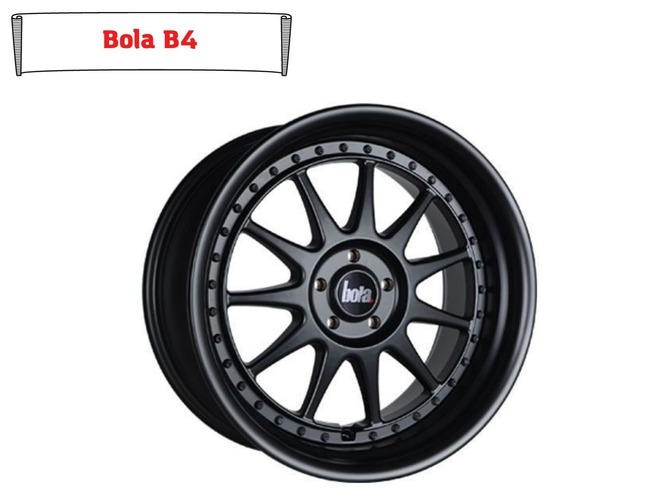 4. BBS CI-R. Another cool option you may want to choose. The thin lines and pure black color make the wheel look good with your truck. The only thing to consider is if the matte color will match your vehicle.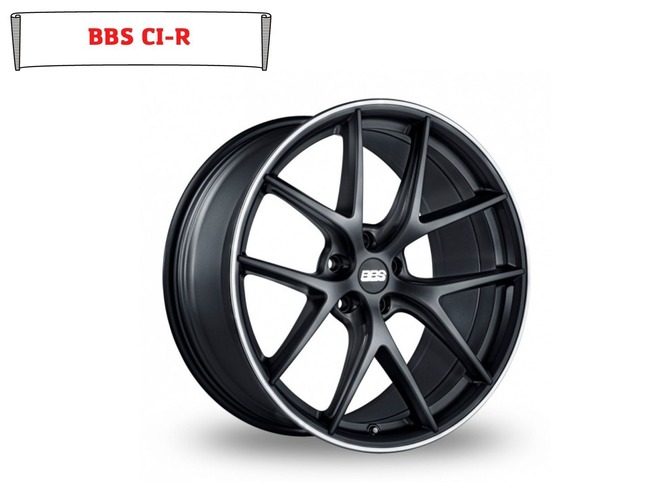 5. Wolfrace Eurosport Assassin. Well, this is a good choice for those who want some combinations of colors. Here we have a black-silver rim that looks really sporty and will suit some modern pickup trucks with aggressive design.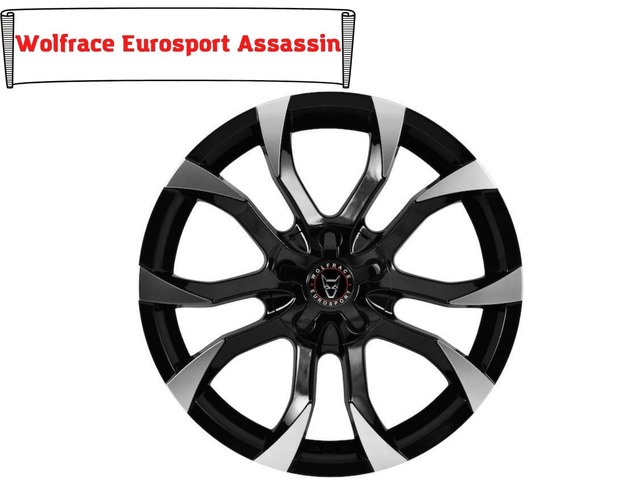 6. HELO HE 912. A very good option for those who have some money to spare. The quality is superior. On their website, the company says that they produce wheels that suit modern big SUVs and pickup trucks according to all specs and requirements.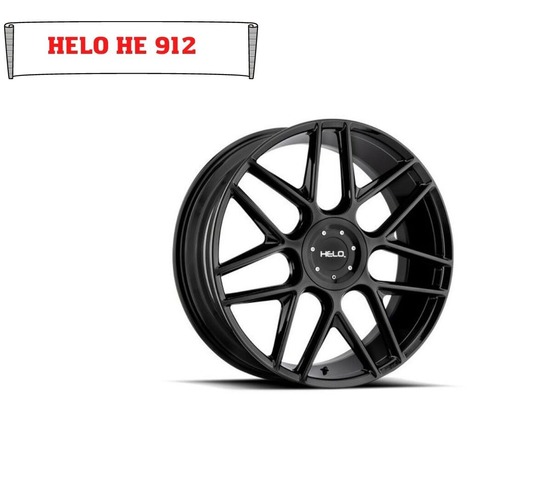 Also, custom black wheels are a great choice, but again, you will need to pay quite a lot to get four rims for your truck.
Verdict
We have researched the world of black rims and have found some models and types of wheels that will suit your pickup truck perfectly. These rims aren't that expensive but they may completely change the way your truck looks. Today it may be just a simple truck with hundreds of the same-looking vehicles on the road. But tomorrow it may become a one-in-a-million vehicle with a unique style.
Rims influence much the way your vehicle looks like. And this is why we recommend considering new rims and tires that may start a complete renovation of the style of your pickup truck.