Among all the diversity of today's products for car owners you may find really wonderful ideas and buy them with really low prices. Only a couple of dollars might change your way of using the car and make it easier to fulfill some routine actions. Such goods as Spill Free Funnel by Lisle Company seem to be really wonderful purchases.
It's all about comfort and wonderful diversity in usage. You can find the way to apply the funnel in all situations. It's made of quite long lasting and good materials and can bear anything you might pour into it. Also pay attention to the possible choice of accessories. With one funnel you get absolutely universal kit to create whatever funnel you need.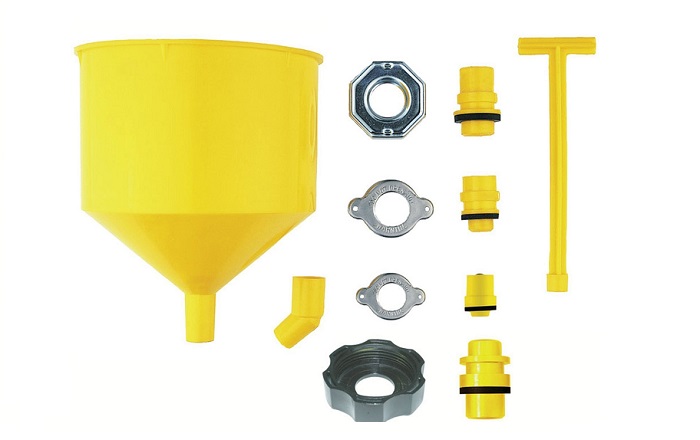 Actually, such things seem to be very economy friendly. You buy only one kit and get everything for creating the funnel for all car and house needs. And also it can stand everything - all destroying and aggressive materials cannot destroy the plastic thing. So the option is really worth your time and money and I'll make its review.
What are the best features in the Spill Free Funnel?
It's registered technology which helps you find optimal funnel shape and type with just one universal kit. You won't need to look for three or four options and then find a place to store all of them. Buy just one kit and complete any task you have with just using these variants. You can also find a lot of pluses in using the funnel. Car owners will find it useful in any sphere, not only in car service. Well, let's check if the product has got enough pluses to speak about and think of buying:
wide and comfortable shape helps you pour any liquid without leaks and problems, it's of wonderful form to use;
really wise construction helps you create whatever angle you need to pour all liquids exactly where you need them;
construction is fully leakproof and it creates needed qualities to service your car and add missing liquids in comfortable way;
it's specially designed to fit the car owners' needs, it has some adaptors for special antifreeze pouring options;
the plastic is long lasting and can withstand the impact of different chemically aggressive materials and liquids;
the device also eliminates air pockets which usually create troubles when using the cooling system in your car.
With all these options you can really see that the funnel made by Lisle brand is a wonderful purchase. And also it can bring you really wonderful additional options. The device provides access to those caps and holes which are hidden and are not easy to reach without special instruments. Now you can service your car by yourself and not spend a lot of money for companies' propositions. Of course, such thing will be useful in your garage.
By the way, do you want to change the way your vehicle looks like? Then you might be interested in my review of Duplicolor Wheel Paint for some tuning decisions.
What is the Spill Free Funnel made of?
The thing is produced of quite good plastic. It's not hard and can withstand any temperature changes. Also you can easily use it in any weather for pouring into your car any type of liquids with any temperatures. It always stays the same in condition and remains leakproof. You can also find some metal connectors in the set.
The plastic changing attachments are also in the set and there are lots of them. You can install whatever you need and also use the instruments in the set to help you do all the tasks quickly. There are a lot of optional features you can use the thing for, but for car owners these are the main ideas which are really important.
Also pay attention to the quality of materials. They are long lasting and can bring you wonderful emotions while using. You won't find any scratches or cracks on the purchase even after lots of months of using. It also says about high quality of production and allows you to use the thing for quite long time.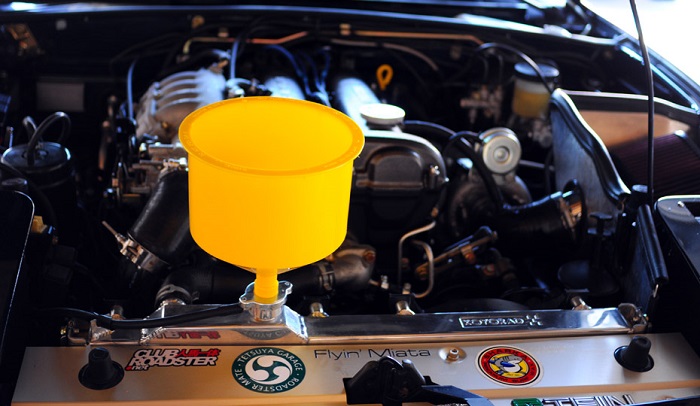 Are there minuses which you should consider?
Any product has some bad sides. And I've been thinking for quite a long time to find at least something to say in this section. The only thing I see is that the set contains quite a lot of small parts. It's bad for those who don't like to put everything back on its place after using. You can easily lose the parts and find no other ways than buying another funnel to renew all possibilities you had before.
Also you won't probably take the funnel with you all the time. It's quite massive in size because of very comfortable shape. These are really the only minuses I managed to find in the product. You can also bring some other bad features after buying and using the thing because everyone has some unique view on the car accessories. But personally I couldn't find even one more minus to reveal here.
How to use the Spill Free Funnel - small instruction
I hope you'll understand everything without any instructions. There aren't any bad sides and hard ways of using the funnel but actually you can see a lot of questions out there in forums and chats. So, I've decided to make a small instruction on how to use the spill free funnel and make everything with no leaks at all. It's very easy and you won't have to buy any other instruments. Just check that you have an original set of the funnel. And then you just need to do next:
Take off the lid of your overflow bottle and choose the cap from the Funnel set which suits your vehicle. Then install the fitting cap into the bottle mouth and take special lid with a hole in it from the set.
The next thing to do is to install the funnel itself - be careful in this step because the funnel fits the hole in the lid quite tight. So you'll need to use your power a little bit. In the end the funnel will stay easily on the lid.
Then take the stopper which is the yellow plastic stick. With this one you can easily stop the liquid from coming down the hole. Install the stopper and only then you can pour the antifreeze into the instrument.
The next thing is to pour as much antifreeze as you need in the system. It's also very important thing that even if you pour more liquid, it's not a problem, you just need to use the stopper and remove the funnel with no troubles.
After using you just need to clean the thing with cold water. Sometimes after pouring some oiling liquids special service is needed. But actually the instrument is very easy to use even for specific purpose.
As you see, there aren't any troubles in using the instrument for car purposes. If you want to know how to get rid of any air caps you might have in the cooling system, I propose you to watch the video in the end of this article. It'll show step by step how you can use the thing to create really wonderful possibilities for your car's engine work. So, the simple and not expensive plastic accessory seems to be quite a good purchase.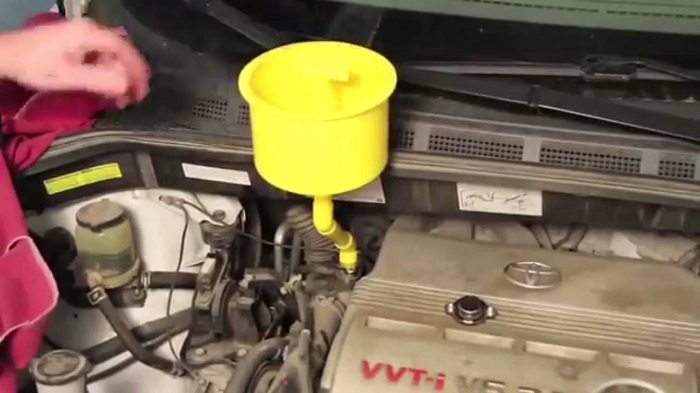 Should I buy the Spill Free Funnel in the market?
I don't know what minuses you can find in the instrument. Personally, I don't see any troubles and I can easily say that this purchase is worth the money. It costs only a couple of dollars and it can really bring you happiness when changing antifreeze and any other liquid in your vehicle. I could also say that the funnel is quite useful in other life spheres. But actually it's really magical only for car using.
Anyway, you might live without the product. Of course, in every service depot they use some other options to pour liquids into the cars. But you may arrange everything really wonderfully. So, in my opinion, this thing is best purchase for the money if we speak about car accessories and additional products to use in your vehicle. And on this point I can really say that the thing is worthwhile.
I also propose you to watch the video and make your decision whether you need to buy it or not: