Harley offers a big range of different motorcycles available on the market. Some of them are just traditional cruisers, some are new to the brand representing the sports niche of the biking. But today, we want to speak about the Pan America model which is extremely unconventional for the American brand and can surprise you with an HD badge on its body.
Harley Pan America is sold mostly in Europe, but American buyers can also order one of these bikes. Today, we will talk mainly about the problems of Harley Pan America and some ways to keep it on track. Also, we'll see if you can have a better option for this money. First of all, we should say that this is a competitive class of motorcycles and Harley Davidson has never been a leader in this class.
Trending: 3 Unconventional Services Every Car Owner Badly Needs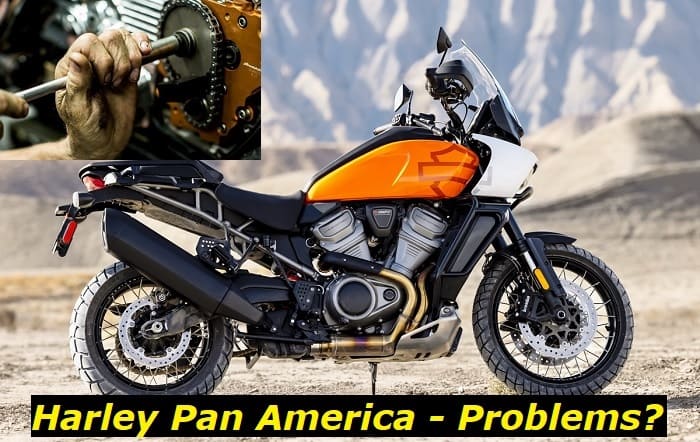 Here's what we are going to talk about in the article:
Harley Davidson Pan America - key features and things you should know.
Problems you can have after buying Harley Pan America.
How to keep your bike running longer and with no problems?
Should you choose a Pan America or any other alternative?
Let's get started!
What do we know about Harley Pan America?
The motorcycle is actually new. It was presented in 2018 and it was first seen in HD dealers in 2020. We believe this bike was initially meant to sell in the European market because all press coverage we've found comes from Europe.
And here we have two problems: this is a new bike with a few sales in America, and this is a not-so-popular motorcycle that we don't know much about.
But still, here's what we know:
this motorcycle was built from scratch, it even uses the new 1250cc V-Twin engine called Revolution Max;
the motorcycle forms the new type of bike for Harley Davidson - Adventure Touring bikes;
the company offers a simple version and also the Pan America 1250 Special with some additional features;
the base price is about $17,300, the Special version costs nearly $20K which is extremely expensive;
the Pan America offers about 46 mpg of gas mileage with its 5.6-gallon tank which is not bad at all;
the seat height is 34.2 to 35.2 inches for the standard version and nearly 1 inch lower for the Special.
What else should we say? This is a Harley Davidson motorcycle and you should expect a lot of problems of bad issues with it. You should know that this is one of the most reliable bikes in the class. But also, remember that still not so many people have bought it, so reviews aren't so massive.
And here we come to the point where we should discuss all the possible problems your Harley Davidson may have.
What are the common problems of the Harley Davidson Pan America?
Unfortunately, it's too early to talk about any common issues because most of the Pan America bikes haven't yet reached some decent mileage. But still, we've started gathering information on their issues and we know can tell you about some possible malfunctions.
Just bear in mind that these issues may have been based on one or two opinions and they can't be considered "common". After some years, we'll probably remove some of the problems from this list.
1. Instrument cluster problems
If you own a Pan America, you should know that the company recalled some bikes because of the instrument cluster issues. The problem occurred when the module was below freezing point, so it couldn't be checked during tests.
Also, the instrument cluster and some other units were just replaced free of charge if your bike was on the list of faulty ones.
2. Passenger seat problems
There was another recall of thousands of bikes that touched the passenger seat base. In some bikes, it appeared to be faulty because of a bad fastening. Over time, when the fastening gets loose, your passenger may just take off with their seat during riding.
If you suspect your bike has this problem, just visit the Harley Davidson dealer for diagnostics and free repair.
3. Downshifting problem
This issue wasn't included in any of the recall lists, so it's a secret problem that we've met a couple of times when investigating bikers' forums. And the issue proved to be really common. When you are riding in the 5th gear and want to slow down, you just can't downshift sometimes because the shifter gets stuck.
A very unpleasant experience it is. And you will not want it to repeat. Thank goodness, this will not happen very often. People who report this problem have just had it a couple of times. But still, the problem is not very pleasant, for sure.
Trending: OUR 5 Golden Tips on How to Cut Your Driving Costs
4. Limp mode problems
Unfortunately for off-road riders and for those who love to show off, once your rear wheel spins, the engine goes into limp mode. Why? No one could explain. But the original software somehow puts your Harley Davidson into the limp mode and just limits its performance for a couple of minutes.
This means that if you go off-roading, the wheels of the bike will spin just because they have sand under them, and the motorcycle will just refuse to go anywhere. You will need to stop the engine, then start it again and this will probably help you keep riding until the wheel spins another time.
5. Starting problem
A very bad issue that quite many Pan America owners reported is bad starting. This problem hasn't been investigated properly yet, but we are pretty sure this has something to do with common battery leaks.
When your Harley Davidson rests for more than 3 days in a garage or just on the street, especially in cold temperatures, it may fail to start. You will have to do something with the battery.
One possible problem is the ECU settings and software. Maybe, you should just go to the dealer if you experience this problem and ask the mechanics to do something with this. The issue is not really rare.
6. Fuel pump problems
Another important issue is the fuel pump. This bike is so young that problems with the fuel pump couldn't be there for many years to go. But we've found several complaints saying that the fuel pumps are not reliable and they may just stop working one day without any other problems.
The fuel pump will just go dead and the only way to move your motorbike from the place it was standing before is to call a tow truck. It's a very bad experience for owners of the new motorcycle made by HD that costs almost 20 grand!
7. Ghost fault lights
A lot of owners of the Pan America motorcycle have had problems with fault lights. They say that these lights may just go on suddenly and then go off before you understand what happened. If you use diagnostic equipment to check the fault codes, you will not find the registered in the ECU.
These ghost fault lights sometimes may bother you when you are cruising in the middle of nowhere. So, just be ready that sometimes they may appear without actually affecting the ride quality, speed, acceleration, or any other factors.
What can you do to save your Harley Davidson for a long time?
It's not easy to maintain a motorcycle. But you can easily do it if you just buy a new bike and then go to the dealer. You may know that attending a Harley Davidson dealer is not a very pleasant action for your budget, but in the case of Pan America, you have no other choice.
The motorcycle is new and it needs good maintenance. If we owned a Harley Davidson Pan America, we would pay attention to such factors:
oil quality and level - this engine is pretty tender and it needs proper oil and proper oil level, otherwise, it will not live long;
coolant level - many reports have touched on the topic of coolant problems right after going from the dealer, use the dipstick to check it;
overheating - this will kill the engine quite fast, so avoid heating up the engine too much;
revving to the red lines - be careful with getting the soul out of this engine, this is not what it's made for;
regular maintenance - it may seem too obvious, but we recommend maintaining this motorcycle even more often than the manufacturer suggests.
Final words
If you want to look at some alternatives to the Harley Davidson Pan America, look at the BMW R 1250 GS Adventure or the Ducati Multistrada V4 S, or even the KTM 1290 Super Adventure R. These bikes are pretty close to the Harley Davidson in soul and price, so you will love them.
Trending: 10 Car Shop Tricks – Here's How They Cheat Us out of Money!
But we can't say which one of these motorcycles is better. It's hard to compare because we know that many motorcycle fans will only buy the bikes of the brand that they love. So, do you love the HD brand? Then the Pan America is your choice.