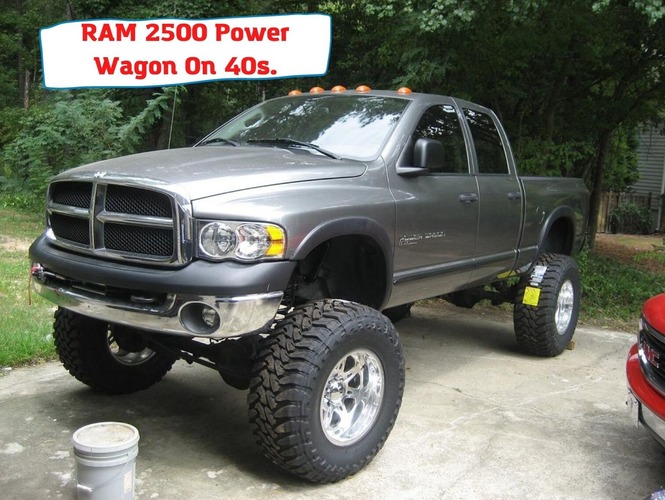 The RAM 2500 Power Wagon is a robust, heavy-duty, and agile truck that excels in both on-road and off-road driving. This truck is powered by a mighty Chrysler Hemi V8 engine that produces sufficient towing and hauling power to suit most driving situations. However, you can increase the drivability and attractiveness of a RAM 2500 by installing bigger tires. Read on to discover the pros and cons of fitting bigger wheels, like 40 inches, on your truck.
What is the largest tire size that can fit on a stock RAM 2500?
A stock RAM 2500 supports 12.5-inch-wide and 35-inch-tall tires, which can fit the truck easily without needing to trim or install an extra lift kit. If you are not interested in changing the truck's suspension system or cutting any parts, the largest tire you can use is 35 inches. However, if you wish to get a more aggressive or more prominent tire, you must be ready to do several modifications.
What tire size can the stock RAM 2500 support after cutting and trimming modifications?
The RAM 2500 Power Wagon is a tall truck, and that is why it can easily support the 35-inch tire size. That means a bit of cutting and trimming can allow you to install larger tire sizes of up to 37 inches. However, sticking to the stock tire width is essential when fitting larger tires to minimize further modifications to the suspension and wheel fender liners.
Can you use 40-inch tires on a RAM 2500 Power Wagon?
You must lift the RAM 2500 by 6 inches to support a more prominent, 40-inch tire size. Besides installing a lift kit, you will need to undertake several essential modifications like cutting, trimming, and installing fender flairs. In addition, to avoid rubbing when off-roading with bigger tires, you may need to do a driveshaft extension and use longer control arms.
The Effects of Installing Bigger Tires on a RAM 2500 Power Wagon
There are significant changes when you install bigger tires onto your truck. Some people use it for purely aesthetic reasons, such as making their vehicle look more imposing or appealing. For others, bigger tires help them to enhance off-road performance and drivability. Nevertheless, you must ensure that you use the best truck tires for your vehicle. Below are some of the pros and cons to expect from installing bigger wheels on a truck.
Pros of using big tires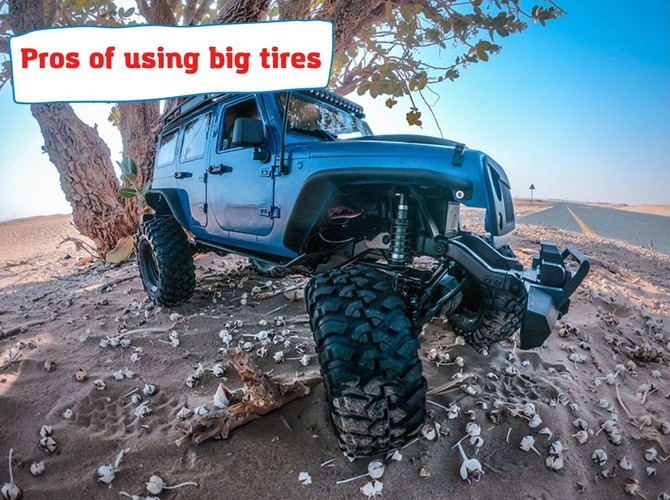 Increases ground clearance
Perhaps the most popular reason to get bigger tires is to increase the ground clearance. Trucks with 40-inch wheels have become progressively more common in off-roading over the last few years as adventure drivers seek to tackle ever more significant obstacles and more challenging terrain. Increasing the ground clearance is helpful in many ways, including:
A bigger ride height means that you can avoid damage to your truck's underside
A larger ground clearance prevents you from getting stuck when off-roading
Also, extra ground clearance gives you a better view when driving
Improves driving performance
You can enhance the contact between the ground and tire rubber with larger tires. That translates into extra grip and improvements in the overall driving performance. You can expect better handling and braking when using a larger tire, which will enable you to tackle tricky terrain and faster corners efficiently. It also exposes the tire's sidewall to easily grip big boulders and rocks commonly found on extreme off-road trails.
In addition, broader and taller tires usually have wider and deeper treads than the stock truck tires. That means you can also expect traction improvements in how the truck performs on soft and muddy surfaces. Furthermore, the extra tire width will enhance acceleration on regular dry pavement roads.
Increases overall speed
Larger tires cover more distances with each revolution, which means you can get higher speeds by increasing the tire size on a truck. However, it is vital to recalibrate the speedometer after installing new tires. That way, you can ensure you are always getting the correct readings of your current speeds to avoid going over the recommended speed limits within your area.
Enhances the appearance
If you are looking to improve the looks of your RAM 2500 Power Wagon, then one easy place to start is installing bigger tires. The larger tires will improve the truck's overall appearance, and it is a relatively straightforward customization process. The vehicle will look more menacing and appealing as the bigger tires add more character to its massive frame.
Drawbacks of bigger truck tires
Reduce towing capacity
While larger truck tires provide more traction, they can negatively affect the towing capacity. A larger tire needs to travel greater distances to complete one revolution due to the higher surface area it needs to cover. That means increasing the tires' speed, and size will effectively reduce the amount of weight you can tow than using smaller truck wheels.
Affect fuel economy
The size of the truck tire can also affect fuel economy since different tire sizes will typically require varying amounts of power to spin. Larger tires add more mass to the truck, which means the engine must work harder, increasing fuel usage. In addition, increasing the tire size also increases the tire rolling resistance, further affecting fuel economy.
Reduce handling
Some people may find it demanding to drive a truck with bigger wheels, mainly due to reduced responsiveness in the steering wheel. Using larger tires also adds more weight and increases the truck's center of gravity. The result is that the ride might become rougher, mainly due to the change of the vehicle's aerodynamics and rolling resistance. You may experience more body roll when making quick, sharp turns.
Bigger tires are expensive
A notable drawback of using larger tires on your truck is the high required expenses. Besides buying four new tires, these new bigger tires will likely cost more than the smaller ones. Furthermore, you will need to invest in extra modifications like new suspension and lift kits to accommodate the bigger tires in many cases. If bigger tires are not a must-have feature and have a limited budget, it is better to stick to the stock tires.
Tips on installing bigger tires on a RAM 2500 Power Wagon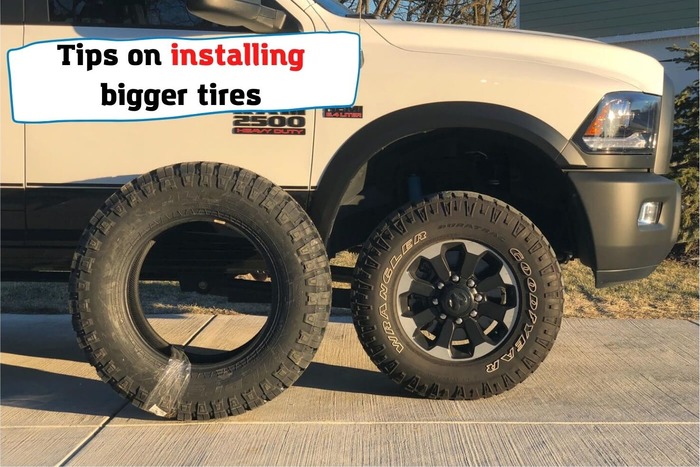 Avoid using lift kits
The most painless way of installing bigger tires on a RAM 2500 Power Wagon is not to use modifications and lift kits. While lift kits work well in enhancing the functionality and appearance of the truck, they can increase the total cost of the entire project. Nevertheless, you can still install lift kits as a DIY project or hire a mechanic if you are not confident of your technical skills.
Don't go too big
The RAM 2500 also has a sufficiently large wheel well opening, which allows it to easily accommodate a bigger tire size even without installing a leveling kit. If your tire size has a height of 35 inches and a width of 12.5 inches, then you can comfortably install it on the RAM 2500 Power Wagon. Anything larger will require several modifications to prevent rubbing and maintain optimal drivability.
Consider the 3% rule
When installing bigger tires on your truck, it is best to only add a total of three percent to the height and width of the original tires. A three percent increase is ideal as it doesn't require installing a lifting kit or other massive alterations. However, if you want to install 40-inch wheels on your RAM 2500, you should install the appropriate lift kit. Remember that wider tires will demand some trimming work on the truck.
Recalibrate odometer afterwards
If you plan to switch to bigger tires, you need to do a few recalibrations before driving your truck. The first thing to check is the odometer to ensure that it correctly reflects the truck's speed. Next, check the tire pressure system and confirm it accurately tracks the correct inflation pressure in the new, bigger tires.
Check your truck's warranty policy
Some manufacturers or dealers will not warranty trucks that have undergone any suspension modifications. Hence, if you want to install bigger wheels on your RAM 2500 Power Wagon, it is best to go with the largest size that requires no modifications.
Do you need larger tires on your truck?
Here are a few situations where it makes sense to consider getting bigger tires for your truck:
To increase the ground clearance of your truck
To customize and enhance the look of your truck
To enhance the traction for off-roading
To prevent damage while driving in harsh off-road environments
Conclusion
The RAM 2500 Power Wagon can fit 35-inch to 37-inch tires without significant modifications, particularly if you are using aftermarket wheels. Nevertheless, if you want more, you can still get the 40-inch wheels, but these will often require a few changes to the truck.
Remember to weigh the pros and cons of bigger tires to ensure you make the correct decision that will positively affect your truck's application, functionality, and appearance. If you opt for bigger wheels, you must be ready to make the necessary modifications to maintain your truck's optimal performance.