We'll start right away with understanding what the crotch rocket actually is. And here you should know that crotch rocket is actually a slang name that stands for sport motorcycle with aerodynamic shape that is built for speed, not for comfort. Crotch rockets usually make the driver lean forward to take the working position and to shorten the air resistance.
The average weight of crotch rocket motorcycles now starts at 350 pounds and may be up to 500 pounds. Only older crotch rockets can weigh more because they were produced mainly from metal. Currently producers use composite materials, light aluminium and other light materials to build light and fast motorcycles.
The type of bikes is usually called crotch rocket for being really fast and furious. Though, not all bikers like the slang term.
Today we'll answer the most popular questions about crotch rockets and will try to show you all the magic of this kind of motorbikes.
How much does a crotch rocket cost?
There are legends that you can buy a crotch rocket for as low as $2000. But it may be a used motorcycle that has only the shape of a sport motorbike. Good new motorcycles will cost much more. Middle-level motorbikes that can be referred to as crotch rockets cost around $13 000. These are Kawasaki, Suzuki, Yamaha models. The top crotch rocket bikes will cost up to $35 000. In this price range, you may find Ducati motorcycles.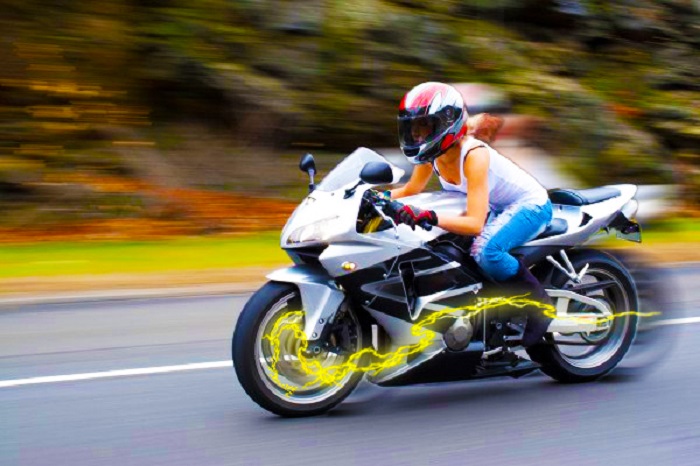 What brands make crotch rockets?
Here is the list of top brands that produce crotch rocket motorcycles:
1. Kawasaki
2. Ducati
3. BMW
4. Suzuki
5. Yamaha
6. Honda
There are also other producers like MV Agusta, KTM, Vyrus, Mission One, Aprilia, Roehr, MTT, and other brands.
How to ride a crotch rocket?
It seems as easy as bicycle, but when you start driving, you usually get to plenty of unexpected situations. And here you'll need to remember a couple of tips.
Knowledge is everything. You have to get the proper license, get ready to ride a motorcycle, get to know all the equipment that you have on your bike. Take your time, study it before rushing to your first ride.
Pay attention to clothes. All these knee pads, motorcycle gloves, shoulder protection pads, leather pants and helmets with eye protection were invented because many people were injured. Don't ride your bike without proper clothing.
Don't speed up during your first month. Even if you have experience with other motorbike types, crotch rocket may be a big surprise for you. Get to know your motorcycle, learn how to slow down quickly, how to start comfortably. Every bike is unique, so take your time before you decide to set a new speed record in motorcycle industry.
What is the fastest crotch rocket?
The fastest crotch rocket currently is Suzuki Hayabusa. It can speed up from 0 to 60 mph for 2.47 seconds. The top speed of the bike is 186 mph which is quite amazing.
How long do crotch rockets last?
It all depends on the owner and servicing preciseness. If you service your motorbike like it's required by the producer, it will easily go over 50 000 miles. There are BMW big crotch rockets that are known to last for 100 000 miles and more.
But high-rev engines can still be broken very fast if they don't get optimal oil, burn low quality fuel or overheat during their work.
Why don't Harley Davidson make crotch rockets?
There are basically two main types of motorcycles – Harleys and non-Harleys. There is Harley Davidson Live Wire Electric Motorcycle that is often mistaken for crotch rocket type, but it's actually a classic type of motorbike. Harley never made a crotch rocket, but in 2018 the company's authorities told reporters that they were considering expanding the model line to sport bikes.
Though, there are still no crotch rockets produced by Harley Davidson.
What is the best crotch rocket for a beginner?
The best sport motorbike is hard to choose, because there are dozens of great variants. The first crotch rocket shouldn't be too heavy and powerful. It has to be chosen according to your weight and height.
One of the best variants to consider for majority of beginners is Kawasaki Ninja 400. It's powerful enough to make you feel adrenaline in your blood, but it's still very safe and quite light. More about the bike you may read on producer's website.
Honda CBR 300 may be the best competition for Kawasaki. The motorbike is easy to steer, it has light weight and many advantages for a beginner.
How to ride a wheelie on a crotch rocket?
Well, for this you'll need to have some experience. Before you try to ride a wheelie, you need to know everything about your bike. Otherwise, this can be unsafe.
At first, learn to move your body a little back to change the center of gravity. This will help you get the bike on one wheel and control its position. Then, you will need to master the technology of taking off on your bike. You'll need to use the 1st or 2nd gear, and then hold the clutch down, rev up the engine and drop the clutch to get a big push. After that back off throttle and control the position of the bike to ride a wheelie as much as you want.
Be careful! The kind of driving is quite dangerous and can lead to bad injuries if you do something wrong.
How long does it take to learn how to ride a crotch rocket?
That may differ much. It depends on what you mean by asking about 'learn how to ride'. The initial course of how to ride the motorcycle takes 4 to 5 days. But to learn to drive really well takes a person nearly 2 years. Even after that you can't say that you ride like a pro. There are still many things you'll need to learn by your own experience.
Things like complex turns, speeding on highways, riding wheelie, some tricks should be learned for years. There are bikers who have over 40 years of experience and they still say that they are now learning. This is the lifetime activity.
Please note that different states will have their own rules. But in most states the motorcycle driving is regulated like in NY. DMV website will tell you more.
You may start learning to ride motorcycle when you are 14. But to ride it legally on roads, you must be over 16 years old.
Why are crotch rockets dangerous?
Many fans of sport motorcycles tend to think that the danger of this kind of transport is merely a myth. But there is a study conducted by Insurance Information Institute that shows that a crotch rocket driver has four times bigger chances to die in an accident than the driver of any other motorcycle type.
The problem is in the speed of sport bikes. They can speed up to 150 mph on average. No helmet will save the driver in case of an accident on such speed. According to the same study, the motorcycle drivers are 25% more likely to die or be severely injured in accidents than car drivers and passengers.
What is harder to drive – crotch rocket or Harley?
The topic is highly disputable and it's hard to say whether a crotch rocket is harder or easier to drive than a Harley bike. Harleys are made to cruise in a relaxed position, they aren't much about speed. Sport bikes are all about speed, and that makes it harder for the driver – the person needs to control the machine on high speed. Harleys are much heavier, and that makes them a little harder to drive, because you have no chance to lose your balance for a while.
But there are groups of fans of both kinds of motorbikes, and they are going to invent hundreds of other reasons telling you that their favorite bike type is the best.
What size of crotch rocket to choose?
This is a hard question to answer. It depends on your experience, height, weight, money, and many other factors. For example, tall people choose BMW motorcycles for their really high seats. Short people would rather go for basic Kawasaki models. But it also depends on whether you want a powerful machine for speeding up like crazy or a starter bike to learn how to ride and to understand if you like biking at all.
Budget is important thing. The best option is to have test-drives of different bikes and to feel whether you like the bike or not. But of course, reviews and customer opinions are the factors that shouldn't be underestimated.
How many people can fit on a crotch rocket?
The producers always say that their crotch rockets are made for two adults to ride safely. But it's hard to believe when you look at the short back seat. Sport motorbike owners often joke that the back seat is actually the kind of bump stop to hold them on the bike when they open a throttle.
It's extremely uncomfortable for a passenger to ride a crotch rocket. Technically it's possible. The passenger should be thin and small, this person needs to sit on so called back seat and then move the body forward to embrace the driver with both hands. Otherwise, the passenger may fall off the bike the moment when the driver decides to speed up.
If you want to give a ride to passengers, it's better to choose another type of bike like Harley, for example.
So, basically the crotch rocket is made for one person only.
Where is the clutch on crotch rocket?
The clutch is connected with a left handle. You have to pull it prior to changing gear and then release it calmly to get the motorcycle into movement.
The right handle works as the throttle opener. Turn it to rev up the engine and speed up.
The gears are shifted by your left leg. Put the pedal into a needed position to shift the gears.
What was the first crotch rocket?
The first crotch rocket in the world was the 1984 Kawasaki GPZ900R. Up until now Japanese companies dominate the market of sport motorcycles, but there are also European producers that manage to compete with them. American crotch rockets also exist, but they are rather rare.
How to launch a crotch rocket?
For launching you'll need a key and to know how exactly the producer meant to launch the motorcycle.
The problem may occur when the battery runs flat. You can hotwire a crotch rocket. It's basically the same as hotwiring the car.
Where can I get my crotch rocket fixed?
There are special service stations that specialize on sport motorbikes. Any crotch rocket has quite a complex construction and many unique features to remember about when servicing. Bad service is the main reason why crotch rocket engines die much earlier than they should, so choosing an optimal serviceman is the important thing.
Sport motorbikes owners usually form kinds of clubs and societies. Enter one if you want to get some information on the bike repair and other tips.